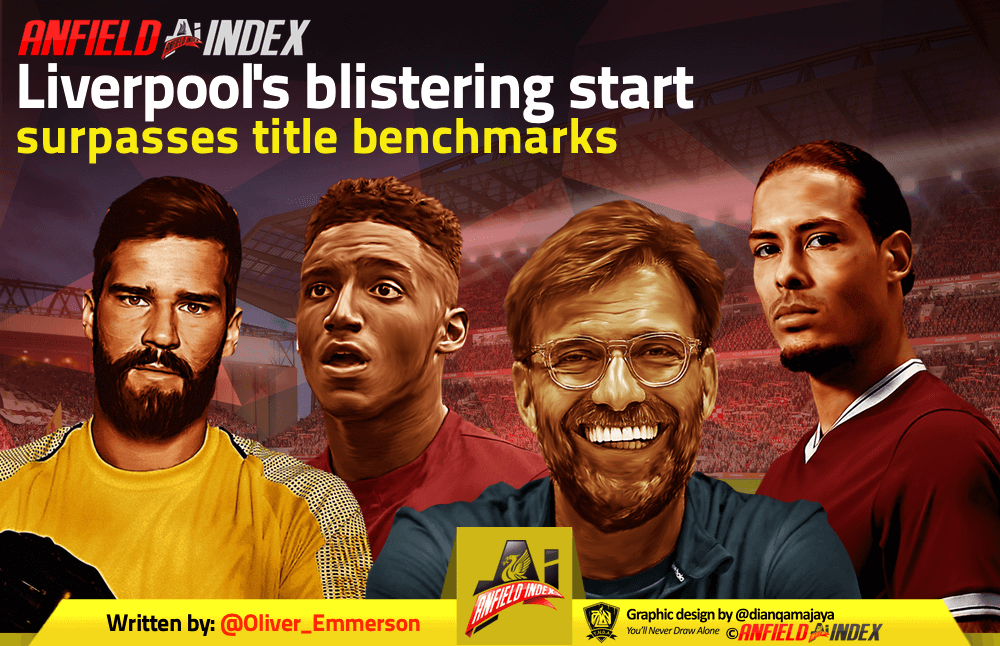 Liverpool's blistering start surpasses title benchmarks
Prior to the season beginning, I wrote an article on what Liverpool must do to win the Premier League, taking into account things such as goals scored, goals conceded, points won and European form of title winners in the past 10 years.
Another thing I touched on was the first 10 games, with the idea being that title winners must get off to a decent enough start if they're to lead the pack come May.
With that in mind, there's no better time to check on how the Reds are doing than immediately after their 10th game, as Sadio Mane's brace combined with goals for Mohamed Salah and Xherdan Shaqiri gave Jurgen Klopp's men a convincing 4-1 win over Cardiff.
With Liverpool's near-perfect start in the league including wins over any side that isn't called Manchester City or Chelsea, they've accumulated 26 points in ten games with draws against the two teams most likely to challenge for the title alongside them.
20 goals scored and just four conceded, you'd have to go a long way to find a Liverpool fan disappointed with the start that's been made.
But how does it compare to previous years?
As you may have guessed, Liverpool stack up very well.
The average points total after 10 games for a league winner in the last 10 years has been 23.25, meaning Liverpool are ahead of the curve in that respect.
The Manchester United side that won the league alongside a run to the Champions League final in 2010/11 had only notched up 20 points after 10 games.
In fact, only two title winners in the past ten years can claim to have bettered Liverpool's points total at this stage of their title-winning season. Unfortunately, they're both called Manchester City. The Citizens won 9/10 games in both the 2011/12 season and last season, drawing the other to put them on 28 points.
City's two draws so far mean that they can't quite match those feats, but they will go back above the Reds if they can win against Tottenham Hotspur on Monday evening.
The problem for Liverpool though isn't just City.
Arsenal, Chelsea and Spurs all have 21 points after nine fixtures, and you'd back at least two of them to get past the 23.25 mark with a win this weekend, taking them past the benchmark for title winners.
It's already been muted that this season's title race could be a special one, with most pundits agreeing that any league winner is going to rack up well above the recent average of 86.3 points.
Fortunately for Liverpool, they've got much of the hard work done already.
Hard yards have been put in early on, but trips to Chelsea and Spurs have been overcome with four points. City at home has been negotiated with the Reds' unbeaten record still intact and once Arsenal away is taken care of next week, Klopp doesn't have to contest a 'big six' fixture until Manchester United visit on December 16.
Liverpool's jaw-dropping start hasn't given them the points lead they arguably deserve, but it's put them in a commanding position to take one later in the season.