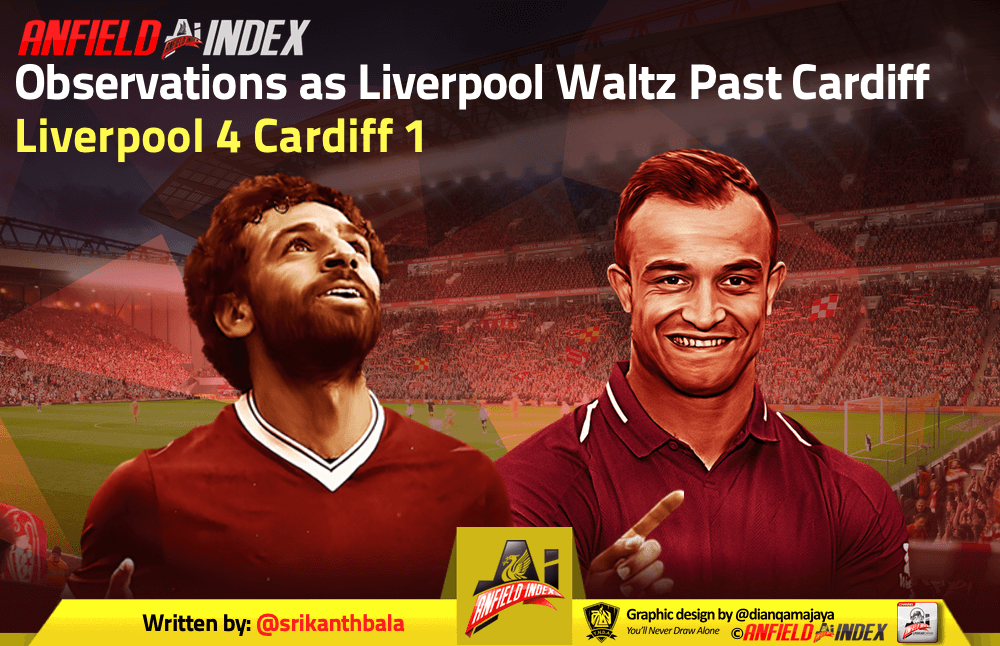 Observations as Liverpool Waltz Past Cardiff

Liverpool maintained the 'Fortress' Anfield record after a bit of huff 'n' puff against Cardiff. The game was bereft of excitement for large parts until Liverpool decided to turn it on late in the game.
The key observations from the game:
The ebb and flow
This game was a funny one (and not in a good manner). Liverpool, as expected, got off to a quick start and scored an early goal. Liverpool then struggled to create anything noteworthy post that as the front three were totally off the game coupled with the midfield struggling to contribute offensively. The passing was awry and the creativity required to unlock the deep-sitting Cardiff defence, with Lallana still clearly off the pace. The game started to turn interesting once Cardiff got their goal, as their higher zeal to attack opened up space for the Liverpool attack to prosper.
Attack – Not quite on it yet
Looking at the score-sheet one would think the Liverpool attack had a great game. Mane scored 2, Salah had a goal and couple of assists, but the reality was the attack misfired badly. Firmino struggled to have any influence and was largely absent. Salah's returns have improved (one for the fantasy fans!) but his game fluency still needs to go up a few notches. Mane scored in the league after quite a while but was ineffective otherwise. The run of games now offers the front three the best chance to get into some rhythm.
A good birthday week
Fabinho had his second successive start this week and put in a solid performance again. Though both teams struggled to have any threatening attacks, one can clearly see what he brings. He is more often than not in the right place to pre-empt and thwart any danger while his passing is quite under-rated. He was also helped by Klopp's shift towards his favoured double pivot setup. This looks to be the way forward against the teams who prefer to sit back and Fabinho could have a big role in this sequence of games.
Shaq Attack
Shaqiri in recent weeks has already shown what he brings to this Liverpool side and this week only re-emphasised that. After shining against Red Star from the start, he was bought on here to shore up the floundering Liverpool attack. The moment he came in, it looked like a switch has been turned on. The attack seemed to be more fluent and chances began to trickle in. Liverpool coasted home with Shaqiri scoring a well-deserved debut goal in the league in front of the Kop. His position also allows Salah to go up front and this extra body in attack would serve Liverpool well in many games. Bargain.
Arsenal
Liverpool travel to the Emirates next week. Arsenal have been on a great run with a long sequence of wins, but their defence is still suspect. But with Liverpool's attack still nowhere near full potency, it will be an interesting battle. Also interesting to see how Liverpool defence copes after coming away unscathed against City, Chelsea and Spurs this season.