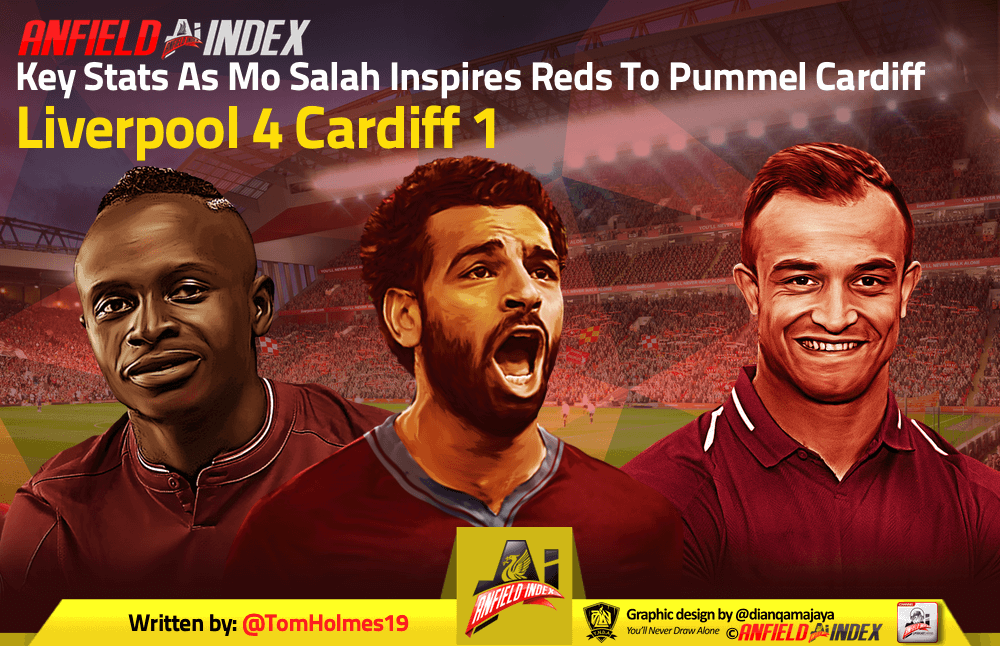 Key Stats As Mo Salah Inspires Reds To Pummel Cardiff
Liverpool shot back to the top of the Premier League with an excellent 4-1 win over Cardiff City at Anfield. But what were the key stats from another emphatic victory as the Reds made it ten league games unbeaten?
Salah The Catalyst For Big Win
Mo Salah proved once again why he's Liverpool's main man as he was the key factor in this decisive win – scoring one goal and creating two more. There were five big chances in the match, four of them to the Reds, and Salah scored one whilst creating two more – the only player on the pitch to create a big chance, let alone two. His xA was 1.13, lightyears ahead of the second highest on the pitch – Moreno at 0.14. Salah also had the game's highest xG Build (0.63) and inevitably the highest xGChain, involved in 1.79 of Liverpool's 2.30 xG. Everything good that Liverpool produced went through Mo Salah.

Salah has made a really vital impact on Liverpool's season already – he's notched five goals and three assists in the Reds' opening ten games and four of those goals were the first goals in a game – he's scored in four of his five Anfield league games now. It's clear that whatever the narrative is, Salah is still a vital component in this Liverpool team.
Clinical Mané Making The Difference
One of the justifiable criticisms of Sadio Mané last season was that he missed too many good chances. Mané scored just seven big chances last season, missing ten (41% conversion) with seven of those ten misses not forcing the keeper into a save and he underperformed relative to his xG – ten goals from 11.52 xG. This season, however, it's a different story. In the early stages, he's scored all three of his big chances, and moved to six goals from just 3.65 xG.
Compare that to his team-mates and he's proving the most clinical. Salah remains the main man but has scored just five goals from 6.78 xG, scoring just three of his eight big chances and Firmino is even worse off, scoring just one of his five big chances, and scoring twice from 3.49 xG, very similar to Mané. And that clinical finishing has been one of the key factors in Liverpool's wins. Today, Mané scored a big chance late on to make it 4-1 but earlier had rifled in a brilliant finish to make it 2-0. He's also such a huge player in this LFC team.
Reds Dominate The Game – And The Scoreline
Sometimes the basic stats just tell their own story. Liverpool had 80% of the possession, 90% of the shots (19-2), 88% of the shots on target (7-1), 78% of the xG (2.30-0.64), four of the five big chances, and completed 729 passes compared to 120 for Cardiff. This was an absolutely dominant performance from Liverpool, and in the end, they scored 80% of the goals too. Cardiff never had a sniff in the attack, and ultimately the Reds put them to the sword.
Anfield Defence Breached But Still Vital 
Liverpool failed to make it ten clean sheets in a row at Anfield, falling short by conceding for the first time in 918 league minutes at home. But the defence remains absolutely vital to the way Liverpool play and the results that are being delivered. Cardiff had just two shots, admittedly one of which was a big chance, but as a result, the Reds conceded less than one expected goal for the eighth time this season. In each of those eight games, the Reds have notched an xG higher than their opponents as a result, and they've won all eight games too. The defence has absolutely been the key factor in Liverpool winning the way they are because they're proving so effective at keeping the opposition from getting into the game. Once Liverpool get in front, they stay in front.