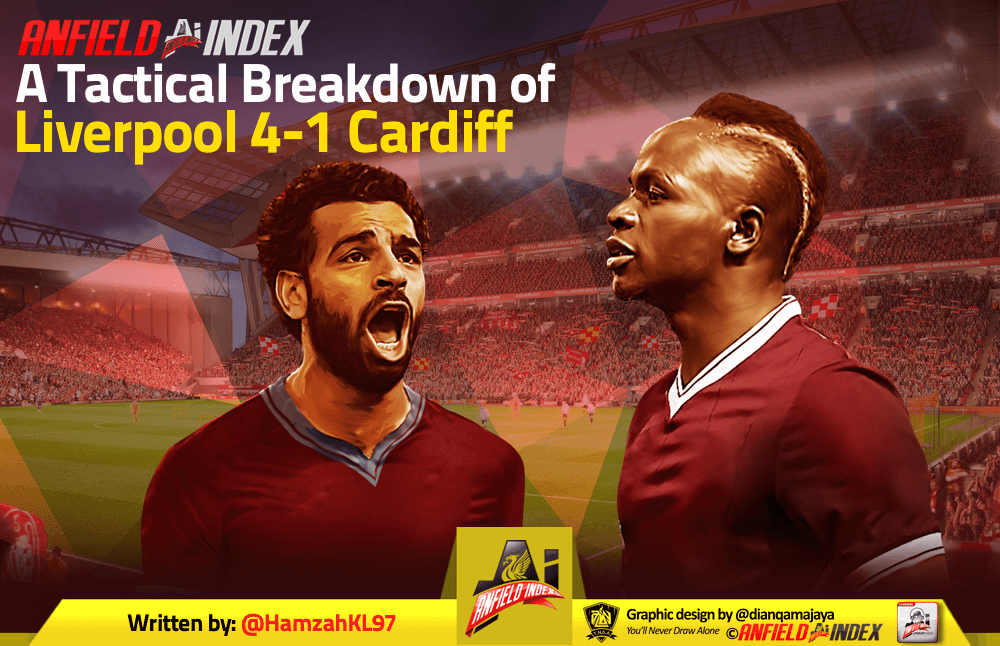 Liverpool 4-1 Cardiff: A Tactical Breakdown

After an efficient and impressive performance in the Champions League, against Red Star Belgrade, Liverpool looked reinvigorated and refreshed, following a run of closer, drab matches.
Neil Warnock's pre-match presser made it obvious how Cardiff would set up to play, as he sang praises of Liverpool's fantastic forward line, who look as imperious as ever, and consequently the challenges of attempting to keep those forwards out. Very rarely do the statistics tell the story of the match as much as they do in this particular instance, and from them, it's entirely clear how the game developed, and Liverpool's superiority within it.
Shots
19-2
On target
7-1
Big chances
4-1
Completed passes
727-122
Attacking third
228-74
Liverpool set up in a 4-2-3-1 again, with both Wijnaldum and Fabinho as the two sitting midfielders. Alexander-Arnold came in for Gomez at right-back, as did Moreno for Robertson on the opposite side. Lallana took up an advanced right attacking midfield/wing role, as Mané retained his spot on the left, with Firmino central, and Salah up top.
Against Huddersfield, Adam Lallana featured in the front three, but seemed to struggle, with Liverpool not having as much possession as they would likely have anticipated – whether him struggling was due to the system, his lack of game time or the lack of possession we cannot say for certain, but it's clearer that when Liverpool have a much greater share of possession, playing him in a wider role is more effective than when he is deployed in a wide role and possession is more evenly shared between both sides.
As Lallana drifted inside, as he likes to do, it left space on the right wing for Alexander-Arnold to move into and exploit, as the average position map shows: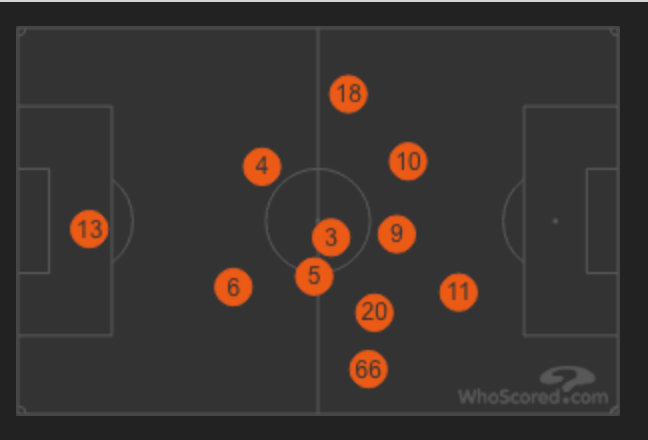 Consequently, Alexander-Arnold found himself as a major outlet when Liverpool were in possession and made 71 passes (83 attempted), of which 43 (45) were in the middle third, and 21 (30) were in the final third.
On the other side of the field, Moreno took a slightly more restrained role, as Liverpool were top heavy on the right side of the pitch – understandable with a numerical overload caused by Alexander-Arnold, Salah, Lallana and one of the CMs all linking up and drifting into that third.
At the heart of Liverpool's possession for a second consecutive game though was Gini Wijnaldum, who appears to be excelling within this 4-2-3-1 system. Wijnaldum made 108(116) passes, 78 (82) in the middle third, creating one chance in the process.
But the stand out performer was comfortably Mo Salah, who scored the first, and assisted both Mané and Shaqiri's goal. The first goal was the product of Liverpool recycling the ball in the final third after an overhit corner. Salah picks up the ball in a wide position and backheels it to Alexander-Arnold, from there though, with Mané, Wijnaldum and Van Dijk all within 12-16 yards of the goal, three Cardiff defenders – who are man-marking them – drop. From there it's a poor initial clearance which Mané pounces upon with a shot which is then blocked, so too is Wijnaldum's, but Salah's run from deep is too quick and sharp for anyone to react to and he finishes with typical predatory instinct.
Cardiff, to their credit, attempted to continue pressing Liverpool's midfield – albeit not incessantly – but in doing so left themselves open – and nearly conceded, were it not for an excellent interception by their goalkeeper, and were then fortunate that the referee did not give a foul on Salah inside the box in the subsequent phase of play. But this came about through some excellent pressing enabled by the 4-2-3-1 system.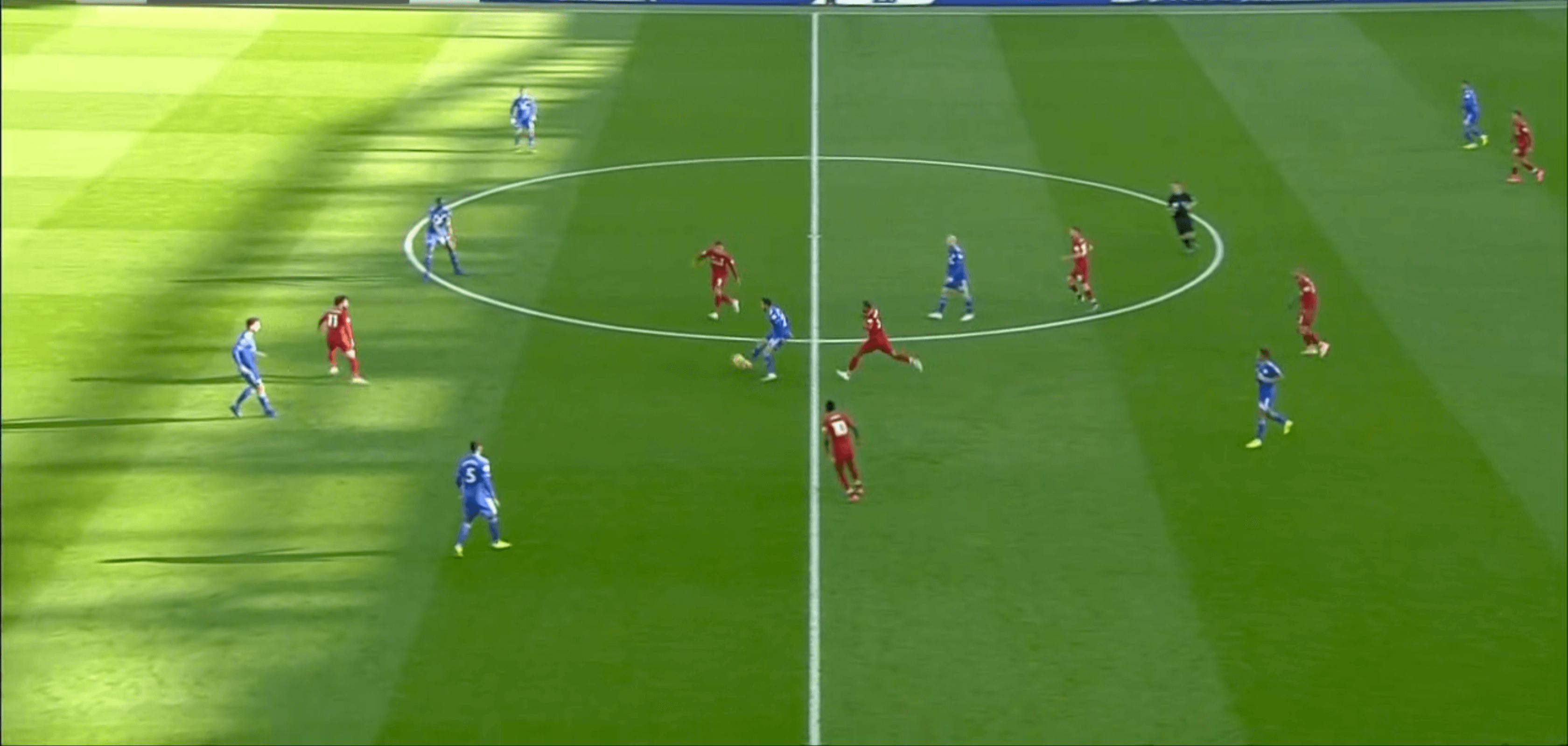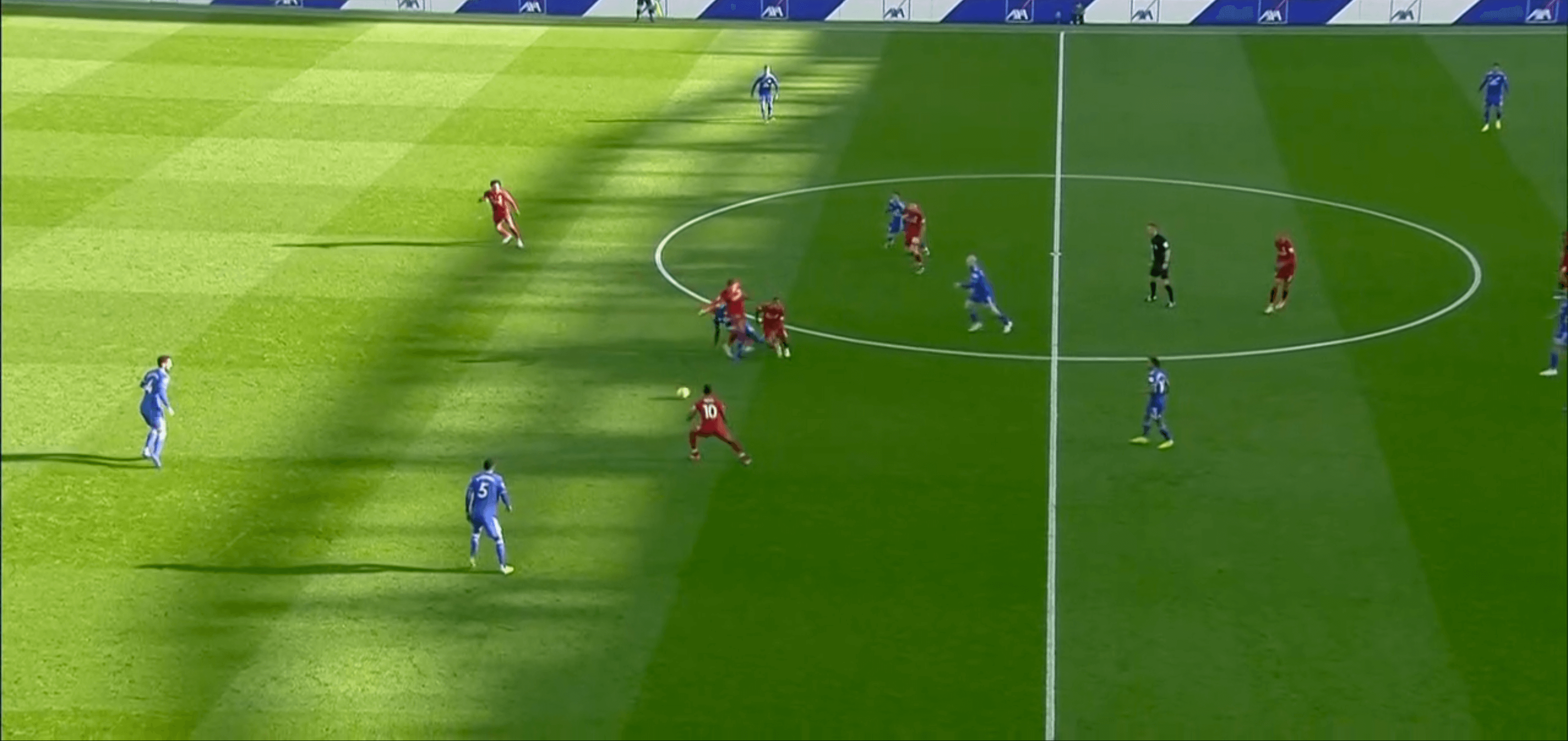 Liverpool's pressing system works both as an offensive (as evident above) and defensive mechanism – whereas Cardiff's primarily served as a defensive mechanism, as it attempted to stop Liverpool's midfielder's holding the ball centrally in the final third.
In fairness to Cardiff, apart from the goal, Van Dijk header and subsequent Salah chance/penalty appeal, they congested the middle area of the pitch, just outside of their own box rather well, and stopped Liverpool building up in those areas.
Mané's goal in the second half came from an intelligent pass from deep, matched with an equally intelligent run by Firmino into the half-space. From there though it was sheer determination and a combination of brutish force and sharp skill which saw Mané break free and hammer home Liverpool's second.
Tactically from this point until the Cardiff goal, it was fairly easy going for Liverpool who felt they didn't need to step up their intensity. Once Cardiff scored though – courtesy of a fortunate deflection, the intensity of Liverpool's players shot up, and this combined with Cardiff's ambition to try to score an equaliser, allowed Liverpool to really exploit the space left in behind, which Cardiff had so diligently defended for the majority of the time before their goal.
Liverpool's third goal exemplifies this perfectly, as Shaqiri occupies the space in between the Cardiff midfield and defensive line, and then Milner makes a vertical run in order to drag the defender, creating space for Salah to both run and pass into – as he did.
Salah's performance after Liverpool conceded was nothing short of inspired, as he demanded the ball, pressed relentlessly, and directly assisted both chances – perhaps playing as the no.9 against low block sides might be the best way forward for both Liverpool and Salah. However, come to Arsenal next Saturday, a reversion to the 4-3-3, in which Salah stays wide, and then drifts inside, but more crucially, in which Liverpool are better at pressing and transitioning within, should be expected. And if Xhaka is deployed at left-back again, it could well be another fascinating match at the Emirates, which Liverpool could really excel in, should they execute their gameplan as efficiently as we know they can.
Liverpool have now built up some momentum after that dry patch mentioned at the start of this piece, it's crucial that Liverpool keep it going as long as possible into and through the Autumn-Winter period in order to keep parity or at least pace with Manchester City in the league. Should Liverpool be near City come the New Year, a title challenge is certainly a strong possibility, but until then, Liverpool's players have to keep their heads down, and work diligently, effectively and intelligently to maintain momentum – and if this team plays anywhere near its best (which it is still not even close to doing this season), anything is possible.