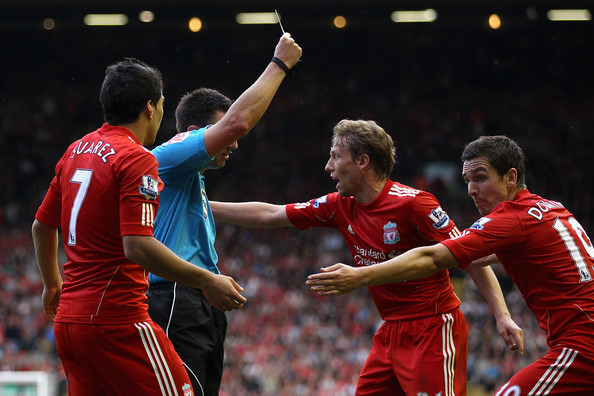 Suarez & Downing | Statistically compared to rivals | Liverpool FC
A lot has been said about the misgivings of Liverpool FC in-front of goal so far this season. A lot of people are laying blame on lack of creativity (Downing & co) and also cursing the inadequacies in-front of goal (Suarez's misses). This article will look at both of these players in comparison with their rivals as well as looking at Liverpool FC's stats and how they compare with the teams they are rivalling or wish to be rivalling in the league.
To begin with we'll look at Stewart Downing. The Liverpool FC left winger has failed to score a goal or register an assist in his first nine games at Liverpool FC. However I do not agree with many followers, of our @AnfieldIndex twitter account, stating that Downing hasn't created or performed. He's not the type of winger that will continuously beat players and then find a cross. His game is all about making enough room for him to fire a quality ball into the box and to be fair to him he's definitely delivered on these. Off the top of my head I can recall two crosses late in the game against United where one cross found Dirk Kuyt, who forced a decent save from De Gea. He then picked out Henderson who's header went narrowly over the bar. Both could easily have ended in goals.
This trend continued against Norwich where Downing put in, no less than, nine crosses and found a team mate with five of them, representing a 56% success rate. Looking at the averages of last year (whole season) the best crossing accuracy figures were in or around the 30% mark. Therefore those people saying he's not creating or delivering accurate crosses is incorrect. In the same game he also created four chances. Downing is in the side to provide and he's certainly providing chances and crosses. He's just lacking the finishing touch from a striker to convert his chances into assists.

Taking into account Downing's stats from the game against Norwich it really confused me further when Downing was replaced by Andy Carroll. Surely there was evidence to keep Downing on the pitch to provide Andy Carroll with crosses. In the last two games there is clear evidence that Downing is putting the ball in the right place and that Liverpool FC need a player to get onto the end of them.
Downing compared to Rivals
Let's take a look at Downing against some of his rivals in the Premier League:
As you can see from the table above Stewart Downing is trailing behind his rivals in the league at the moment. Samir Nasri, despite playing less than half of the time that Downing has, is flying away with all the plaudits in this comparison. It's clear to see that he's dominating the matrix above topping everything in the creativity stakes. Nasri and Mata's crossing accuracy this season is way above the averages of the major players from last season. Only time will tell if they can maintain this rate of successful crosses in the coming months.
Unfortunately Stewart Downing hasn't performed as well as the two top performers Nasri and Mata. However his stats are not too far away from the stats of his rivals at Manchester United. The numbers are shown above and show that the major difference is the conversion of chances into assists which Downing or the players that he's creating for are just not doing. This is where the real problem begins. It's not an issue of chances being created; Liverpool FC are simply not putting away the chances that are being created well by the likes of Downing, Enrique, Adam, Kuyt and Suarez himself.
Creativity compared to the Top Two
The chart above shows that Liverpool FC are narrowly creating more chances than Manchester United and therefore proving the argument, that Liverpool are suffering because of lack of creativity, is flawed. The real issue here is the chance conversion rate. Liverpool are managing a chance conversion of 9% whilst Manchester City and Manchester United are respectably achieving 22% and 23%. This statistic is particularly interesting for Manchester United as they've created two less chances than Liverpool FC at the time of writing this article. It shows that they're finishing is far superior to Liverpool's, more than doubling Liverpool's chance conversion rate. It also shows that City are easily creating chances and healthily converting 22% of these into goals.
So, who are these chances falling to for Liverpool FC?
Suarez compared to rivals
Luis Suarez has had many chances this season. He's equal with Wayne Rooney on thirty-three shots so far this season however has four goals to his name in comparison to Rooney's nine. The full table comparing Suarez to Rooney, Aguero, Dzeko & Robin Van Persie can be found below.
The table above shows that Wayne Rooney and Edin Dzeko are really dominating statistically at the moment. Whilst Rooney has the most shots and shots on target, Dzeko is averaging a goal much faster than others (every 54 minutes) and has a superb shot accuracy of 64%. Dzeko is also leading the way in terms of mins per shot (equal to Rooney) and minutes per shot on target.
Sergio Aguero is the benchmark so far for chance conversion. He's slotted away 41% of his chances with Dzeko not far behind on 36%. Unfortunately for Suarez all of these players are on top form right now and the statistics are proving this. Luis's chance conversion and goals tally is the main worry. A chance conversion of 12% is half that of his nearest rival Robin Van Persie, and a whopping three times less than Edin Dzeko. Suarez also trails his rivals in the Shot Accuracy statistics with a 52% accuracy. Add all of these stats to the fact that Suarez has never scored more than one goal in a game for Liverpool FC. Something has got to give soon!
Statistically, the room for improvement is there to be seen even though on the pitch Luis Suarez is a joy to watch. The way he turned Norwich City defenders and burst into the box on Saturday showed how talented he is however the skewed shot after completing the hard work also highlighted the issues that Liverpool FC are facing.
Unfair to solely pick out Suarez?
Some of you maybe thinking that it's unfair to single out Luis Suarez's stats so we'll compare the whole team to their rivals in the league. The fact is that Suarez's 12% chance conversion is higher than the Liverpool FC team's average of 9% therefore there are other players in the side that are also missing chances which is forcing this number even lower.
The graph above shows that Liverpool are creating more chances than half of the teams around them with only Chelsea, Arsenal & Manchester City creating more. Shooting accuracy is pretty level all throughout however Spurs and Manchester United seem to have a edge with 52% accuracy. Liverpool's shot accuracy is at 42% which is the lowest of all teams shown above (Newcastle on 44%).
The stats highlighted in red are the best statistics for the table and those highlighted in cyan are the worst statistics in the comparison. As you can see Newcastle are dominating the worst statistics however Liverpool FC are not far behind with their main issues at goals scored, chances converted and shot accuracy which go someway to proving what the majority believe; that finishing off chances is Liverpool's main concern at the moment.
In terms of creativity Liverpool FC lie smack in the middle with three teams above them and three teams below them proving that creativity is not a problem as Enrique, Adam, Suarez, Downing and Kuyt are all in double figures for creating chances this season with Downing leading the way. The main concern is putting the ball in the back of the net. Luis Suarez seems more of a number seven for Liverpool FC and shouldn't have to carry all of this burden. We, at Anfield Index, also believe playing Gerrard off of Suarez is not ideal as they're both players that should play off of the striker. Maybe it's time to try Craig Bellamy upfront? He's started on the weekend on the left wing and scored, so maybe he's the player to partner Luis Suarez whilst Andy Carroll continues to build his confidence?
Whatever the choices may be, Liverpool FC have a problem in-front of goal and it needs to be addressed sooner rather than later if Liverpool are to achieve their main goal; a return to the Champions League.
All of the stats used in this article are from the EPLIndex Stats Centre, where you can compare Opta statistics of clubs and players!