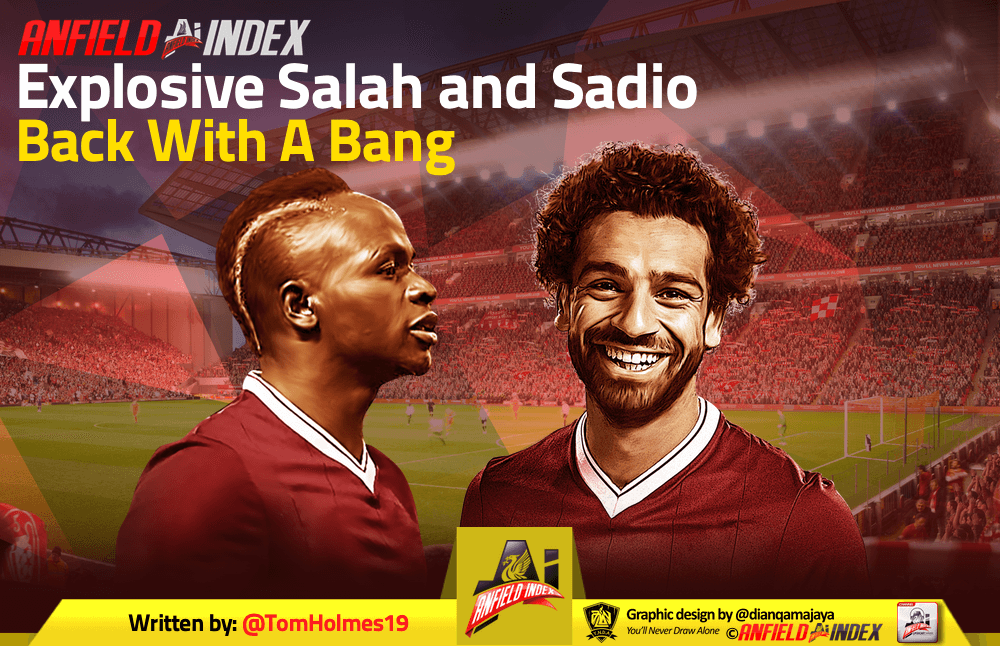 Explosive Salah and Sadio Back With A Bang
As they followed up a terrific game against Red Star by exploding into life against Cardiff, it once again became clear that Sadio Mané and in particular Mo Salah remain the key cogs in Liverpool's attacking displays. The two players have seven goals each in all competitions this season, with Salah also notching three assists, and between them they've scored over half of Liverpool's twenty league goals and what's clear is that they're the two players that will have to fire if Liverpool are to have a strong season.
Salah, in particular, remains an absolutely vital part of Liverpool's attack, as he's starting to fire on all cylinders. As I've said all season, Salah's always been the man at the heart of Liverpool's attack, even when it wasn't quite coming off, for him, but with his brunt figures starting to reflect his underlying numbers, the impact he has on this Liverpool attack is stark.
Salah has scored five league goals, with four of those goals the opening goal in the respective game and two of those winners in a 1-0 win. He also won a penalty for Milner to open the scoring and notched an assist in Mané's late pressure releaser against Crystal Palace, and again most recently against Cardiff delivered two vital late assists, putting the ball on a plate for both Shaqiri and Mané after Cardiff threatened to get back into the game – and this after scoring the opener.

But the Cardiff performance is just a case of the end product finally showing, Salah's underlying numbers have been excellent all season. In terms of scoring, Salah's expected goals is 6.78, so even though he's only scored five goals, he's been consistently getting in the right areas, finding himself on the end of eight of the Reds' 22 big chances, hitting the target on six occasions, even though he only scored three of them.
But what's more impressive is that on top of having easily the Reds' highest xG, ahead of Mané on 3.65 xG, Salah's also Liverpool's most creative player. Of those aforementioned big chances, Salah has created five of the fourteen that he wasn't on the end of, with Robertson and Milner both creating three apiece, and Bobby two and nobody else more than one.
Salah has created 20 chances, 2.10 per 90, with 3.23 expected assists and 0.34 xA per 90. All of those numbers are the highest of anyone at the club this season, except for chances created per 90, where he's the most of anyone who has started at least three games and clocked more than 250 minutes.
In truth, the only player who comes to making the same kind of all-around impact on this team that Salah does is Daniel Sturridge, whose xG/90 is higher than Salah's, and his xA/90 is fifth highest, as he's created more chances per 90 than Mo, and his overage xG+xA/90 is the only one even close to Salah. Sturridge's four goals and one assist is extremely impressive given the number of minutes that he's played – just 313 in all comps.
So it's clear that in terms of who the attack goes through, the main man remains Mo Salah. But Sadio Mané has demonstrated that he will continue to be an absolutely huge part of the Reds' attacking machinery this season. Whereas last season Salah was the clinical one and Mané the one wasting the big chances, this season that's inverted somewhat in the opening weeks of the season, with Mané firing in six goals already despite having just three big chances compared to Salah's eight (two of those ironically assisted by Salah himself).
Whilst Mané's goals arguably haven't been quite as important as Salah's, with only one of those coming with the Reds' not already in-front, he's nevertheless been very important, as he scored the potentially decisive second goals against Palace, West Ham and Cardiff.
Mané has already had a very strange season – scoring four goals in the Reds' opening four games, three in their last two and nothing in-between. But six goals in ten league games is clearly nothing to be sniffed at, with only Hazard and Aubameyang scoring more in the PL so far than Sadio.
None of this, of course, takes away from the importance of other players to this Liverpool team. The defence has taken Liverpool up an extra gear this season, Gini Wijnaldum has been brilliant at his job in central midfield and both Xherdan Shaqiri and Daniel Sturridge have played important bit-part roles. One could also justifiably argue that the form of Fabinho was the key catalyst to Liverpool returning to attacking form over those last two games, in which Sadio and Mo scored three of their seven goals apiece.
But it's clear that whatever else happens this season, Salah is going to be the key component. Whilst the Reds have a lot of high quality attacking players and a lot of game-changers, simply put nobody can deliver a moment of high quality when the Reds need it more consistently than the Egyptian. Even factoring in his subdued start to the season, almost everything the Reds have done in attack has gone through him, he has the highest xG + xA in the league, with the second highest xG and third highest xA and the fourth highest xG Chain, all of these numbers being the highest in the LFC team by a considerable distance.
Quite simply, Mo Salah is the most important attacking player Liverpool possess, and Cardiff was a demonstration of exactly how good he is when he gets going. The rest of the Premier League and the rest of Europe needs to start worrying because Mo Salah is back and he's better than ever. It's going to be carnage.