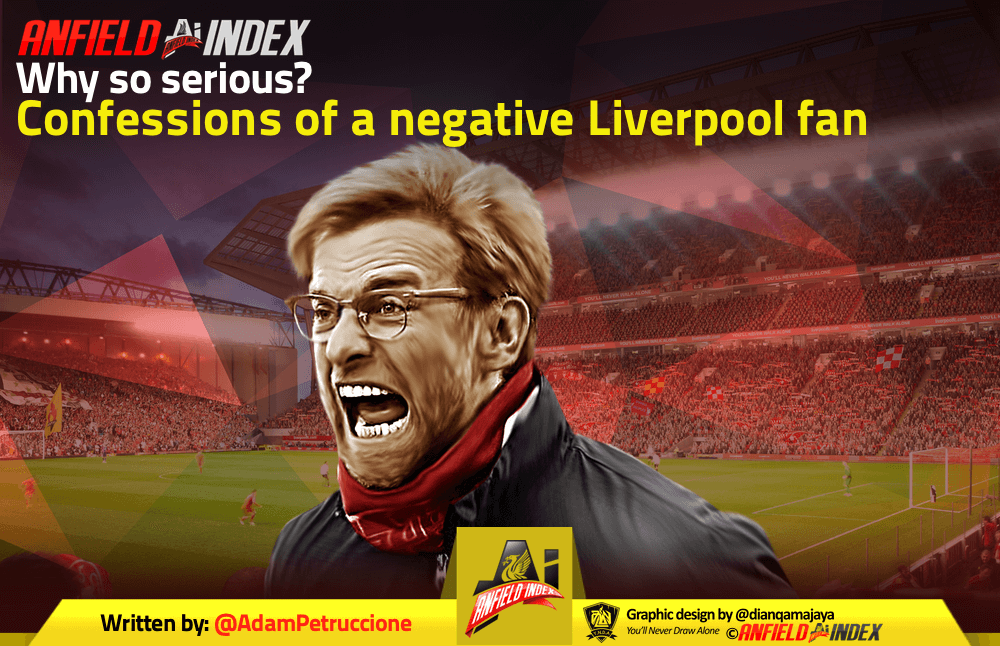 Why so serious? Confessions of a negative Liverpool fan
Since the 2013/14 run-in specifically, but probably far before that, there has been a sect of Reds supporters who have not felt safe to embrace positivity. There have been peaks and valleys where the legions of the negative have ebbed and flowed. If you've been so kind to have listened to me on various Anfield Index podcasts, you'll know that while I have celebrated "the project" and our progress under Rodgers and then with Klopp, I have been reticent to fully buy in. To sit down for a weekend of football unconcerned about the results of other clubs, with full trust in the manager's lineup card… that feeling has been foreign to me for the better part of the last four years and I assume for most of the negative Nancy's across the Liverpool universe.
Liverpool Football Club, as you may have noticed, are undefeated after 10 matches in the Premier League and top of their group in the Champions League. Those suspicious of the club's performances, bracing for disappointment, have continued to criticize every flaw despite the Red's best start in a generation. Why is that? Why can't we bring ourselves to just enjoy the extraordinary trajectory that Jurgen Klopp has set us on?
Part of the issue has been that we have a manager who is an absolute madman. Klopp does things differently. He has the confidence that those of us prone to paranoia could only dream of. There are the in-game decisions, not substituting until the opposition has already used all three of theirs. In the longer term, his belief that he can win with players who come from relegation sides, players who have built up a rap sheet of betrayals in the past. Is it realistic to ask Klopp and Edwards to rotate out Dejan Lovren, Alberto Moreno, Adam Lallana, Jordan Henderson, even Daniel Sturridge over the last couple of transfer windows? That is what many of us have asked for, and yet, Jurgen Klopp has found ways to craft those players into key components of very successful runs. That pesky Jurgen, finding ways to win, develop players and keep the squad stable.

The frustration comes not from a lack of success, but from our proximity to our ultimate goal. A Premier League trophy or another Champions League title seem so close that now even decisions around the margins to complete the squad are critical.
Every supporter always wants one more player in every transfer window. But the popular consensus over the last several windows has been that Liverpool has left itself one obvious move away from having a squad capable of silverware. Two summers ago when the Virgil van Dijk deal fell through, many were apoplectic that the Reds let Tottenham have a free run at Davinson Sanchez. Then in the winter with the damage already done and the club left out of the league title race, Van Dijk was ultimately brought in to great fanfare, but Coutinho left days later and no attacking reinforcements would be recruited.
This summer a deal for Fekir was finalized down to the announcement video before being pulled back. Klopp, by all accounts, had correctly identified the final piece to the puzzle to fill the last remaining position of need. Yet after having identified that area of need, that opportunity to make a final leap, Klopp and Edwards decided to leave things as is. It came across as an unserious approach to winning things.
Our manager's magic is so potent that it often doesn't seem to matter what stars are brought through the door. The good ship Liverpool keeps chugging on. What really had those of us with half-empty glasses knocking their cups off the table was Klopp's persistence on playing the old-guard rather transitioning to the 100 million midfield pairing of Keita and Fabinho. We watched James Milner run until he couldn't run anymore and Jordan Henderson struggle to pick up where he left off last season.
While we've effectively kept up with City in the league and PSG in our group, it all seemed to be on a razor's edge. Despite keeping up in terms of results, Liverpool were not passing the smell test. But that might be changing…
The manager's hand is often forced into wholesale changes as it was in January of last year when Van Dijk, Robertson and Oxlade Chamberlain replaced Matip, Moreno and Coutinho. Likewise, the manager was put in a situation going into the Red Star match where the personnel available made a switch back to a midfield two rather obvious. Fabinho's birthday aside, with Henderson, Milner and Keita injured, a pairing of the new Brazilian with Gini Wijnaldum was the only choice really.
The two were so dominant as a pair that Reds supporters were, for the first time in a long time, unified in their praise of our midfield. But it was just one match against a Serbian side. Would they be able to replicate that showing in the Premier League? Would Klopp even keep the pair together?
Cardiff, hardly world-beaters themselves, came to Anfield and Klopp rolled with Fabinho and Gini again. And they dominated, again. The midfield two, thus far at least, allows all of the other pieces to fit together. The fullbacks, stifled in recent weeks are free to roam. Our counter-attacks stretch vertically uninterrupted.
Liverpool have, either by design or accident, hit on a system, Klopp's original system, that allows the team to thrive. What's vital is not just that we dominated two sides that we should roll over, it's that we look believable again as contenders, both in England and in Europe. This Liverpool side can dominate possession, stifle you, and generate a sublime attack all at once. How many times have we been able to say that?
Of course, Arsenal away will be a different test. Containing their attack will be an incredible challenge for the players and for the manager. If we can continue our dominant ways against a team like this, it just may be safe for even the most hardened Liverpool supporters to allow themselves to believe without restraint.
I'm ready to get hurt again.