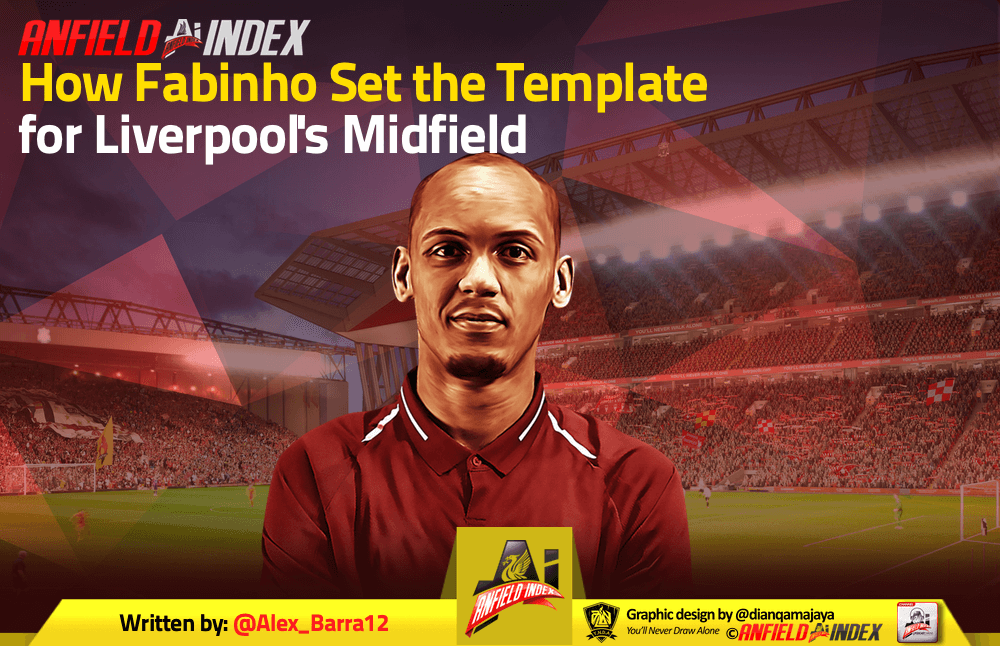 How Fabinho Set the Template for Liverpool's Midfield
Liverpool's 4-1 victory over Cardiff has sparked cause for optimism among its fanbase, not just because it's the first time Liverpool have put four past an opposition this season – a feat that becomes something of a hobby for Klopp's team last term.
No, it was also momentous for the full Premier League debut of Fabinho, who arrived from Monaco in the summer for around £40 million and has been noticeable in his absence during the opening months of the season.
"You need to be ready, that's how it is. At one point I have to make a decision if somebody is ready or not. We've already made the decision that he's the right player for us. Now we have to come together."
Klopp said of his Brazilian midfielder a few weeks ago; and it's certainly clear that when he means "ready", the German isn't simply looking for someone with a reputation to bring coverage to the midfield. Instead, what Klopp wanted – and Fabinho showed against Cardiff – was the optimal role as the midfield's base.

It's been said before: Klopp prefers to prepare his signings, to mould them entirely himself, without subjecting them to the rigours of individual games and to avoid them being pressurised by the intense scrutiny of the football world. At Liverpool, he's done it with Andy Robertson – and it worked a treat. At Dortmund, he did it with Ilkay Gundogan, and it worked a treat.
Now, if Fabinho's first two full appearances were anything to go by, it should work out a treat.
It's not simply about operating as the defensive midfielder, seeing as Klopp has gone on record to say he simply doesn't want one. Instead, Fabinho's progressive, forward-thinking performance received plaudits not just because of Liverpool's dearth of genuine top-class defensive midfield stock since the departure of Javier Mascherano, but because he was the perfect platform for the attack to flourish.
While Xherdan Shaqiri's first Premier League goal for the Reds and the front three's return to the attacking dynamism of last season was on everyone's minds, Fabinho (in conjunction with Gini Wijnaldum and Adam Lallana) compressed any space afforded to Cardiff in the first half, effectively barricading the fifty yards behind Liverpool's centre-halves.
Given Virgil van Dijk and Joe Gomez's effectiveness at bringing the ball out from the back, it makes sense to have a fulcrum in front of them who is able to carry the ball through the midfield; and that's what Fabinho did at Monaco.
Though he is bringing the steel to the heart of midfield – he contested a whopping 24 duels against Red Star Belgrade in the Champions League, winning 18 of them – and allowing Liverpool the ability to win the ball back aerially in midfield and launch an instant counter-attack – aerial balls that have crippled previous Liverpool sides – it's Fabinho's eye for a forward pass that is most impressive.
Though the vitriol directed at Jordan Henderson goes overboard, he is clearly not an incisive passer. His trademark is the sweeping switch of play, usually to one of the overlapping fullbacks, and any good defensive structure usually stops that pass from repeating too often. What Fabinho brings is the threat of collecting the ball and driving forwards, laying the ball off to the tucked-in wingers.
During his final season at Monaco, Fabinho completed more dribbles (1.1) than Henderson, Fabinho or Eric Dier, and nearly as many as the "water carrier" of Liverpool's side last season; Gini Wijnaldum. The Brazilian isn't merely a classical midfield screen, he's a lot more than that.
"But he's a fantastic football player, a good passer, his challenges are good. He's a proper defensive midfielder with the option of being a number eight as well"
Klopp said of his new midfielder, highlighting a trope of the former Dortmund manager that keeps rearing its head: he requires his players to multi-faceted, three-dimensional, able to adapt and thrive in different circumstances. Just like he requires his centre-halves to both pass and defend, his wingers to press and finish, and his centre-forward to pass and score, he requires his defensive midfielder to be comfortable both pressing and progressing the play.
It shouldn't worry anyone that Fabinho took this long to find his way into the Liverpool side because patience is probably going to pay off. If the Brazilian can continue to show the progression and steel he displayed in his first two starts, he'll be on his way to cementing his place in this Liverpool side.