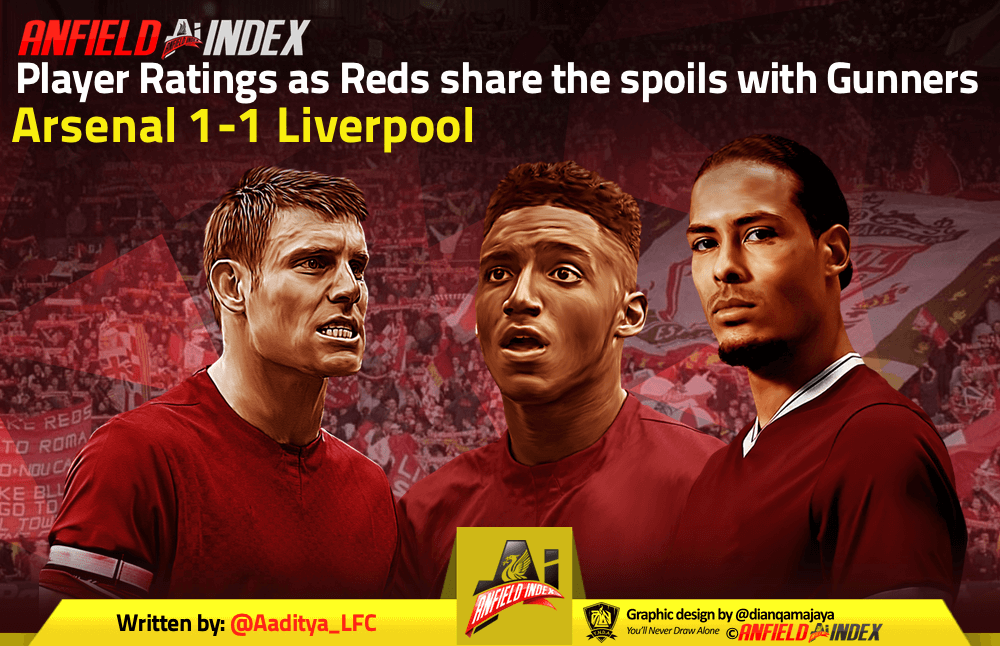 Arsenal 1-1 Liverpool: Player Ratings as Reds share the spoils with Gunners
Phew. That was a game and a half, and in the end, probably a fair result too. Arsenal dominated Liverpool territorially and in terms of possession, but the Reds had much the better chances through the game. In the end, the 1-1 result seemed fair, on the whole balance of play though.
James Milner put the Reds in the lead before Alexandre Lacazette equalised for Arsenal.
Here's how each player fared.

ALISSON BECKER – 5/10
He was immensely lucky on two occasions in the first half. He came off his line to claim a cross but Mkhitaryan beat him to it and put his header wide. Then he parried a cross straight into the danger zone, but Mkhitaryan had a poor touch. There was nothing he could've done about the Arsenal goal though, he did what he had to.
TRENT ALEXANDER-ARNOLD – 4/10
He wasn't good at all. The combination of pace and power from Aubameyang and Kolasinac proved too much for him to handle for most of the game. He was also at fault for the Arsenal goal, as he stood appealing for offside instead of matching Lacazette's run.
JOE GOMEZ – 7/10
Gomez was once again very secure at centre-back. There is a calmness and a sense of assuredness with everything he does, and in the face of a purring Arsenal attack, he was fantastic.
VIRGIL VAN DIJK – 7/10
Could have really had a hat-trick on the night. He really should've scored with the one-on-one chance he had, and arguably could've done better with the two headers from set-pieces. Arguably could've also prevented the goal, by tracking Lacazette's run from source.
ANDREW ROBERTSON – 7/10
A strong game from Robertson. Mkhitaryan and Bellerin were both combining well, but they were being repelled by the energy of the Scot. He combined brilliantly going forward as well, with Mané.
FABINHO – 5/10
In his first big test as a Liverpool player, Fabinho was inconsistent. In the first half, he put in some important tackles, but his passing was woeful. Didn't get much better after the break either. It seems he still does need more time to get used to the 4-3-3.
GINI WIJNALDUM – 5/10
What's that cliche about Wijnaldum and away games? Unfortunately for Liverpool, that rang true tonight. He was barely an influence on the game, and he was getting easily passed around by the Arsenal midfield.
JAMES MILNER – 7/10
He covered both full-backs brilliantly in either half. There was very little quality on the ball from Milner though, apart from the one big moment which brought him a rare non-penalty goal for Liverpool.
MOHAMED SALAH – 7/10
He was Liverpool's out-ball throughout the game. And he kept troubling the Arsenal defence with his pace. The final ball let him down slightly though, as he could easily have set up a couple of brilliant opportunities for Mané.
SADIO MANÉ – 8/10
For me, the Reds' best player on the night. He tracked back willingly and pressed forward at every opportunity he got. His pace was critical in the  Reds getting out of tight spots. Was wrongly denied a first-half goal by the assistant's flag.
ROBERTO FIRMINO – 5/10
Poor. Once again, Firmino's quality on the ball deserted him. He should've been involved in a goal when he received Alexander-Arnold's pass and chipped it over Leno and hit the bar. But it wasn't to be.
SUBSTITUTES:
XHERDAN SHAQIRI – 6/10
He was brought on for the final quarter of the game and didn't really see as much of the ball as he'd have liked to.
JOEL MATIP – N/A
Why did he come on?