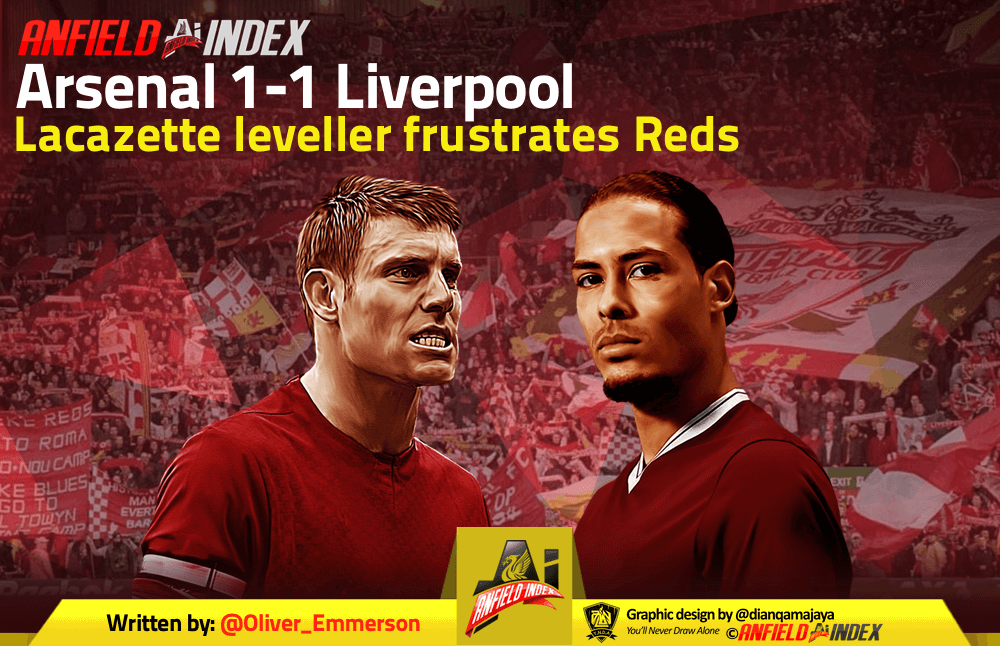 Arsenal 1-1 Liverpool: Lacazette leveller frustrates Reds
Philosophical debates will be had around the dinner tables of Merseyside as Liverpool fans reflect on Saturday's draw with Arsenal, struggling to decide if it's one point gained or two points dropped.
Glass half full, or half empty? After a 1-1 draw that include moments of genius combined with moments of madness, incompetency from officials and an open play goal from James Milner, it's difficult to pick a side.
However, given Arsenal's late charge, Jurgen Klopp may well feel pleased that his Liverpool side only suffered an Alexandre Lacazette equaliser rather than a Gunner winning the game.
Opting to keep faith in Fabinho after two impressive performances, the German's tactical tweak for this one saw James Milner reintroduced to the team in place of Xherdan Shaqiri, with the Reds returning to their commonly seen 4-3-3 formation.
It didn't seem to be of much detriment to the attacking players early on, with Liverpool left baffled after having a perfectly good goal ruled out for offside.
Trent Alexander-Arnold's clever ball in-behind found Roberto Firmino, whose dink onto the post was followed up by an onside Sadio Mané, only for the winger's celebrations to be stopped by an incorrect flag.
Minutes later, Mohamed Salah provided brilliantly for Virgil van Dijk in the area, the Dutchman bringing down a lobbed ball with his chest before being denied by a sprightly Bernd Leno.
Those incidents seemed to wake the home side up a little, with Arsenal's confident attacking players showing why they've helped their side stay unbeaten since the second week of the season.
Bossing the midfield, the graceful touches of Henrikh Mkhitaryan, Mesut Ozil and co were well on display as manager Unai Emery seeked to pump up the home crowd.
It seemed to work, with Fabinho and Wijnaldum particularly toiling for Liverpool, Arsenal managing to put the ball in the net themselves as Lacazette turned home from Mustafi's header, the decision to rule a goal out for offside correct this time.
Despite Arsenal's territorial dominance Liverpool were holding firm, Joe Gomez and Virgil van Dijk again imperious at the back, their good work rewarded when Milner lashed in the opener just past the hour mark.
Good work from Sadio Mané saw him scamper away down the left before sending a fizzing ball in, Leno there to beat it away only into Milner's path with the Englishman making no mistake in sending his shot straight back past the German 'keeper.
Having created the opener, Mané nearly had a chance to double the lead himself as Salah's low cross swept narrowly past his feet, Liverpool's best chance to seal the game.
Seal the game though, they couldn't. Emery threw Danny Welbeck and Alex Iwobi on in search of a goal and was rewarded by the latter. Picking the ball up deep, Iwobi split Liverpool's defence by feeding Lacazette's run with a brilliant pass, the Frenchman then evading Alisson to spin and rifle across the goal for 1-1.
With eight minutes to go, there was time for a winner. However, with Arsenal having thrown so many attackers on in search of the equaliser, Liverpool were forced to defend in numbers whilst the Gunners struggled to control the game from deep themselves.
Both sets of fans were left disappointed as the final whistle rang out, perhaps a mark of progress rather than pessimism.