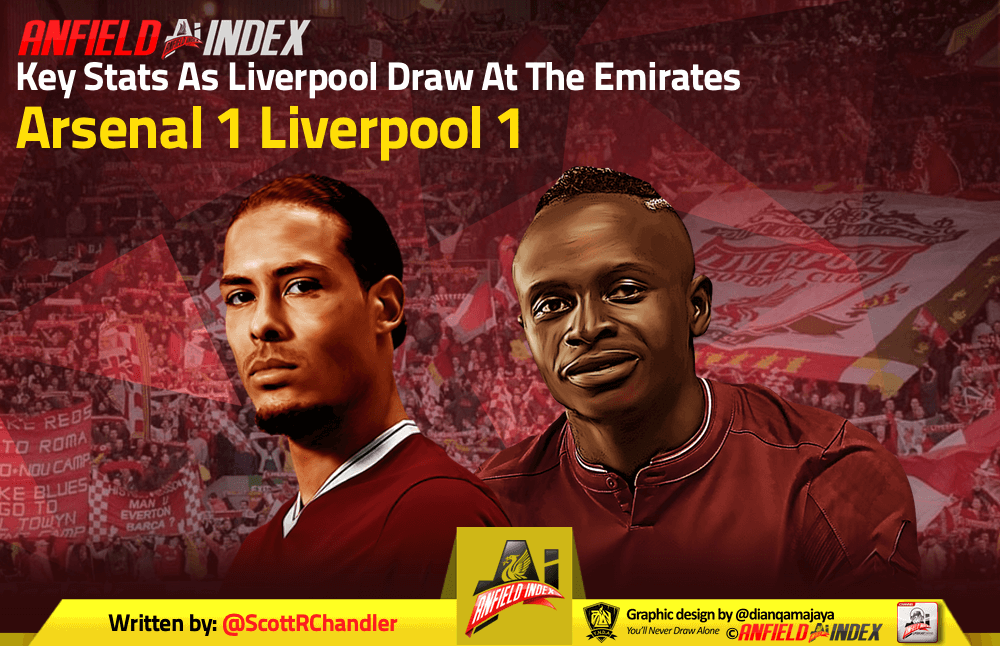 Key Stats As Liverpool Draw At The Emirates
Liverpool took the lead at the Emirates thanks to a rare open-play James Milner goal – and should have had another goal if not for a poor refereeing decision – yet ended up with a draw thanks to conceding a late equalizer. But what were the key stats as Liverpool shared the spoils with the Gunners?
Van Dijk – Total Football From The Dutchman
It says a lot that in a match where Big Virg looked composed at the back again and could have scored a hat-trick on a more clinical day that some are still disappointed that he didn't do more with his chances. However, while Virgil and all Reds supporters would have loved for him to put away one of those 3 chances in the box – including a botched finish off a lovely Salah cross – it's hard to argue with the man who's become a colossus in the Liverpool starting XI. VVD had 0.40 xG from his 3 chances along with a 94% success rate on 3 tackles, 7 clearances, 2 blocked shots, and as always, at least 1 aerial duel. It's become routine for Virgil to stand out in marshalling Liverpool's stingy defence, but hopefully, Van Dijk will add to his Liverpool goals tally if he continues to get some more gilt-edged chances.
Lacazette Leads The Way For Arsenal
A continuing question for Arsenal has been who should start up top in Unai Emery's 4-2-3-1 system, and for one match, Alexandre Lacazette got the best of his fellow striker, Pierre-Emerick Aubameyang. Given the chance to lead the line, Lacazette looked far more comfortable and had a 0.60 xG chance within the first 3 minutes of the match that was luckily saved by the Brazilian God of Shotstopping, Alisson. Auba tormented Trent early from his spot out on the left wing but found himself drifting into offside positions so often that I started to wonder if #Offsideyang would start trending on Twitter. The Frenchman ended up being Arsenal's most dangerous player with 4 shots (2 on target), 2 key passes, and 0.86 of Arsenal's 1.61 xG. On another day – likely one with Mignolet in goal instead of Alisson – he might have bagged a hat-trick of his own. Still, Klopp will likely point to the videotape of Liverpool's series of errors on Laca's goal to emphasise to his players that the goal was fairly avoidable even if it was a sublime bit of skill from Lacazette.
Arsenal's Motto: "I'm Not Dead Yet!"
Arsenal have had a pattern this season of leaving things until late in the game. Lacazette's aforementioned 82nd-minute equalizer gave Arsenal 8 points from losing positions thus far this season, which is tops in the league. It was also Lacazette's second goal this season after the goal that won points for Arsenal following his 81st-minute winner at Cardiff last month. Aside from scoring 2 goals in the first half against Chelsea, the Gunners have largely done all their damage in the second half, scoring 19 of their total 25 goals after the break. Putting Arsenal away early appears to be necessary as they have found their form as the match wears on. The Gunners have been able to turn to either Lacazette, Aubameyang, or Welbeck for magic late in games as they have all scored goals to bank huge points for the Arsenal.
Lies, Damn Lies, And Statistics
Arsenal technically outperformed Liverpool 1.61-1.15 in xG, but this doesn't tell the whole story as Sadio Mané wasn't given credit for a tap-in goal that was wrongly ruled offside. After Trent fed in a lovely cross for Firmino, Bobby acrobatically put a shot in on goal from about 12 yards out that looped over Bernd Leno only to hit the post. While Sadio was offside on Trent's cross, he was behind Firmino on Bobby's shot. As such, he was onside when he tapped in the rebound off the post, which would have sent Liverpool's xG skyrocketing as that was a gimme goal on the doorstep. So, a draw seems a fair –  albeit unsatisfying – result at the moment seeing as the xG would have been either virtually level or slightly in Liverpool's favour. Ultimately, there's no shame drawing away to an in-form top 6 side. The draw only stings in light of City's dominating win over the Saints, thus taking the blue half of Manchester 2 points clear of the Reds. Liverpool is off to its joint top start ever, but it only feels like they're not doing enough simply because City are having another stellar season. If Liverpool manage to win the title, results like the draw at the Emirates will be largely forgotten. But if the Reds fall short of City's blistering pace, Sadio's would-be goal will linger long in our collective memories for what might have been.