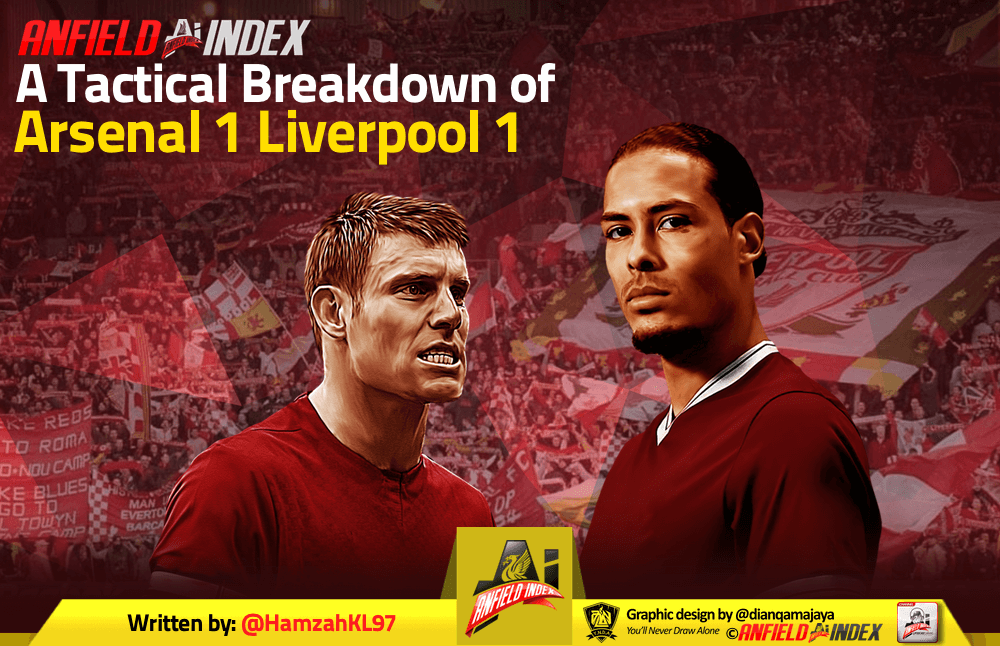 Arsenal 1-1 Liverpool: A Tactical Breakdown
As expected for Liverpool, Jurgen Klopp elected to revert to the 4-3-3 system with which he has enjoyed a great deal of success with against Liverpool's top six rivals and Champions League competitors too.
It made sense: Arsenal have a renewed impetus to play out from the back and did not have a particularly quick midfield, or backline, and in both regards were not technically gifted in either area. Arsenal's threat lay with their forwards and stopping the supply into them, and in the process pressurising those players attempting to pass into the forwards would hopefully pay dividends in terms of possession wins and chances.
In Arsenal's buildup though, they were aware of Liverpool's pressing threat, and looked to counter this with their positioning: Holding and Mustafi took up positions either side of the area, whilst Torreira and Xhaka offered themselves in midfield – offering more options were the fullbacks Bellerin and Kolasinac who stood near their touchlines but beyond the two defensive midfielders.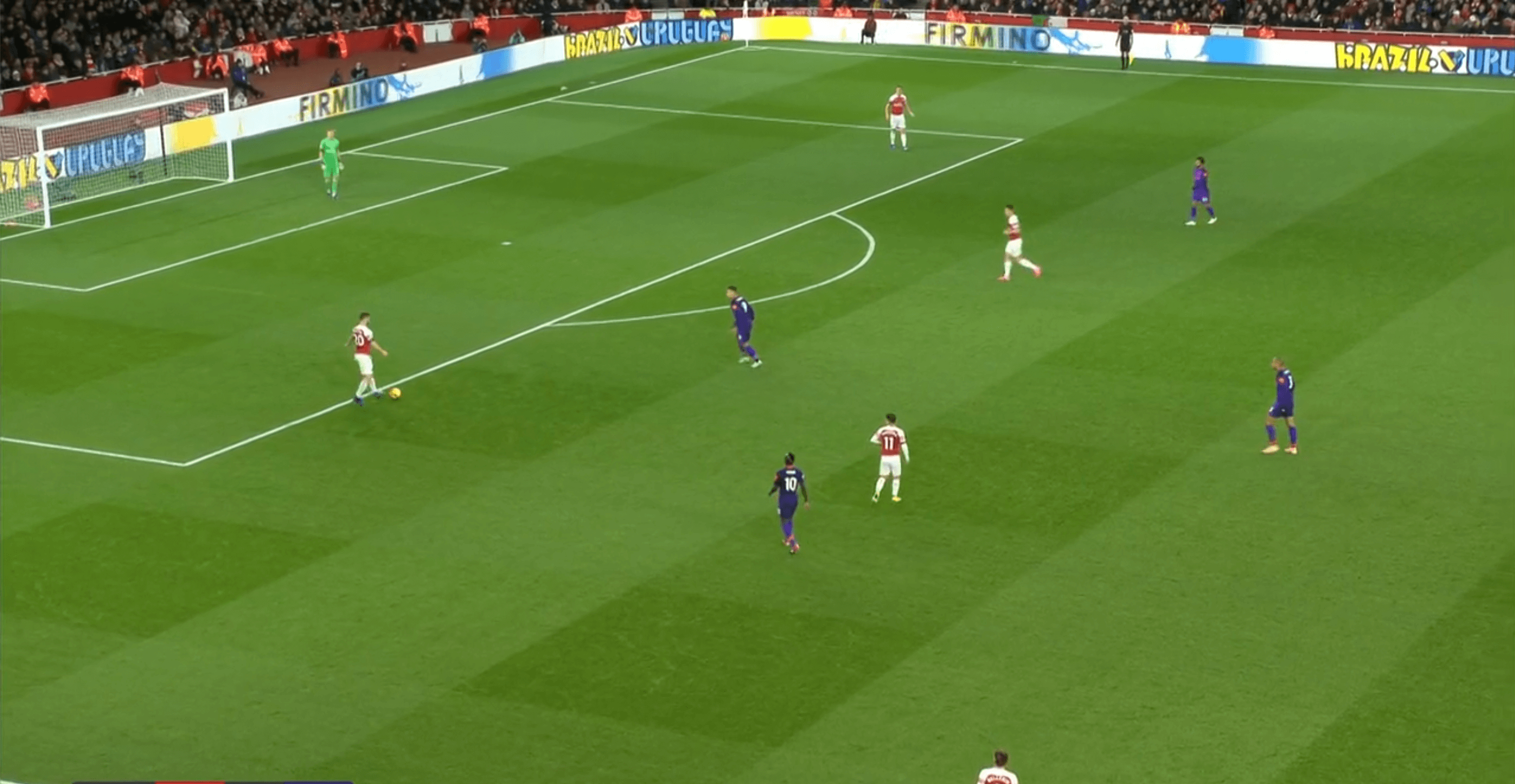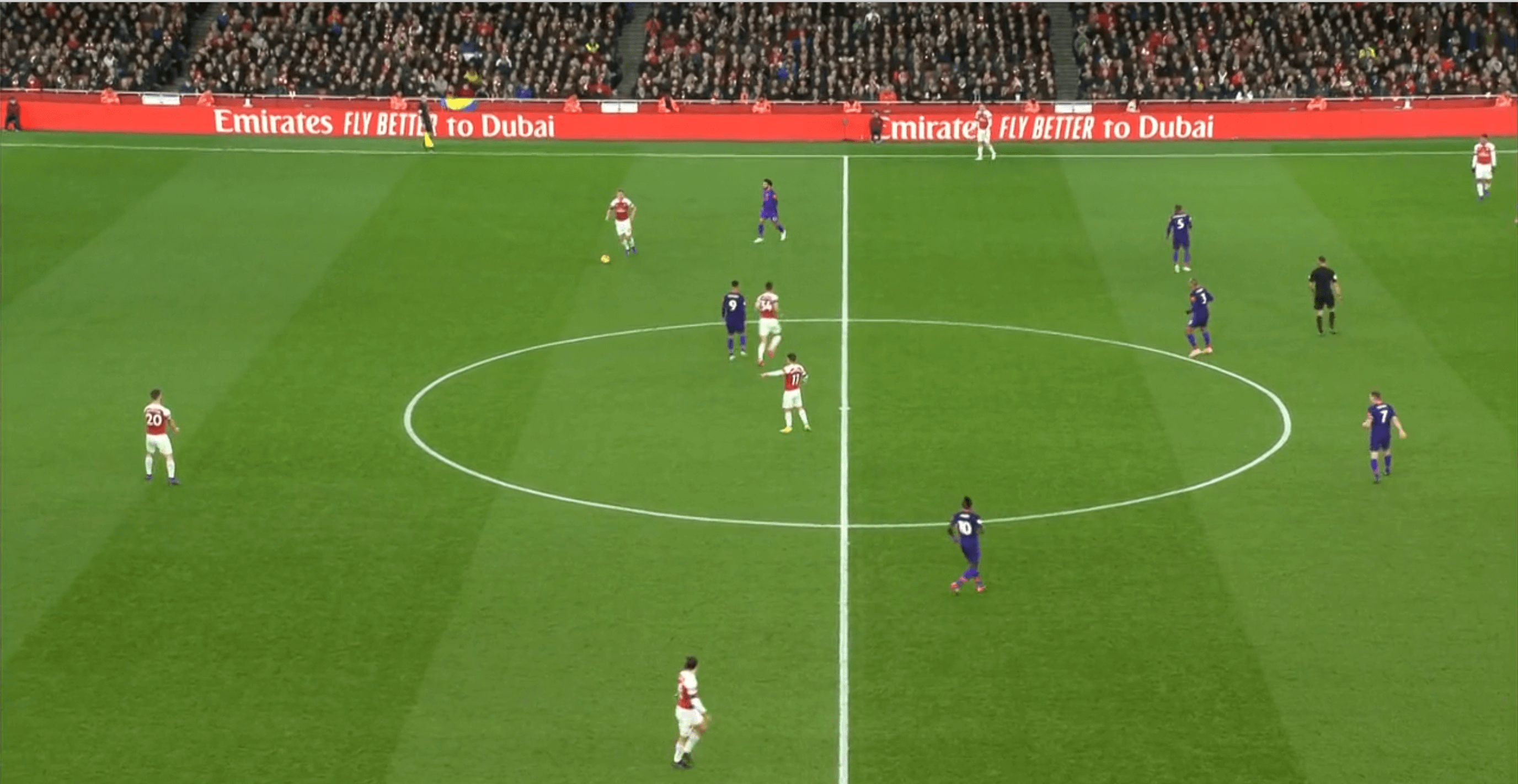 This in itself isn't much of an issue for a pressing side, but Mkhitaryan was instructed to take up a central role, near Ozil during buildup, meaning that Liverpool could not commit two centre-midfielders to press the Arsenal defensive midfielders, as Fabinho would be left with both Ozil and Mkhitaryan.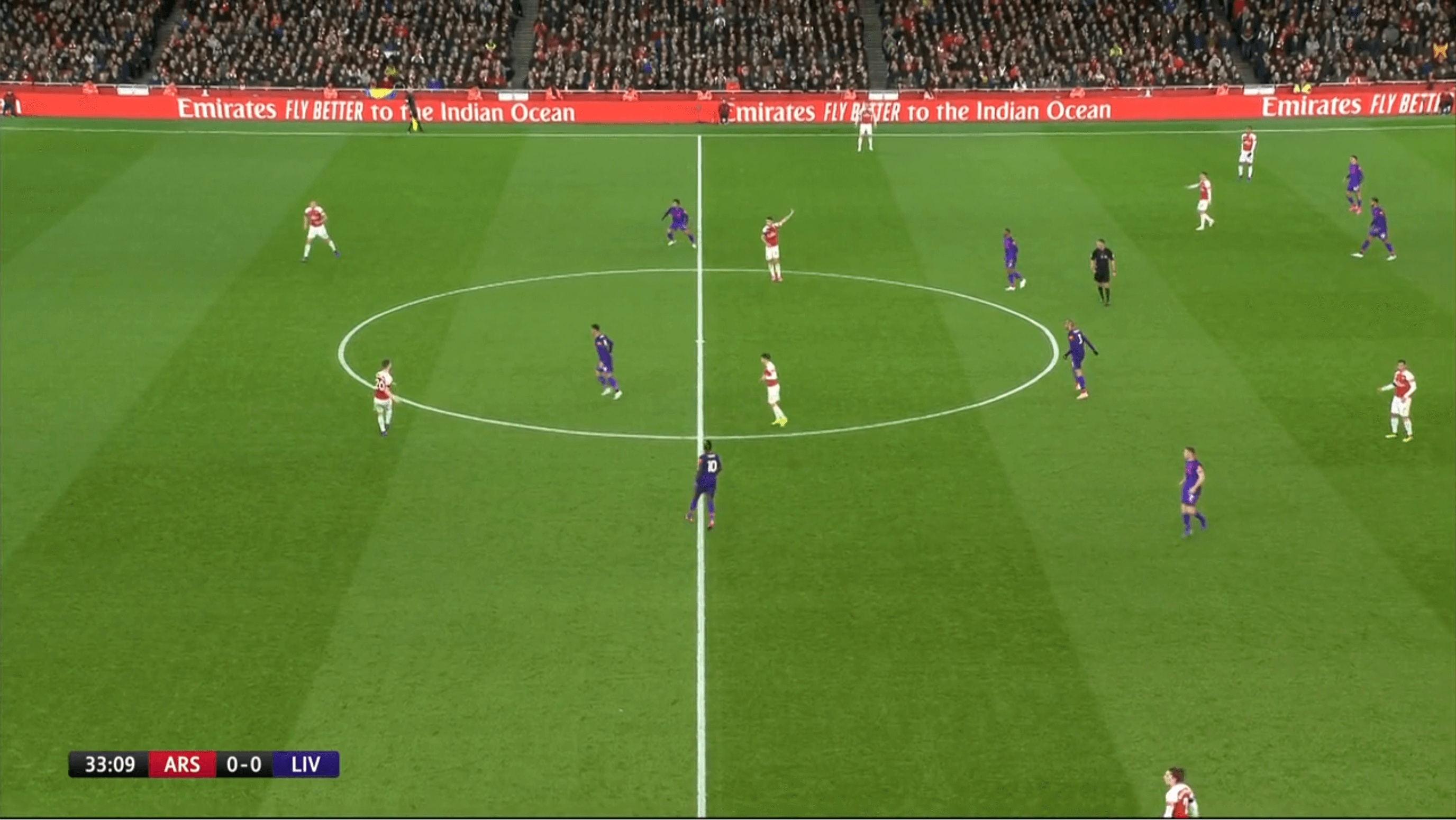 That didn't stop Liverpool and Fabinho in particular from pressing, as he looked to push up on Mkhitaryan when he dropped deep – it simply made Liverpool more wary of pressing, and as a result, Liverpool's pressing did not come across as effective as it can be – something which both Klopp and Milner noted in their post-match pressers.
Despite Liverpool having three centre midfielders, and Arsenal having two defensive midfielders, both sides looked at the wide areas as their main channels to attack, or at least influence attacks through.
Liverpool looked to create width and for the disallowed Mané goal, both Robertson and Alexander-Arnold pushed on, with Alexander-Arnold coming inside to cross into Firmino – as Milner occupied Bellerin and Salah the left centre-back. This chance was the consequence of the 4-3-3 system, in which Firmino plays deeper, and as a result can spring upon defences and catch them unawares, as he did. But throughout the first half, Salah and Mané took up advanced forward positions, as Firmino sat in that "nine and a half" position – but it was clear he needed some support in blocking passing channels into the Arsenal defensive midfielders, as there were two of them.
As the first half progressed, it's clear to see why Klopp bemoaned a lack of "compactness", which was extremely obvious in the opening 45: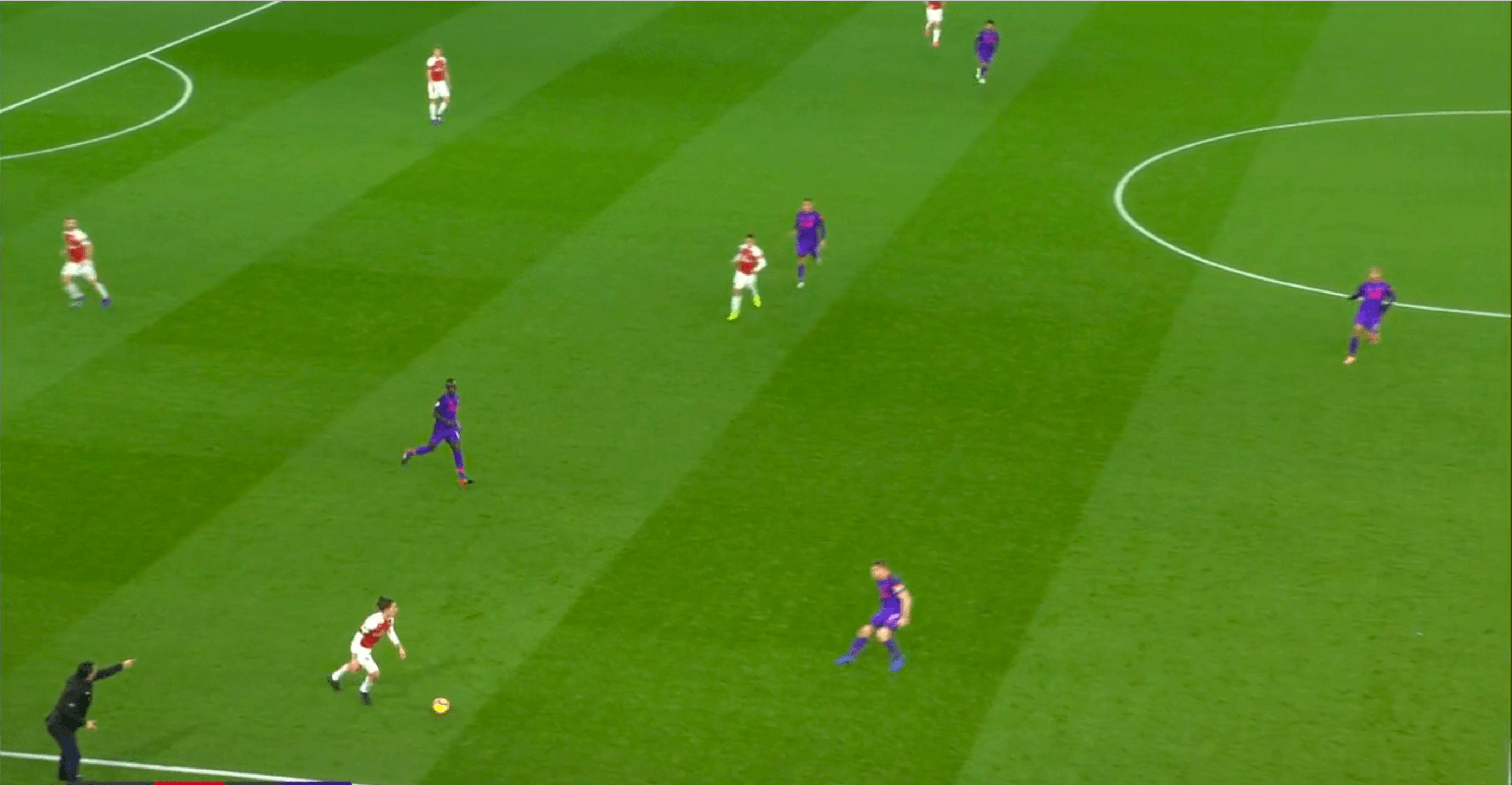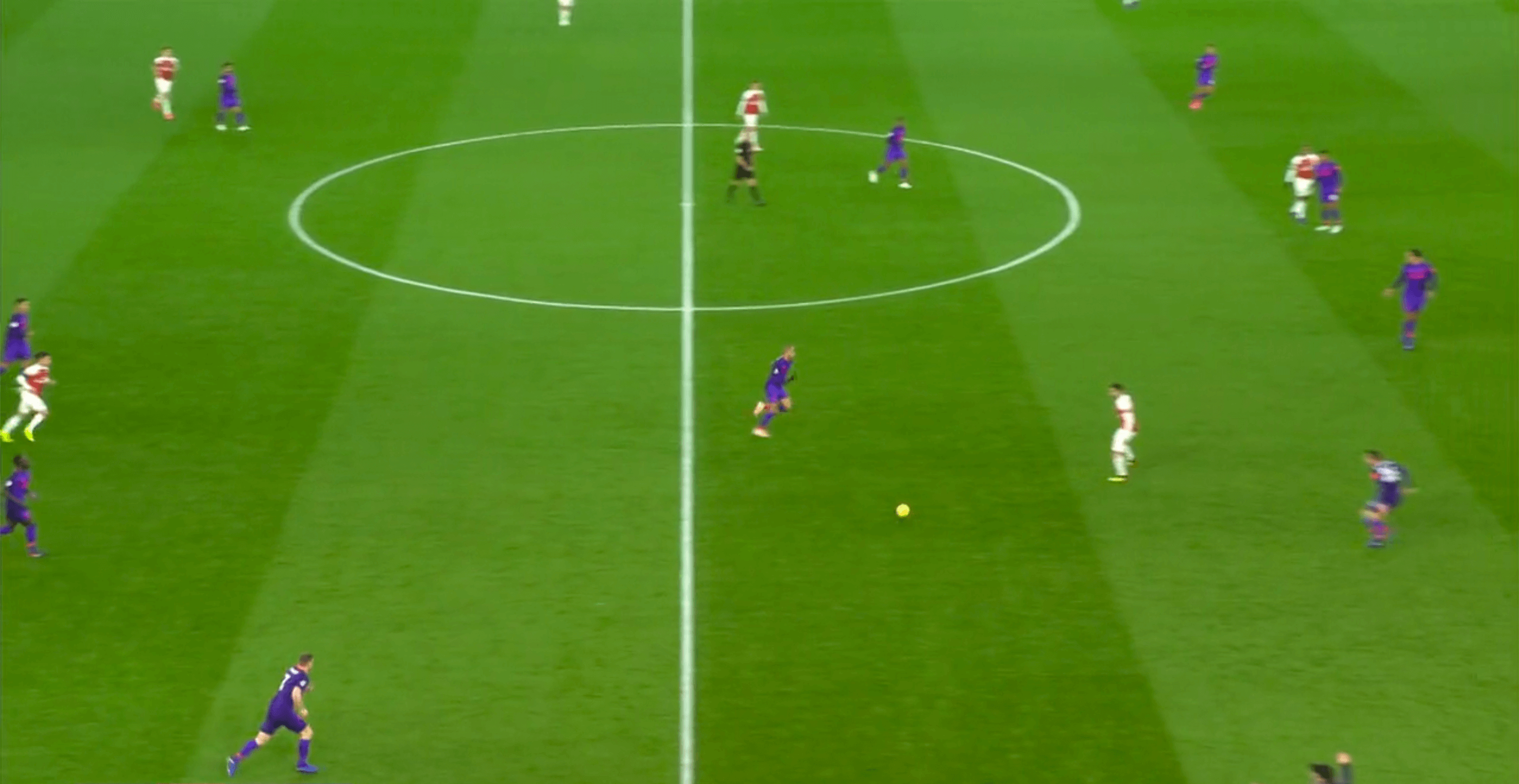 For Arsenal, it was simply too easy for them to pass through the Liverpool midfield and access their forwards. Contributing to this, as noted earlier, were Ozil and Mkhitaryan, but Liverpool were also culpable, as they left too large spaces as they attempted to strike a balance between pressing high, stopping passes into the Arsenal forwards, and managing the defensive line effectively.
Consequently, Liverpool changed into 4-2-3-1, with Salah up top, in doing so they add an extra line for Arsenal to have to pass through. Despite this tactical difficulty though, the biggest chances for Liverpool came from set pieces, in which Van Dijk had a couple of headed opportunities to go with his chance generated by Salah, and alongside Firmino's own set piece chance.
Liverpool were by no means good value for a victory margin of four goals, but they could well have had four goals from those set pieces, had they been seized upon, likewise, Mkhitaryan also had a headed opportunity which he wasted – but the sheer quantity of Liverpool chances, in a match in which they did not play particularly well makes this game seem like an opportunity squandered.
Torreira attempted to mark Firmino during the match – and this may be a ploy we see other sides use against Liverpool when deploying the 4-3-3, however, in those few moments Firmino broke free, beyond Salah and Mané he created opportunities, and Liverpool in three key moments simply lacked the right pass: Firmino's ball into Salah, Salah's low cross which Mané couldn't meet, and Salah's blocked pass in the 93rd minute all stick out – but what this shows is the growing cogency and fluency of the front three, which surely will revert to something nearby those levels we saw to such devastating effect last season.k
Arsenal's goal came through an unexpected source – withdrawing Aubameyang. Through replacing him with Ramsey, and then adding Welbeck in place of Kolasinac, Arsenal seized upon Alexander-Arnold stepping out to Ramsey, and thus increasing the space between him and Gomez – the area which Iwobi played the pass into Lacazette. But the goal is not just the fault of Alexander-Arnold, or the Van Dijk for finding himself on the wrong side of Lacazette – the midfield must also take blame too for affording Iwobi space to both run and pass into: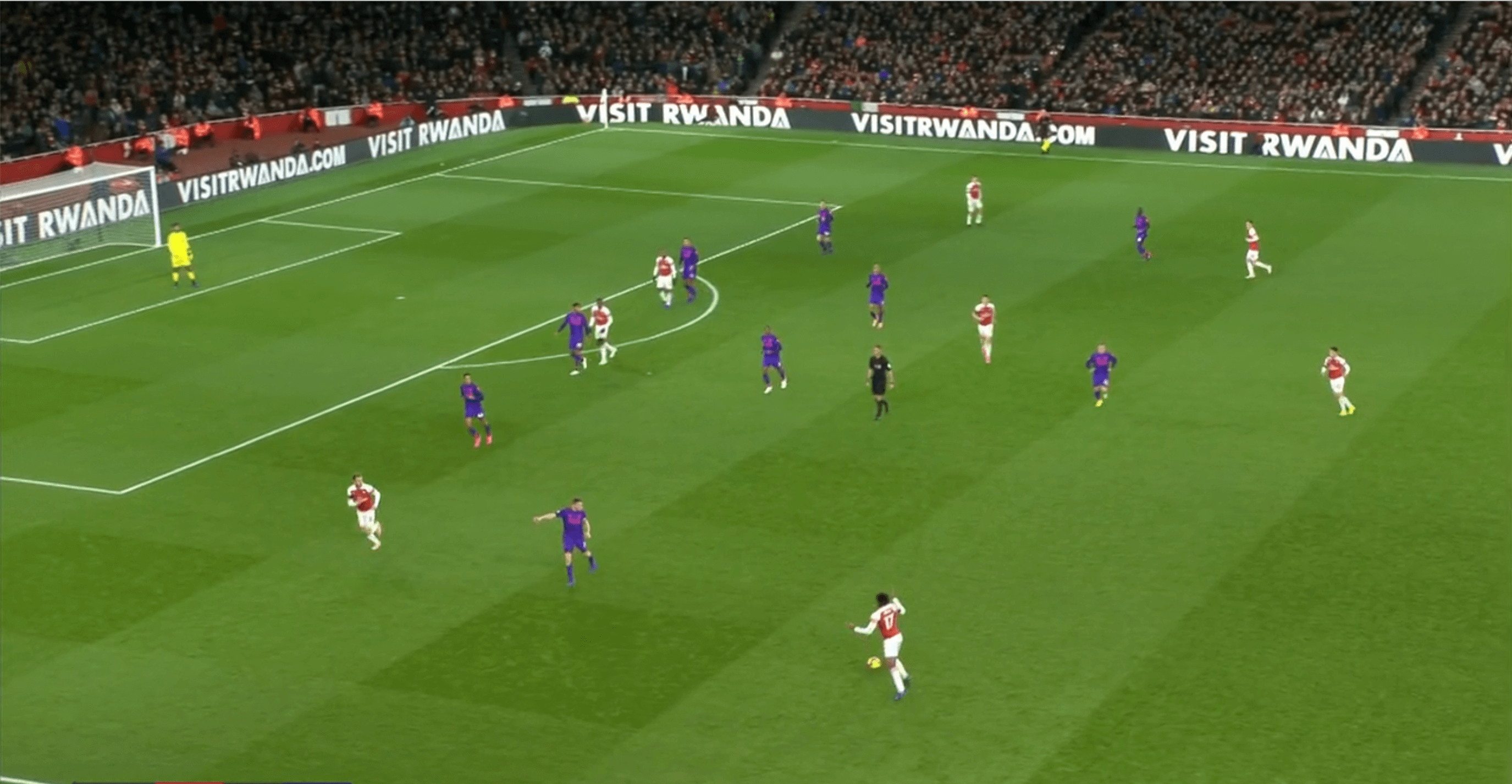 But despite this error, and its subsequent impact on the result, a 1-1 draw with Arsenal at the Emirates is always a respectable result, and we should continue to view it as such, irrespective of how Manchester City are playing. The season is long, and we are barely a third through it, and Liverpool fans can take solace knowing that it was around this point last season that the side truly began to catch fire – and with another performance against a top side in which Liverpool have gone unbeaten, without playing their best, but generating enough chances to win, there's more than enough reason to be optimistic and positive as we close in on the winter period.