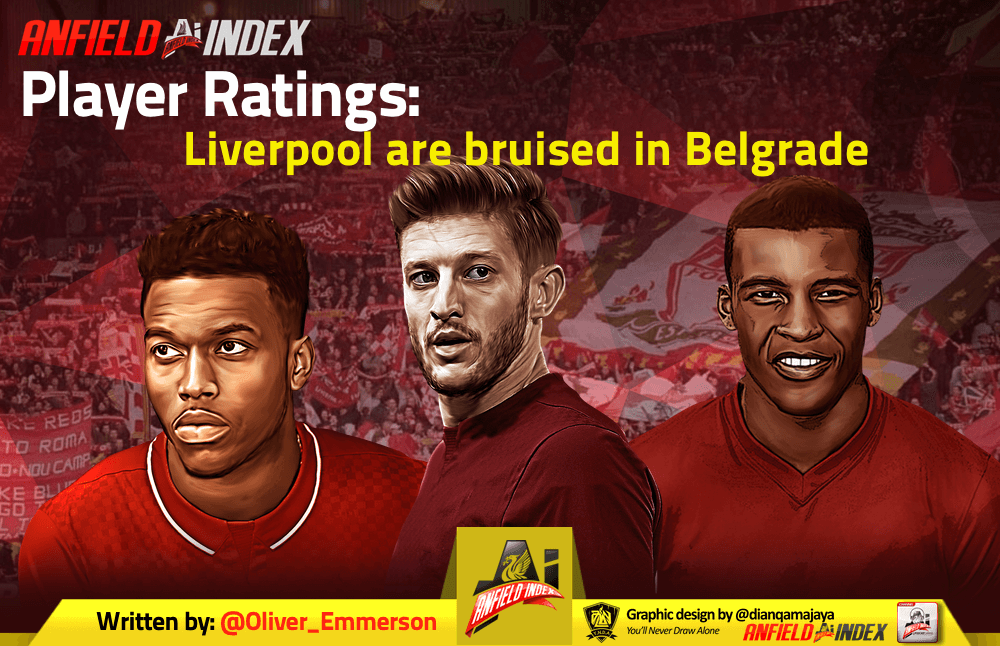 Player ratings as Liverpool are bruised in Belgrade
That was embarrassing, wasn't it?
Like, really embarrassing.
Red Star 2-0 Liverpool and the sad thing was you knew it was over at 2-0. Couldn't tell you why really. The team has fight, they've displayed that already this season. There's quality going forward, they've proved that this season. But you knew.
An off night, or a result that was coming? I'm throwing 3's and 4's out either way.
Here are your ratings.
Alisson does his best Pickford impression
Alisson (5): How small are your arms for that second goal mate? Been taking t-rex lessons from your mate down the road? Embarrassing. Makes one good save but Red Star go and score from the immediate corner so a bit pointless.
Trent Alexander-Arnold (6): Why we wasted a sub hooking Trent to bring on a centre-back I'll never know. Was one of the few that wasn't hideous in the first half.
Virgil van Dijk (5): First goal, ay? Shocking header but I can't blame him for Wijnaldum giving one of their massive lads a free run into the six-yard box. Liverpool's best passer of the ball in the second half which is quite tragic when you think about it.
Joel Matip (4): Genuinely never thought there'd be a day where Dejan Lovren wasn't my least favourite Liverpool centre-back, but here we are. Just head it in, mate. In the net. Between the posts. Under the crossbar. Made my arse tighten when I had to watch him defend.
Andy Robertson (5): I'd love to have a chat about how he looks much worse on the ball lately but when our midfield is being out-done by the kings of Serbia it seems a little redundant.
We miss Can! No, Henderson! No, Ox! No, Phil! No, Fabinho! No, Keita!
Gini Wijnladum (4): Atrocious for the second goal, terrible on the ball for the other 89 minutes. Just really bad generally. Not good in any aspect.
James Milner (3): Not sure what he offered apart from one of the most tedious viewing experiences I've ever put myself through. Took the ball off Van Dijk so many times only to fail to find an option. Honestly, mate, just leave the glorious Dutch lad to it.
Adam Lallana (3): When people stop realising that a few nice individual touches in a 90-minute match do not make for a good performance, it'll make his inevitable departure much easier for us all. Should have scored.
Fabinho (9): Fuck off.
Javier Mascherano (10): Fuck even more off.
Mo Salah, Mo Salah, scoring a lowly four
Mohamed Salah (4): I mean, he tried? If that counts. Unlucky to hit the post at a time where it was probably too late anyway. Should never be allowed to take a single set-piece again. Ever.
Daniel Sturridge (3): Just put it in the net mate. At 0-0, keep your head down and put it in the net. We win, go through, draw Porto in the last 16 again and end up winning the whole thing this time. Can't be arsed with Anderlecht (A) in March.
Sadio Mané (5): Best of the front three which didn't say much. Created the most, looked the most dangerous. Felt a bit sorry that he was seemingly shifted to right wing back for about 20 minutes.
Substitutes
Roberto Firmino (5): Go on Bob, go and get us back in this! From the left wing! Whilst you're out of form! The poor lad should have feigned an eye injury.
Joe Gomez (6): Enjoyed his throw-ins, maybe we get Rory Delap in for PSG away.
Divock Origi (10): Honestly made up to find out he's still alive.