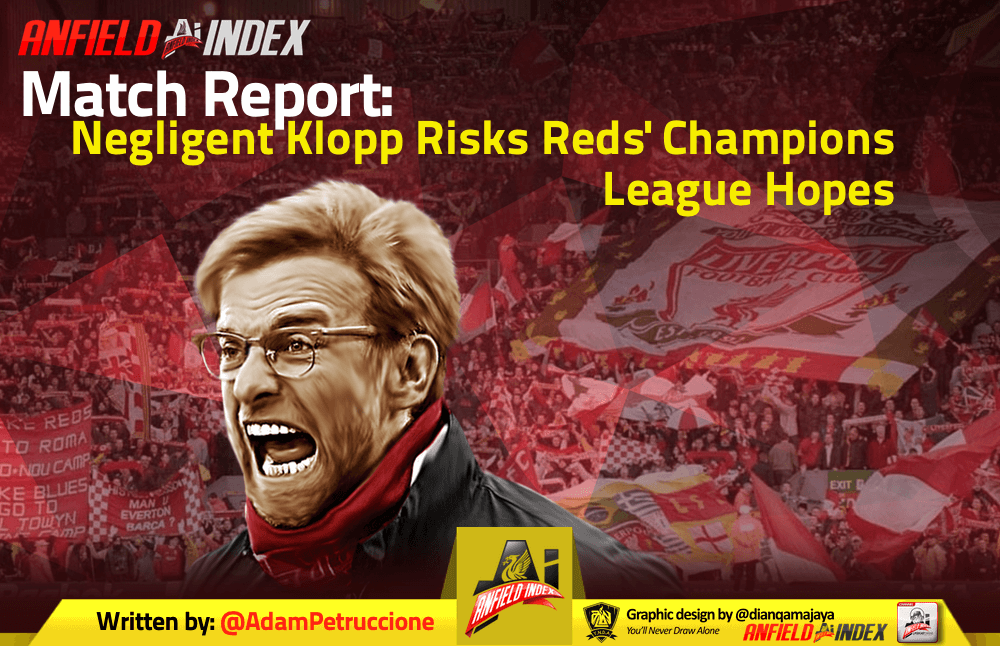 Negligent Klopp Risks Reds' Champions League Hopes
RedStar 2 Liverpool 0
Alisson, Trent, Matip, Van Dijk, Robertson, Wijnaldum, Milner, Lallana, Mané, Salah, Sturridge
Substitutes:
Gomez, Firmino, Origi

Pavkov… It's one of those names that will end up being converted to a curse word from now on. Every time you stub a toe or pinch a finger, "PAVKOV!!!"
The trouble really started against Arsenal. Klopp's reluctance to use his substitutes not only was a virtual white flag in London. It meant that the likes of Sturridge and Lallana would be coming out cold against Red Star. And, boy were they ever cold.
In the 11th minute, Sturridge and Trent both whiffed at great chances to fire home from a Salah cross. In the 16th, Studge managed to fire over the bar, unmarked from 6 yards out. In the 20th Sturridge went for a whirling effort and missed again.
With pressure increasing, more and more and more, the goal at 21' was inevitable. A headed effort by PAVKOV!!! In front of a back line that looked like their minds were focused on the American election results. As RedStar continued to slice and dice our midfield, one started to wonder about the wisdom of playing three attacking midfielders. We didn't have long to contemplate that though, as Gini feebly chased after PAVKOV!!! with no help, and a hopeful shot found the top left corner, splitting the retreating Matip and Van Dijk.
RedStar began to sit off of us and the crowd poured on everything they had for the remaining 70 minutes. Two half-time subs; an interesting panic move from Jurgen Klopp, but he didn't change the Brodge midfield that seemed to be the source of the problem. Lallana and Milner stayed on and battled, but couldn't create a thing.
A real sign of trouble came at the 62 minute mark as Mo Salah, tried to pick out the corner of the goal… from a corner. Desperate times, but were they really that desperate? The pot shot told you everything you needed to know about what the players thought of Liverpool's chances.
Mané shifted right, and Origi joined the fun late, but even with half a team of forwards, we barely troubled RedStar. With an international break and then Fulham once Premier League action resumes, you would be correct to view Jurgen Klopp's treatment of this match as negligent homicide of our Champions League hopes. Much depends on the result between Napoli and PSG, but Liverpool have gone from a dominant position in the group to desperation in 90 Belgrade minutes.
God knows what the manager was thinking with this line-up. It was one of his worst errors in his time as Liverpool manager. Favoring time for Adam Lallana and the bruised and battered James Milner over a midfield respectful of the occasion; away in the Champions League with a chance to effectively seal a knockout round berth… it's something that is going to haunt this manager for a while.
PAVKOV!!!