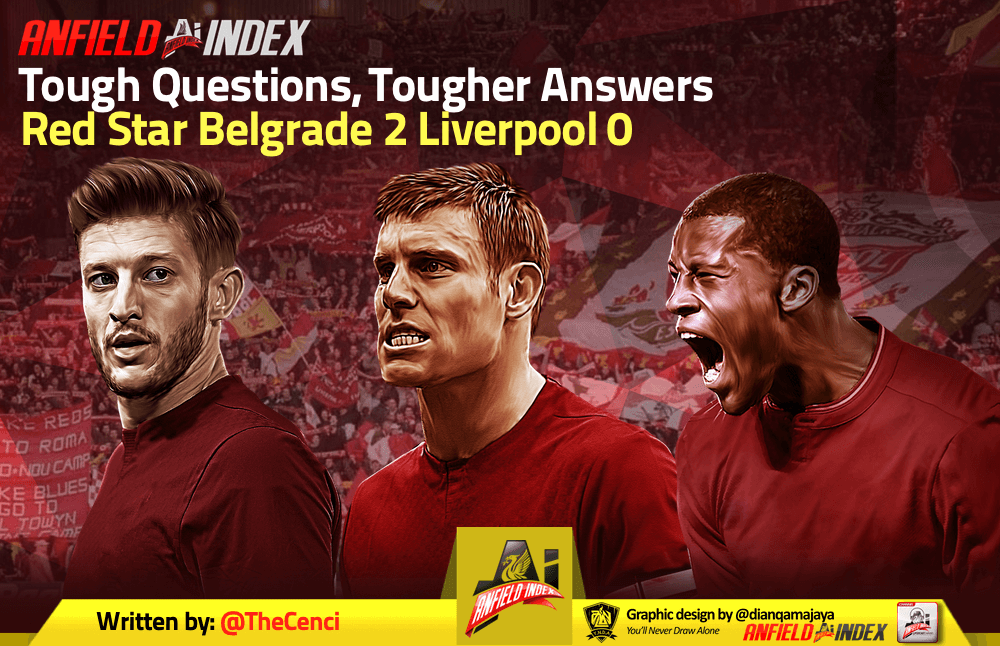 Tough Questions, Tougher Answers | Red Star Belgrade 2 Liverpool 0
Saturday was different.
Jurgen Klopp's men entertained a much different Arsenal than those they used to under Arsene Wenger, and they didn't seem ready for it. Ordinarily, home teams tend to give Liverpool the ball and lock the space down around the box, but this new Arsenal demanded more of the ball and went straight for the Mersey jugular. Despite this, Liverpool led though they could not hold out. A point was fair comment on all sides. Liverpool were not great, but they didn't deserve to lose.
Things, you'd suppose, would be different in Europe.

They were.
Liverpool didn't just deserve to lose in Belgrade. They actively encouraged it.
The line-up was baffling. While it is fair to say that Joel Matip, Adam Lallana and Daniel Sturridge need time on the pitch, this was not a game to take risks. A win of any description would have put us in the box seat for qualification, but the manager wanted to play what my mum likes to call 'silly buggers' when it came to team selection.
Those three players can at least point to rustiness for their awful performances—the rest, however, cannot. Mo Salah was quiet again though he at least tried to get the Reds on the front foot. Sadio Mane wasn't getting the rub of the green and Roberto Firmino all but disappeared once he had set up a gilt-edged chance for his number 10 soon after coming on. His form is fast becoming a concern.
However, it was the midfield which was the cause for most consternation. James Milner was miles behind the pace in the first half. Gini Wijnaldum had a chance to take his man out before the second goal was struck but chose to dance behind him instead. Adam Lallana was simply dreadful.
There are caveats though. Fabinho was woeful on Saturday and it is unlikely he will ever play so poorly again, so it's understandable that he be taken out of the firing line for a couple of games. Jordan Henderson still isn't fit and the manager probably didn't see a hostile night in Serbia as the ideal place for Naby Keita's return.
What happened at half time was astonishing.
Jurgen Klopp looked at the situation and decided to keep the same midfield. Daniel Sturridge and Trent Alexander-Arnold made way instead, though it did encourage a 4-2-3-1 line up and the minute wrestling of some control in the middle of the park.
The Serbs could have had a penalty when the ball struck James Milner's arm. Harsh maybe, but the sort of call you shriek about if it's your side who are seeking an advantage.
Liverpool had more of the play in the second half, but it went nowhere as the Reds demonstrated a paucity of ideas. While last season the plan was always to stretch the play and find pockets of space behind the full-back, Liverpool resorted to the lamest tactic. They shoot wildly and from anywhere with little patience and guile. Both Sturridge and Salah were guilty of that in the first half and Virgil van Dijk snatched at a late header from an excellent cross instead of converting a great chance. Heads had gone. Control found no home in the Liverpool psyche.
The statistics are more damning.
Liverpool's first shot on target came in the 71st minute. In fact, it was the first shot on target away from home in the Champions League this season. Liverpool blanked in Italy.
And it somehow seems avoidable. Liverpool chose to leave Xherdan Shaqiri at home to ease tension in the ground. The Swiss international is of Albanian stock and was fined in the World Cup for making a double eagle gesture, mimicking the Albanian flag when he scored against the Serbs. Klopp said before the game:
"We have heard and read the speculation and talk about what kind of reception Shaq would receive and although we have no idea what would happen, we want to go there and be focused 100% on football and not have to think about anything else."
A wise move or a poor call? It's easy to say in hindsight, but travelling fans would have preferred to see the Anfield favourite over an understandably out-of-sorts Divock Origi. Either way it seems that we took a knife to a gunfight by leaving him at home. He is the one player guaranteed to show patience.
It now looks as if there is plenty to think about in Group C.
With just two points separating the four teams the last two games are simply a shootout. Liverpool could end PSG's interest in the competition with a win on the 28th if Napoli dispose of Red Star at home. A draw in Paris coupled with a Napoli win would mean the Reds would have to beat the Italians in the final game at Anfield.
Got that?
No, me neither. Let's simplify it then.
Liverpool just have to win to make certain.
The problem is that Liverpool haven't looked certain of anything of late.