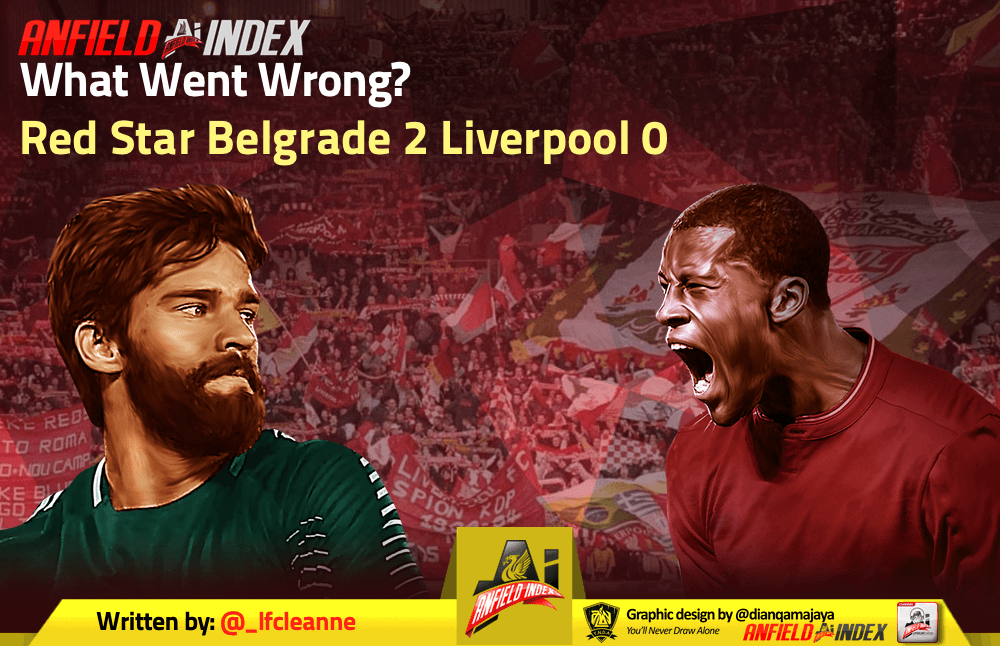 Red Star 2-0 Liverpool: What Went Wrong?

A sobering night in Belgrade saw a second successive away performance in the Champions League that left much to be desired. Far from the vintage Liverpool witnessed last season, this was as bleak as it gets for Jurgen's men; no ingenuity, no guile and no drive for success or at least attempt to turn the tables after a dismal opening forty-five minutes, Tuesday's display will be a genuine concern to many.
Naby Keita's continued recovery from injury would restrict him to nothing more than an unused substitute on a night where Adam Lallana's painfully turgid movement made it near on impossible to muster up chances for the front three. Despite failing to show the same class that became such a trademark during his displays in the Bundesliga for RB Leipzig thus far – bar his opening day performance against West Ham – Keita's dynamism was a huge miss in Belgrade.
Liverpool were in desperate need of a player who would drive from deep, showing confidence in possession to pull opponents out of position and carve out chances – an Oxlade-Chamberlain if I may. The Englishman continues to leave a huge void in the midfield; a puzzle Klopp must solve soon if the Reds are to retain their place in the Champions League and continue fighting for the Premier League title.
Klopp's gegenpressing system left much to be desired, too. Where Firmino would usually provide the first line of defence, pressurising the defence high up the pitch, such intensity was distinctly lacking here. To offer some statistical perspective, Liverpool ran well below their season average of 115km with Red Star outrunning them 113km to 107km. A team known for having a physically demanding system primed on pushing oppositions to the max, this in now the seventh time in the last eight games that Klopp's side have been outrun. It comes as no surprise that this drop off in pressing has coincided with just three wins in the last nine games from all competitions. Both aspects are in fact entirely intertwined; last season gegenpressing provided the platform for so many incisive counter-attacking moves and an inability to recreate such an intense style this year could explain the lack of attacking cohesion seen thus far. Fix the press and you'll probably fix the problem, both in a creative sense and overall performance/points.
In the build-up to the game, Klopp was keen to stress that there would be no distractions via off the field antics – the sole reason why Xherdan Shaqiri wasn't in the 18 man team to go to Belgrade – but his players clearly didn't get the memo. From the first minute to the last, Liverpool were pitiful across the pitch, thoroughly deserving of a loss that sees them teetering on the edge of an early Champions League exit. Let this serve as a wake-up call. For the players, there must be an injection of energy and desire. For the manager, a need for more ruthlessness in his decision making rather than romantic notions of giving fringe players the chance to earn minutes. Failure to do so will only see concerns continue to foster.