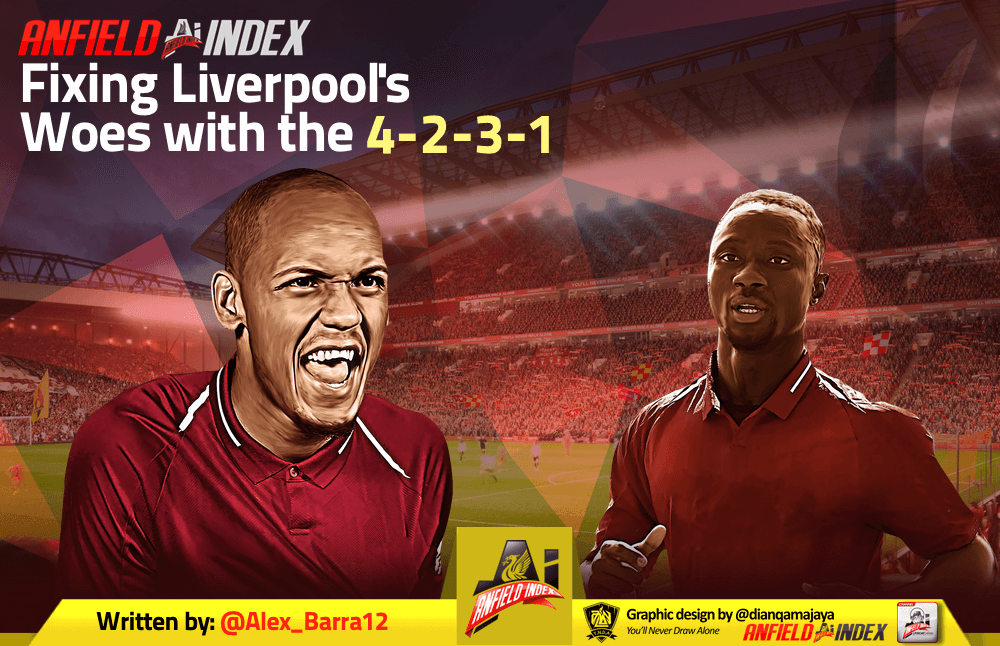 Fixing Liverpool's Woes with the 4-2-3-1
Liverpool are currently ailing.
It seems almost ludicrous to say, given they currently sit two points behind the automaton that is table-topping Manchester City, but ask any fan and the 2-0 defeat to Red Star Belgrade in the Champions League was not an outlier of a result.
Not when Liverpool couldn't take advantage of Arsenal's obvious frailties, not when they only escaped with a point against City because of Riyad Mahrez' wild attempt at a penalty, and not when Huddersfield felt aggrieved not to have won a point themselves.
The loss at Red Star – dismal performance as it may have been – was not an isolated incident.
Klopp's team selection for the game in Belgrade may have bemused many, but these issues go far beyond a single ninety minutes. Liverpool's midfield was bypassed entirely against Red Star – devoid of creativity or effective pressing – and their forwards, who were so stellar last term, have been unable to recapture that intensity or effervescence in front of goal.
The trio behind them – James Milner, Gini Wijnaldum and Adam Lallana – failed to win a single tackle, and the tactic of bombing long balls over them into the feet of Salah and Mané to unseat the opposition defence and instigate an instant counter-attack – one which surprised teams last season – is simply too haphazard to work again.
Liverpool's beginning to the season had been lauded for its defensive solidity – something equally admirable as a glittering attack – but there's not point in the titanic defence of Virgil van Dijk and Joe Gomez (who was oddly unseated from his partnership in the middle against Red Star, instead playing on the right) if the attack doesn't then add their goals to complete the relationship.
The figure of Nabil Fekir seems to loom large over this squad, with Klopp desperate for a player able to link the stagnant midfield and misfiring attack.
Oddly enough, the solution isn't something all that innovative or new.
With Alex Oxlade-Chamberlain – a player everyone clearly misses right now – absent with a long-term knee injury and unlikely to feature this season, Klopp decided to switch from his stapled 4-3-3 that saw so much success last season and modify the 4-2-3-1 that he employed at Dortmund, with Xherdan Shaqiri or Roberto Firmino slotting into the auxiliary "Number 10" role.
In what can effectively become a 4-2-2-2 with Shaqiri (who did not make the trip to Belgrade for political reasons) and Mane operating as the creators out wide and Firmino acting as a second striker or more traditional number 10 behind Mohamed Salah, Klopp was able to coax the fluidity out of Liverpool.
Klopp used it to great effect against Red Star Belgrade in the home tie, Cardiff and Southampton – winning all three by a margin of at least three goals. Granted, all were at Anfield, but the overriding sense was that Klopp had found the right tactic to aid Liverpool's woes. Against Red Star, he returned to the 4-3-3, and his midfield suffered because of it.
"Gegenpressing is the world's best playmaker" Jürgen Klopp was quoted as saying during his Dortmund side's incredible 2010/11 season.
This season, however, the gegenpress has been noticeably absent as a playmaker. Per Anfield Index's Simon Brundish, Klopp's team have been "out-run" in terms of total KM run in seven of their last eight games.
So, how does he fix it? Besides a return to the formation that he seems to be intent on making work – the 4-2-3-1 – there are personnel that must be prioritised, no matter the importance of the players they replace.
Though Klopp does seem to quite like him, Adam Lallana is far out of his depth in this Liverpool team. He's scored 1 goal in his last stretch of 33 appearances and lacks any form of creative inspiration when Liverpool are up against a packed defence. Jordan Henderson, no matter his influence, is not the defensive midfielder Liverpool currently needs; he's not forward-thinking enough. Fabinho – despite enduring a horrid first half against Arsenal – possesses the template to make the 4-2-3-1 work; a mobile interceptor who always looks for the forward pass when the ball is won.
And Naby Keita must play alongside him.
Signed for around £60 million in the summer from Leipzig, injuries have curtailed any string of matches Keita could put together, but when at his best, he is the type of player who can set the midfield alight. Able to carry, distribute and score, he's exactly what Liverpool's midfield against Red Star was not: proactive and energetic.
It may well be harsh on Wijnaldum, who's been one of the Reds' better performers so far this season, but the midfield duo must be allowed the time to gel, and eventually prosper.
Upwards of £100 million was spent on the duo, it's time to let them go to work.
Should the midfield be aligned properly, and Mo Salah be situated alongside Roberto Firmino instead of looking isolated and starved, then Liverpool may well re-energise their season.
They may well be far from a crisis, but that doesn't mean nothing's wrong. Indeed, if Klopp is to press City further than January, or harbour any hopes of progressing in the Champions League, the team must start performing better. It all starts with Jürgen.