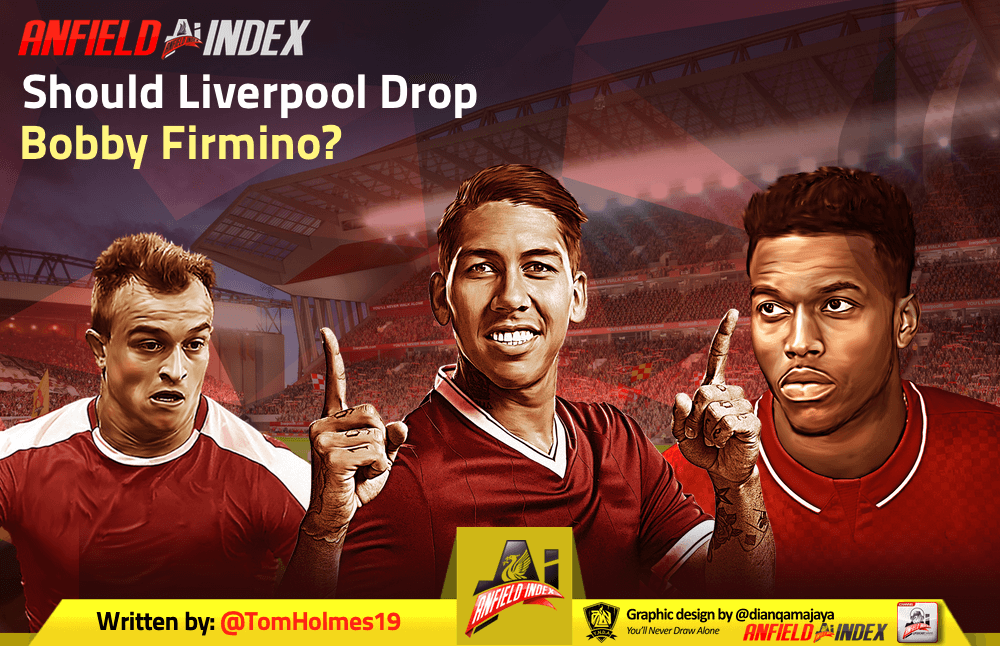 Should Liverpool Drop Bobby Firmino?
Liverpool have hit a bad patch of form, and one player who is standing out as struggling is Roberto Firmino. Bobby is not the only player in the Liverpool scratching around for form, but he's probably somewhere close to the player furthest from his best when you consider that for many people he's Liverpool's most integral player and certainly one of their best ones.
So the question I want to ask in this article is whether or not Firmino needs to be dropped. I'm going to look at his current form and compare his numbers to last year to try and pick out what's going wrong and why he's not playing well – as well as which aspects of his game he needs to improve. I'm then going to look at the pros and cons of keeping him in the team and try to come to some sort of conclusion. So let's dig right in.
The Numbers

So far this season, in the Premier League, Bobby has played 830 minutes, scoring two goals and notching two assists, a goal contribution every 208 minutes. Compare that to Salah (119 minutes), Mané (148 minutes) and to his own contribution in the PL last season (128 minutes) and you can already see that there's a problem.
In terms of goals, a clear issue arises. Firmino has had 3.86 expected goals so far this season, and scored just twice, a ratio of 0.52 goals per expected goal. Compare that to last season, where Firmino scored 15 goals from 10.76 expected goals, a ratio of 1.39 goals per expected goal. So despite actually having better chances this season so far (0.42 xG/90 this season compared to 0.34 xG/90 last season), Bobby's goal to expected goals ratio is almost three times worse than it was over the course of 17/18. In other words, his finishing has been poor. As a result, he's scoring a goal every 415 minutes this season in the PL, compared to every 188 last.
What's interesting is that in terms of creativity, there's very little in the brute numbers to suggest Bobby is doing a lot wrong. He averaged an assist every 402 minutes last season, compared to 415 this. In terms of expected assists, he's averaging 0.22 xA/90 this season, compared to 0.25 last, and he's been the 4th most creative player in Liverpool's squad so far this year.
And yet, there are two numbers that stand out as to explain the seeming issues with why Bobby is failing the "eye test" for creativity. The first is that Bobby is actually creating significantly fewer chances per game this season with 1.30 key passes per 90 minutes compared to 1.79 last season. So even if so far (with a much smaller sample size) Bobby's creativity isn't significantly down, he's creating a lower volume of chances.
The other big issue is that he's not creating as many big chances, just two this season at 415 minutes per big chance, whilst last season he created 11 – one every 256 minutes. So Bobby is not only creating fewer chances but also less clear-cut chances, which is potentially a worrying sign.
One final set of numbers that I think is equally critical is Bobby's xG Build. If you're not familiar with the term, it's basically a metric to measure how much expected goals a player is involved in when the shots and key passes are removed. And Bobby's overall expected goals involvement is significantly down – his xG Build was 0.40/90 last season and is down this season to 0.27/90.
In brute terms, Bobby was Liverpool's 6th highest build up player last season, this season he's down to 11th. In terms of overall xG involvement (xGChain), he was 2nd of the starters last season on 0.89 and this season that's down to 4th on 0.76.
So to summarise the numbers section, it largely matches what my presumptions were about Bobby going in. His finishing has been significantly poorer this season, he's less involved in Liverpool's attacking play, and he's been marginally less creative.
Explaining The Issues
A big part of the question over Bobby has to lie in his fitness, or rather in his rustiness. The World Cup is still hovering over this season to an extent, as Bobby's long run with Brazil meant a much shorter pre-season this year, and with other Liverpool players in Henderson and Trent similarly suffering, it's not necessarily unfair to say that this would play a factor, nor is it overly surprising.
Another issue is not necessarily with Bobby himself but questioning how he's fitting into our attack as a whole. With Klopp consistently rotating the midfield and at times the front three, including Bobby himself, it's not necessarily a surprise that Bobby is struggling for form. And when Liverpool's attack as a collective whole are not playing well, it's not surprising to see both Sadio and Mo, who are more flair players possessed with more pace and power than Bobby able to produce more moments of individual quality. Bobby has always been a system player, so is it any surprise that he's struggling when the system is?
Another question is Bobby's role within that system, as he's been playing deeper this season. But you would argue and expect that if Bobby was dropping deeper, he'd be more involved in the play in general and more creative, and the evidence simply doesn't suggest that that is the case at the moment. Quite the opposite in fact, it seems as though at times the play has been passing him by.
A huge part of that is the problems with our midfield, but that is an article in and of itself. The only point I'm trying to make here is that there are mitigating factors that indicate that Bobby's lack of form is not necessarily down to anything that he himself is doing, but more down to structural problems with this Liverpool team, given that Bobby is more susceptible to the structure than Mo or Sadio are.
Should He Be Dropped?
 If Bobby is struggling to make an impact on this Liverpool team, and given that he has just one goal and no assists in his last seven starts, at home to Red Star, it's hard to argue that he isn't, should someone else come into the side in his place? Xherdan Shaqiri has looked impressive off the right flank, and Daniel Sturridge has the same number of goals as Bobby in all competitions having played about 700 minutes less, and both have been itching for a chance to take his spot.
To be fair, Klopp has already demonstrated that he can fit two of those three in the same line-up having moved to 4-2-3-1 before, playing Shaqiri off the right and Bobby in behind Salah. With Sturridge not having demonstrated that he's capable of playing the three games a week required to start regularly, there's no doubt that there's scope for Bobby to still play regularly.
Another factor to consider is the pressing, and whilst the debate rages about how effectively we've pressed so far this season, in big games Klopp will still need his biggest pressers, and Firmino is one of those. But Liverpool have a relatively decent run in the Premier League over the next month or so, leaving plenty of scope for Klopp to save Bobby for the UCL games against PSG and Napoli, especially given that that competition seems to be Bobby's strength, both this season and last he's scored far more regularly in Europe.
However, the biggest question for me is the most telling one. If we can get him back to his best form, will Bobby be an integral starting player for Liverpool, and the answer to that question is an unquestionable yes. In that case, the question of dropping Bobby needs to be framed in a different way. It needs to be less about what will benefit the team over the next handful of games, but about how will Bobby get back to the levels where he will be a decisive player in this team?
On that front, I think there is no simple answer. If he needs a spell of rest on the side-lines to regain some fitness and shake off some tiredness from the World Cup, then Klopp should do that, and not worry about the consequences for the first team in the meantime – both Shaqiri and Sturridge are up for the job and Bobby hasn't really contributed massively to the team lately anyway. If Bobby needs his minutes managing, then we should be managing his minutes.
But if the best way to get Bobby firing again is to play him regularly and get his form going then that's what Klopp should be doing, and trusting the other ten players on the pitch around him to get the job done even if he isn't firing on all cylinders for a couple of weeks.
And again, the other thing to note is that whilst I've limited the scope of this article to Bobby himself, getting the midfield issues sorted will be a big part of getting the best out of Bobby and getting him back to his best.
Klopp, of course, did rest Bobby for the Red Star game, only for his replacement Sturridge to miss the game's best chance. But when Klopp did bring Bobby on at halftime, he did himself no favours either, failing to take any shots and creating just one chance for team-mates, despite Liverpool having a dozen second-half attempts at goal. He didn't attempt any dribbles, a challenge for any aerial duels, and was 0/1 on tackles. So if the Red Star game was an opportunity to definitively answer the question of whether to drop Bobby, neither the man himself nor Sturridge covered themselves in glory.
Personally, I'm torn. Bobby is a phenomenal player, and we have some other serious issues that need addressing before we'll get the best out of him. I also think that he's not going to find his form sat on the bench, and whilst we have a few winnable games, it's a good opportunity for him to find his feet in this team. But on the other hand, he really isn't playing well and the likes of Sturridge and Shaqiri have been knocking on the door to take his place. I don't think that there's an easy answer here, but overall as I said, I'm voting for whichever solution gets the most out of Bobby before Christmas and beyond. If you pushed me for an answer, I'd have to of course say that any Liverpool team with Bobby Firmino in it still makes me more exciting than one that doesn't have him in it.
Hopefully, in two or three games time, this article will be irrelevant. Up the one-eyed Reds.