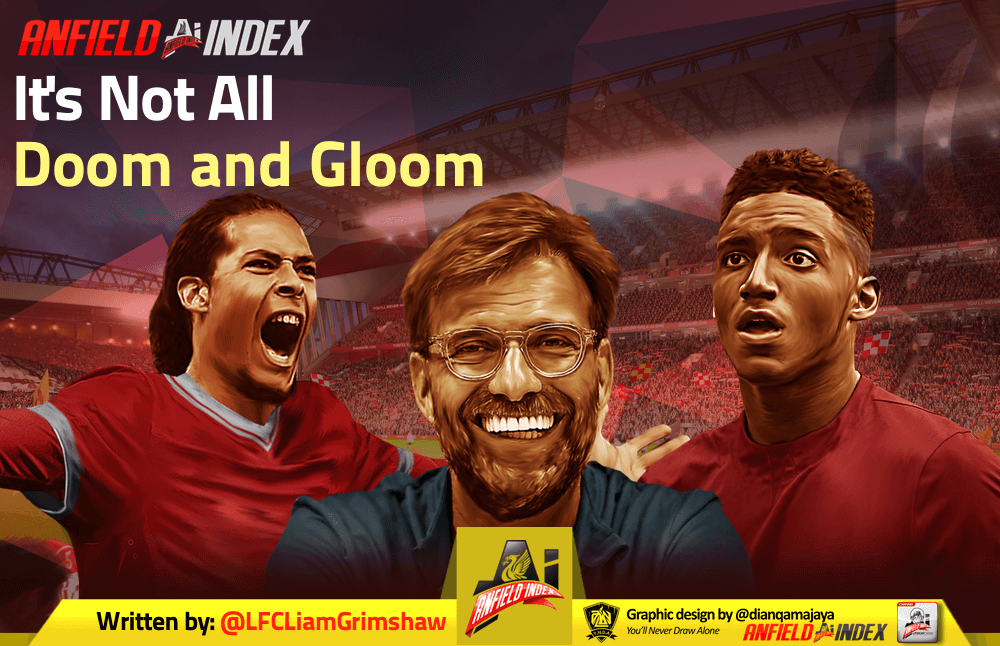 It's Not All Doom and Gloom for Liverpool
After conceding a late goal at the Emirates, Jürgen Klopp and his side were resigned to leaving the capital with just one point.
The general reaction so far has been one of negativity, largely down to the fact that anything but perfection just doesn't seem good enough – it's the effect that Manchester City have had on the other top 6 sides.
As unconvincing as the Reds play has been at times this season, they still find themselves sitting pretty on 27 points, just two adrift of last season's champions, and behind Chelsea on goal difference.
It's Liverpool's joint best points haul at this point in a Premier League season, and they remain unbeaten having navigated away games at Spurs, Chelsea and Arsenal – with a home game against City thrown in the mix. All of this before Christmas.
If Klopp's side can continue at this level they are on course to reach 93 points. That point total would win the title in all but two seasons, Chelsea 2004/05 and City's last season – and leave them on joint points with Conte's title-winning Chelsea side.
That's a true testament to the resilience being shown by Klopp's side and particularly the defence, despite some poor attacking performances, the Reds remain undefeated – playing far from their best football.
Unfortunately, the Reds just happen to be up against one of the best sides the Premier League has ever seen. Last season City became the first side in Premier League history to reach the 100 point mark, and the scary thing for anyone trying to compete with them is that they look like they can go on to better that figure this season.
This is far from a two-horse race though, Chelsea look rejuvenated (as always) under new manager Mauricio Sarri.
So where has the air of uncertainty come from? It's not too difficult to work out, last season the Reds looked dangerous almost everytime they went forward, without the ball the team pressed as a unit, and opponents were regularly cut apart for a plethora of chances.
This season has been a far cry from the devastating football we were used to seeing. The front three is yet to click into gear and has put in disjointed and frustrating performances.
The Reds have looked at their best when Xherdan Shaqiri has been on the pitch. Rather than playing on the wing as he did for Stoke, Shaqiri has played centrally, emulating Coutinho and Oxlade-Chamberlain's roles from the first and second half of the season respectively.
Thankfully the defence has shaped up this season, having conceded just 5 goals this season in the league, meaning the Reds are on course to better their best ever defensive record – 17 goals, which would substantially better their total from 2005/06 of 25.
Even despite the defensive improvement, Reds fans will hope to see more of Klopp's heavy metal football which put many sides to the sword last season – culminating in a trip to the Champions League final.
If Klopp is to lead his side to silverware, or a prolonged title challenge this season, things have to change going forward.
For now, however, although performances haven't been as electrifying, the results have been more than satisfactory. Liverpool find themselves just two points off City, this time last season they were 12 points adrift of the eventual champions and had suffered heavy losses against both Spurs and City.
All that's left is for the attack to click into gear.