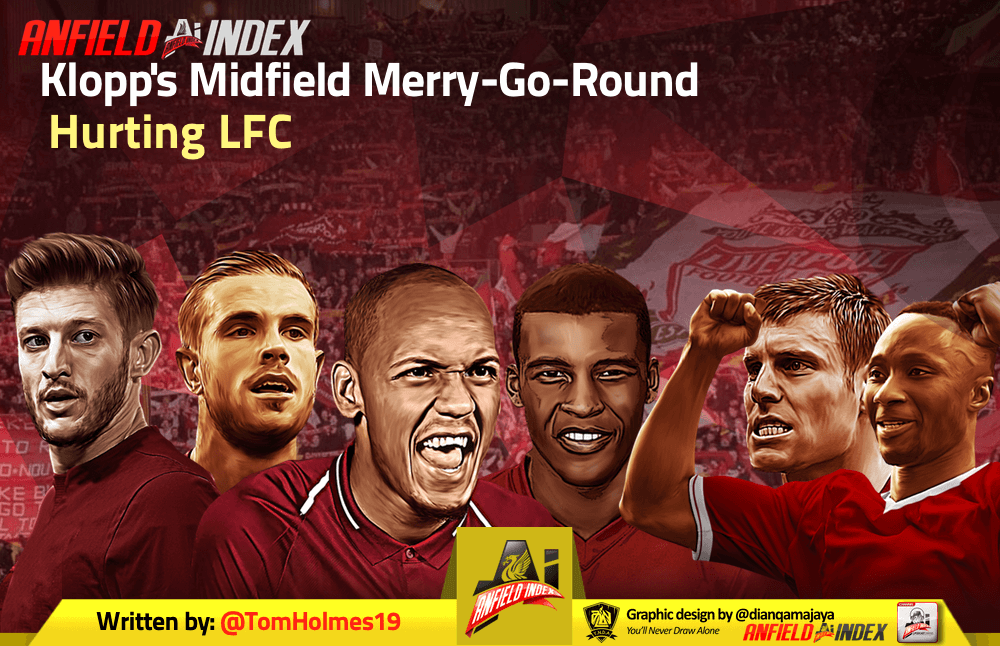 Klopp's Midfield Merry-Go-Round Hurting LFC
Liverpool's midfield has been a major point of contention so far this season. With Van Dijk and Joe Gomez forming a supreme central defensive partnership, Alisson looking like the best keeper LFC have had in years and the front three speaking for themselves, all of the major questions revolving around this team at the moment lie in the three in the middle of the park.
Klopp has of course, dipped extensively into the transfer market to address this issue, with Naby Keita and Fabinho both brought in and expected to be nailed on starters. But with both Gini Wijnaldum and James Milner impressing in the early stages of the season, the questions were all of a positive nature.
And since then it's rather fallen apart. And in my opinion, there's a lot of reasons for that, but the one that I want to address in this article is Klopp's tinkering at the heart of the midfield. In the first six games of the season, Klopp used just two midfield combinations – Gini, Milner and Keita; and Gini, Milner and Henderson. Liverpool of course, won all of those games.

But in the previous ten, as things have increasingly started to come apart in the middle of the park in various games, Klopp has experimented heavily – starting seven different players in eight different combinations across those ten games and often tinkering further during the game so that the combinations are more wide reaching than that.
Part of that has been down to injury – twice in two games Klopp was forced into an early sub in the midfield against Napoli and Man City as Keita picked up a problem against Napoli and Milner an issue against City. Henderson and Keita have as such been unavailable since the international break and Milner has been niggly too. All of this, coupled with an attempt to rest Wijnaldum who has started fourteen of the Red's sixteen games, helps to explain the issue.
But the issue is deeper than that. Liverpool have won just three of their last nine games, and the stability that the Gini/Milner combination offered no longer seems to be working. The issues with a Henderson/Gini/Milner midfield were prevalent against Napoli and to an extent against Chelsea, but those issues have been exacerbated by Klopp's desperate attempts to find a working midfield.
In four of those last ten games, Klopp has made a change to the midfield at or before half-time, as well as making a double change at half-time in the 2-0 defeat to Red Star which inexplicably didn't include the struggling midfield of Lallana, Milner and Wijnaldum. Overall in the last ten games, Klopp has used thirteen different midfield combinations for at least fifteen minutes, changed his midfield combination at least once in half of those, changed his midfield combination twice in the same game for at least fifteen minutes on two separate occasions and has used at least two or three different formations, often switching mid-game.
And in terms of individuals, only Wijnaldum and Milner are getting consistent minutes in the middle of the park – Gini 14 starts out of 16 and Milner 13 starts. Henderson and Keita have started six each with ten sub appearances between them and Fabinho has started four and came on as a sub three times. Both Shaqiri and Lallana have also featured in the midfield, but have both also featured as part of a front three and a front four.
So it's incredibly easy to see why Liverpool's midfield is starting to look like a complete mess right? Klopp has used all of these different combinations and whilst the starting trio of Milner, Keita and Wijnaldum has been a success when used in a three – and Henderson, Milner and Wijnaldum have been largely a mixed bag but overall positive – in the last ten games Klopp has only stumbled onto one midfield that has worked.
That of course, is the formation change to a 4-2-3-1, where Gini and Fabinho were used in a double pivot against Red Star and Cardiff (one of only two combinations that's been used more than once since the PSG game). The 4-2-3-1 has suited both players excellently, as both Gini and Fab thrive in a midfield two, and compliment each other really well. Moreover, it got the best out of Mo Salah, as he was able to play with more freedom, allowed Xherdan Shaqiri to feature and cause problems, and took a lot of the scoring pressure off the struggling Roberto Firmino.
But after only two games of this formation, Klopp switched back to the tepid 4-3-3 and Liverpool were overrun against Arsenal. A midfield of Fabinho, Gini and Milner should work on paper, but once again, it was a case of unfamiliarity. Gini was forced back into the 8 position, where he's consistently underperformed, it was Fabinho's first time playing as an outright DM since the 2-1 defeat to Chelsea, and crucially, it was the first time all season that the three players had been utilised together in a midfield three.
And then the calamity against Red Star, in which Klopp unwisely decided to either drop or rest Fabinho entirely, pushing Gini back into the DM role which he operated well in early on but had only played for about half a game since the Reds beat Spurs 2-1 two months ago. He also thrust Adam Lallana into the heart of the midfield, which proved an unmitigated disaster. Another midfield combination that had simply never played together.
I'm nearly 1000 words into this article and just describing Liverpool's midfield combinations over the course of two months has been absolutely exhausting. There are a lot of things happening in the midfield and a lot of players missing – Can, Coutinho and Ox are three names that keep getting added to the conversation of course. But the bottom line is that Liverpool need to find and stick with a stable midfield. Rotation is fine in small doses, and if you have four or five midfielders who can work in two or maybe three combinations then that can work brilliantly. But not seven midfielders and thirteen combinations across less than a dozen games.
Let's focus on Gini Wijnaldum for a moment. As I mentioned above, he's started almost all of Liverpool's games this season, missing only the 2-1 cup defeat to Chelsea and coming off the bench at half-time after being rested against Huddersfield.
In those fourteen and a half games, he's been asked to play as a straight forward DM, a left-sided box-to-box, a right sided box-to-box, and as part of a two-man midfield. He's had Milner both in front of him and next to him, Henderson behind him, Fabinho behind him and next to him, Lallana and Shaqiri ahead of him and Naby Keita again both next to and ahead of him.
That paragraph was an exhausting read right? So how do you think Gini feels? He's being asked to play a role that changes subtly, or even entirely, every time he steps on the pitch and indeed sometimes at least once mid-game, depending on who is alongside or behind him, and indeed what his own positional role is. Some of these positions, such as a DM with proper cover or a box-to-box, suit Gini down to the ground. But at other times, he has completely flailed, and when asked to play in an 8 position he has largely struggled.
And who can blame him? Gini is an intelligent and versatile footballer but being asked to do a different job almost every game, sometimes twice a game, can cause confusion and what Gini needs is stability.
And that's just the lad who is actually featuring regularly. The others are in and out of the team, picking up niggles here and there, struggling for form as well as fitness. And it's incredibly frustrating. Keita's absence is probably the most frustrating given that there's nothing Klopp could have done about it and Liverpool have almost universally played better with Naby on the pitch, but to stumble (more by luck than anything else) across a midfield pairing that absolutely works, only to keep tinkering with it is downright infuriating.
The bottom line for me is that in order for our midfield to start functioning as a unit, they need to be a unit. It's clear at this stage that personnel is not the issue – for me at least – given that we have three or four excellent midfielders in this team – and it's not even necessarily about the structure. It's about the constant chopping and changing, refusing to let players settle, and when Klopp has found a working combination, he's almost immediately changed it again.
Integrating two new starting central midfielders and one new attacking midfielder into a team can be tough, especially when you're having to phase in one lad who has been injured for about eighteen months and four of your midfield options keep getting niggly injuries, but managing fitness and managing your players are not necessarily the same thing. And in this case, Klopp has to do more to help and let Fabinho in particular settle, given how incredible he's looked next to Gini.
Overall, this article has been a bit of an infuriating slog to write to be honest, which pretty much sums up the state of our midfield for a month or so. It's absolutely not all doom and gloom, the Reds are still playing well in spurts and winning the majority of their games which is hugely important, and even some of the lads in this article have been sensational. But for me, Klopp needs to be doing more to settle the midfield, give players clear structure and defined positions, and let them play their game.
Klopp talks about mojo, and rhythm, and we talk about spark. Managing a squad can be tricky, it's about finding a balance. But right now, Klopp's midfield merry-go-round is helping absolutely nobody.