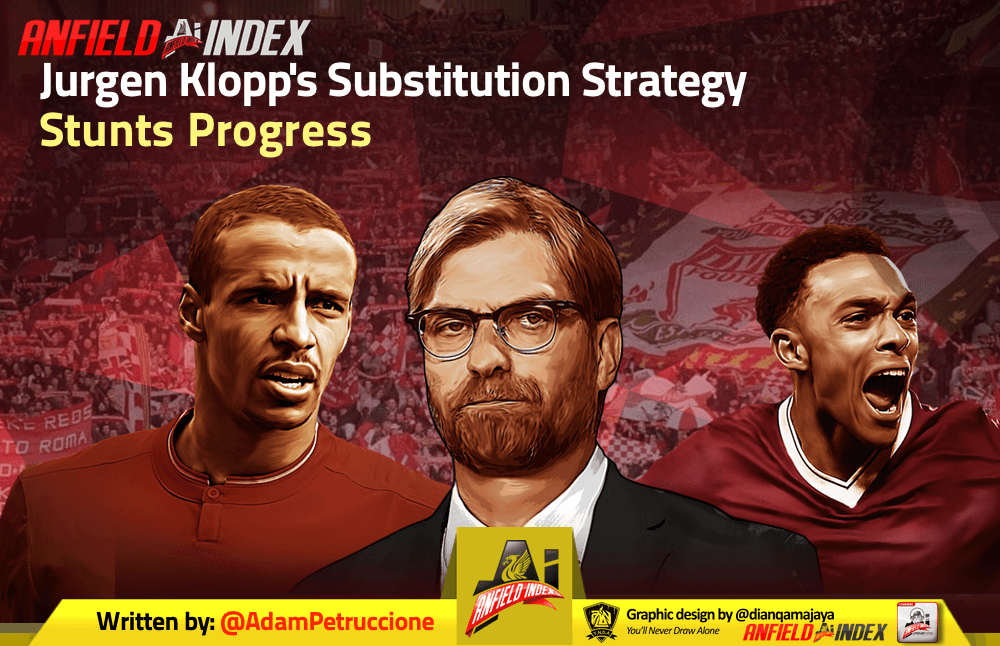 Jurgen Klopp's Substitution Strategy Stunts Progress

How quickly things change in the football world.
In the week prior to Arsenal, we had put up 8 goals and stats were being passed around illustrating that Liverpool was scoring more, and defending far better.   Even the most nervous of Liverpool supporters were high-fiving each other and were generally excited about where we were headed.
A very strange match ensued at the Emirates where everyone was outraged at Fabinho, who had been the hero days earlier.  The Henderson debate had disappeared for all of 7 days and then it was back again like a bad hangover.  Forget that Fabinho actually outperformed his teammates according to his pressing numbers.
Apart from Fabinhomania coming to a tragic end, the other jarring occurrence from Arsenal was our manager again saving his substitutions like he's going to be able to turn them in for travel miles at the end of the season.  The immediate effect was that we left London having not really given it a real shot.  We left bullets in the chamber rather than going for it against the shakiest back-line in the top-six.  Shaqiri was brought on late but asked to play as the ten in a 4411 which primarily was looking to contain Arsenal.
Having only used Shaqiri for a handful of minutes, the manager decided it would be too controversial to bring him to Belgrade.  In these two vital matches, we essentially took our most potent player so far this season off of the table.  The Alpine Messi's ability to unlock Mo Salah and turn free-kicks into actual scoring opportunities is apparently not important.  Given the performances of our midfield and our false-nine in these matches, you really have to wonder what the plan was.  Liverpool supporters will take solace in the fact that we didn't upset the particular sensitivities of Belgrade's football fans if the Reds are playing Europa League matches in March.
Jurgen Klopp's poor use of his subs overall and especially in recent matches left Liverpool with a frigid Daniel Sturridge to lead the line against RedStar and sure enough, he missed three early chances, two of them in comical fashion.  He then resorted to some Coutinho-esque hero-ball attempts and late on faded away completely.
In the post-match, Jurgen Klopp seemed to point to an unknown problem with the attack that he's been battling with for some time.  It's quite an odd situation.  The Reds scored 8 in 2 matches using the Fabinho-Gini platform to free up Trent, Robertson and the front four attacking players.  Klopp then ditched that system, playing a flat three against Arsenal and leaving Fabinho out completely in Belgrade.
This is not a situation where the players aren't there.  Even if players like Keita aren't fully back from injury, there are combinations of players we should have been able to put on the pitch in the past two matches as well as forthcoming matches that have been plenty potent when given the opportunity.  The manager just doesn't want to put them on the pitch for some reason.  With Fulham and an international break coming up, rest shouldn't have been the issue.  Rest certainly couldn't have been the aim with James Milner unmercifully being sent out again and again.
So the manager has made mistakes.  He isn't unique in that position.  The key question is, will he ever, at some point, get a handle or even address his absolutely insane substitution strategy?  Or, the way that he has refused to use his key signings, apart from Alisson, this year.  Without changes, this most bazaar of seasons could end up with Liverpool improving, but disappointing at the same time.  Finishing in the top-three, but without silverware yet again.
The squad has depth.  The manager will rotate.  However, he seems to prefer to do so in a wholesale way, bringing in several players at once who are cold, or just not up to the same talent level as the front-line starters.  Jurgen Klopp was able to get results in his first months on Merseyside, putting out sides with U23 standouts and squad players who had never otherwise seen the pitch.  The stakes back then pale in comparison to what is on the line now.  A chance to steal an away match late or to close out a group stage weeks ahead of schedule, Klopp has to grab those opportunities with both hands.  How nice Adam Lallana might be behind the scenes, how emotional RedStar supporters might get about seeing Shaqiri, how much Bobby Firmino did for us 5 months ago; none of that should matter.  Winning the next match in whatever ruthless fashion is required has to be the mantra if this club is going to achieve tangible results.
Klopp is the right manager for Liverpool.  He has brought the club a long way, but it would be a damn shame to see him remembered as a nearly there manager, one who made us dream but never was able to translate those dreams into reality.  He is nearly perfect, but as with the club, the stadium, the players and most of us who follow Liverpool, there is still a bit of work to do.
In a week, the narrative will probably have turned completely.  Unlike recruiting a top new player, or training a current one to perform in a new system, the fixes being discussed are very straight-forward.  Every other manager makes substitutes at roughly 60 and 70 minutes, allowing players to be tested and their skills sharpened at the tail end of matches.  The problem is not one requiring an exotic solution.  It is one area where our wild-man needs to be more mainstream.