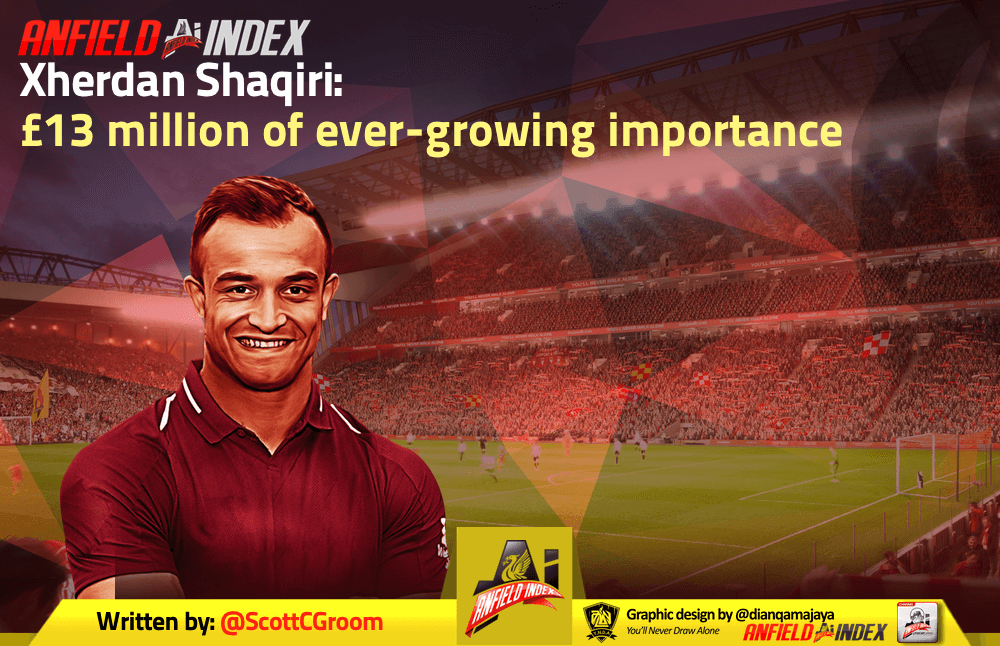 Xherdan Shaqiri: £13 million of ever-growing importance
When Liverpool secured the services of 'The Alpine Messi', Xherdan Shaqiri, during the summer transfer window, his arrival on Merseyside was greeted with a mixture of scepticism and optimism.
A player who has been a bit of nearly man for the duration of his career after spells with Bayern Munich and Inter Milan, before establishing himself as a Premier League talent at Stoke, Shaqiri arrived at Anfield with a lot of promise and potential on his extraordinarily broad shoulders.
However, since his move from The Potteries, Shaqiri has done nothing but impress in the red shirt of Liverpool, and has given his manager quite the selection headache.

Glittering performances against Southampton, Red Star Belgrade and Cardiff as well as a number of good impact substitution appearances have started murmurs from all corners of Anfield as to why Shaqiri isn't being given more of a chance in the starting XI by Jürgen Klopp.
And those calls got an awful lot louder after Tuesday's Serbian nightmare, as Liverpool suffered a humiliating 2-0 at the hands of Red Star.
For political reasons, Shaqiri was left at home for Tuesday's fixture, and as expected he started against Fulham on Sunday and arguably delivered a man of the match performance netting a wonderful volley to make the game safe.
It was not just because of his fresh legs that Xherdan was in the first XI, but the fact that Liverpool drastically suffered as a result of his absence; whether it was justified or not.
Many have written, shouted or tweeted about Liverpool's distinct lack of creativity in recent weeks, siting performances against Huddersfield as prime examples of the Reds struggling to carve through their opposition as they did so readily last season.
This lack of creativity could have something to do with why the prolific front three of Sadio Mané, Roberto Firmino and Mohamed Salah aren't quite 'clicking' as well as some may have hoped again this term – sometimes strikers and attackers are only as good as the service they get, which has been a bit lacking from Liverpool's midfield as of late.
Step up, Xherdan Shaqiri.
He's provided that spark, the incisive runs, the vision, the deft passes in behind and everything else in his appearances so far. When he's on the pitch, he really looks lively and like he's constantly trying to make something happen, which is more than can be said after Tuesday's performance.
Not only this but in his appearances to date, it would appear that Shaqiri and Salah have a very good connection and understanding of each others' game, with the pair combining on a number of occasions and providing assists for one another.
Maybe this progressive, attacking mindset that Shaqiri possesses could be what's missing to set Mo flying towards the dizzying heights that he achieved last season? It's a big claim, but it's not unfounded.
You would think that I'm talking about a multi-million-pound acquisition here with the qualities that are being mentioned and how seamlessly he has embedded into the side, but let's just remind ourselves that Shaqiri cost a lowly £13 million.
There's more.
Shaqiri's exclusion from the squad that travelled to Serbia for the ill-fated tie against Red Star meant that Klopp turned to a much-maligned Adam Lallana as his source of creativity in the middle of the park. To say it backfired wouldn't be an understatement.
Lallana failed to answer any of his long-standing critics with a lack-lustre display – but maybe this is a bit harsh on the 30-year-old considering that none of his teammates put in anything close to a good performance either.
This example of the standard of performance Lallana seems capable of, combined with the much-anticipated return of Alex Oxlade-Chamberlain and the arrival and good form of Xherdan Shaqiri could well be enough to see the former Southampton man out of the exit doors at Melwood this season.
But here, again, is where Shaqiri comes into the equation. His strength, athleticism and attacking prowess would have been a far more viable option against Red Star had it not been for him being left on Merseyside.
He offers everything that was so blatantly missing from Klopp's team on that miserable night.
Again – £13 million. What a snip.
Perhaps his price tag reflects the role that many envisaged him coming in to take: a bit-part player, a good option from the bench and a man to use when tired players need rotating.
But as time goes by, his value within the squad seems to be rising almost exponentially. He is rapidly being seen as the man who can remedy Klopp's current predicament, as a man who can help to drive Liverpool forward.
All of this for £13 million, and from a man who has barely even got started at Anfield yet. There's plenty more to come from him, making him one of the best £13 million Liverpool have spent in a considerably long time.