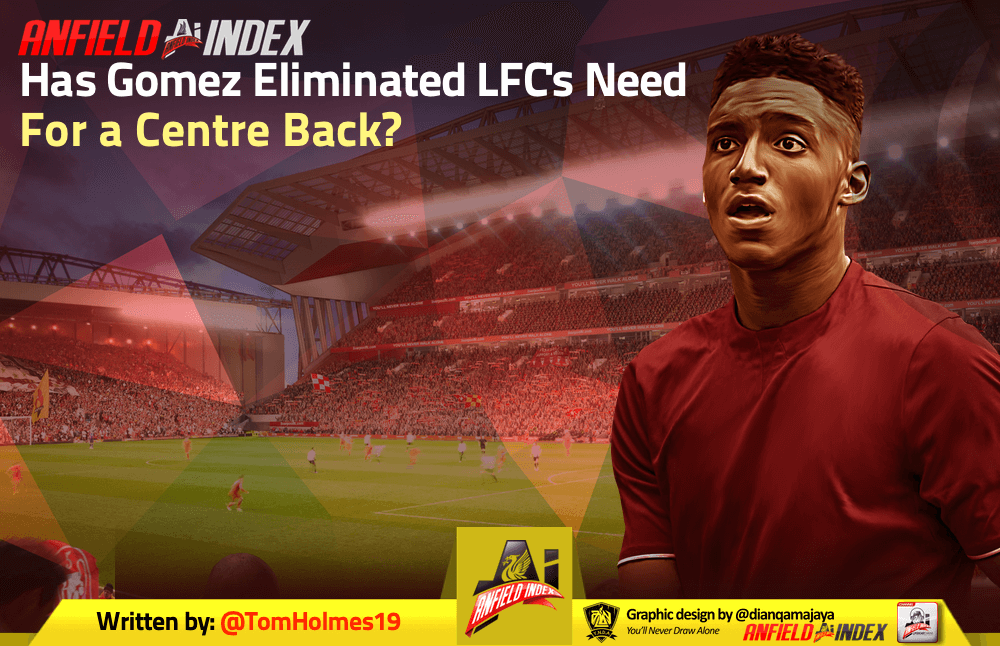 Has Gomez Eliminated LFC's Need For A Centre-Back?
One of the benefits of the transfer window ending before the season started is that you can draw a more precise delineation between the opinions at the end of the window and those opinions a few weeks later. In previous years, the form of Joe Gomez would have muddied the waters of opinion before the end of August, but this season you can see his revelatory effect.
A centre-back was one of the critical areas that a lot of Liverpool fans felt still needed to be addressed this summer. For many, having either Dejan Lovren or Joël Matip partnering VVD would not be enough to secure a title charge. The injury-prone nature of both players, as well as a succession of doubts over Joe Gomez's fitness, his ability to play centre-back and his youth and inexperience, meant that when Lovren returned from the World Cup injured and Matip picked up a knock in pre-season, Liverpool almost ended up having a complete defensive crisis before the season even started.
But of course, they didn't. Joe Gomez recovered from his niggling injuries in time to face West Ham on the opening day of the season and hasn't looked back since, starting the vast majority of Liverpool's games at centre-back alongside VVD, as well as a couple of starts at right-back.
And in that time, Gomez has seemingly solved Liverpool's central defensive worries, playing brilliantly almost every time he has stepped onto the pitch, becoming one of Liverpool's best and most consistent performers in a season where the defence has become the bedrock of this LFC side. Conceding just four goals in Gomez's nine league starts, despite facing Arsenal, City, Chelsea and Spurs, the Reds have been absolutely terrific defensively and Gomez has been a crucial and unexpected part of that equation.
Gomez has answered his critics (and I counted myself one of them) emphatically, demonstrating that the aerial and positional issues that plagued him last season have been largely ironed out of his game, striking up an almost instant partnership with Van Dijk – one that works well because VVD is the experienced partner and Gomez learns quickly.
But two aspects of Gomez's game have been exceedingly important, and probably given him the edge over Lovren and Matip. The first is his searing pace. If Gomez's position issues have largely been addressed, it's also fair to note that he's significantly less likely to be punished than for example Lovren for minor positional issues or lacks of concentration, because his recovery pace is staggering. It's been suggested that he's even quicker than Salah and Mané and the fact that that comparison is apt says it all.
The other aspect is his passing game, which has been excellent so far this season. Both Matip and Lovren are more than adept at passing the ball, but neither have the verticality and intelligence on the ball that Gomez possesses, allowing him to split the lines and bypass players through passing more effectively than them.
So in many respects, to answer the question posed in the title of this article, yes Gomez has largely eliminated any need for the Reds to dip back into the market for another centre-back. At 21, he could easily be a Premier League defender for Liverpool for well over a decade, and could easily spend most of those years partnering Van Dijk.
But on the other hand, there are two real counterpoints here that truthfully have little to do with Gomez himself or how he has played. The first is fitness. As I mentioned at the very start of the article, Liverpool were close to having to start Nat Phillips on the opening day against West Ham, as Gomez was touch and go to play, with Matip and Lovren both out.
This is not the first time that such a defensive crisis has occurred in the Klopp era. Lovren in particular is prone to little niggles that can keep him out for a handful of games at a time, and is just back from one that kept him out of the last couple of games. Likewise, Matip's fitness has been an issue for long spells too.
And it would be wholly unfair on Lovren and Matip to not point out that Joe Gomez too missed a large portion of last season with an injury, off the back of having missed a lot of his Liverpool career with ACL problems. Even Van Dijk, Liverpool's fittest defender, picked up a serious injury that prevented him from playing for large portions of 2017. Whilst it's easy to deride Lovren and Matip for being injury prone, both of Liverpool's front-line centre-backs have dogged injury histories, and as good as Lovren was in the back end of last season, he was only starting because at one point he and VVD were the only fit defenders.
The other big question mark over this Liverpool defence remains the quality of said back-ups. Even if both Gomez and VVD have demonstrated that they're title-winning defenders, both Lovren and Matip continue to divide opinion. If something were to happen to VVD, and the Reds were forced to rely on either alongside Gomez for a period of time, there's legitimate cause for concern.
The other point is just a question of quality in general. Whilst I accept it's unfair to compare to the two Manchester clubs who have obscene funds to spend, City already had three excellent centre-backs in Otamendi, Stones and Kompany, and by going out and spending on Laporte as well, they had more options and, crucially, more tactical flexibility.
Liverpool in comparison, remain firmly rooted in a back four with Jomez and VVD as their best pairing. This is in and of itself no bad thing, but having more quality options in the middle of the defence could allow the Reds to fluctuate more cleanly between a back four and a back three.
Spurs are probably a more apt example, as they managed to secure two of the (and for a while simply the two) best defenders in the league but still went out to buy Davidson Sanchez so that they could change formations mid-game, and their tactical flexibility was a huge strength. Not to mention that when Alderweireld fell out with Poch, they could simply bench the best defender in the league and barely feel the loss.
Liverpool are in a strong place defensively, but there's simply no way that they could drop Van Dijk – at the moment they can barely get away with resting him. VVD's only missed game this season was the 2-1 defeat to Chelsea in the cup, one of only two occasions where Liverpool have conceded more than a single goal.
Overall, Joe Gomez's form at the heart of the defence has been nothing less than sensational, and he has made an absolutely huge difference to this Liverpool team. The Reds were defensively strong for large swathes of last season, but now have managed to put together a genuine title worthy defence.
Nevertheless, questions still exist over the fitness of Liverpool's centre-backs, with two injury crises already this calendar year in that position, a regular occurrence for Klopp. That, coupled with the fact that Lovren and Matip are good but not title-winning centre-backs, and there's still a case to be made that Gomez's rise has not completely eliminated the need for a dip into the transfer market in that area.