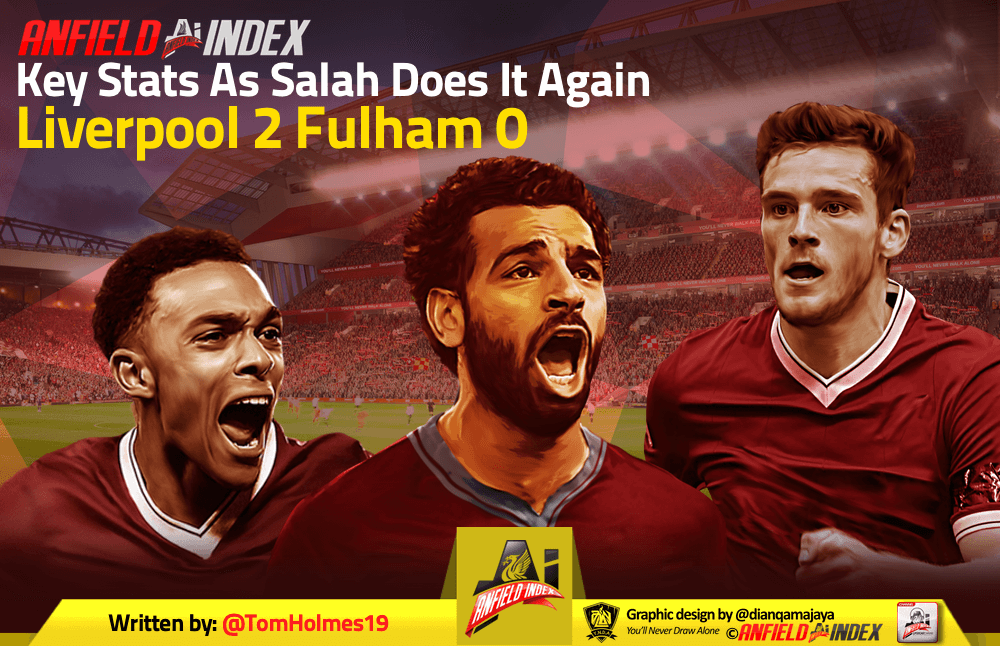 Salah Does It Again - Key Stats from Liverpool 2-0 Fulham

Liverpool once again did the job at Anfield, scoring either side of half-time to see off a spirited Fulham side 2-0 to move back to the top of the Premier League – for a few hours at least. But what were the key stats from another composed and professional win from the Reds?
 Full-Backs The Key Men
Over a third of Liverpool's 19 officially assisted goals this season have been set up by full-backs (Robertson 5, Trent 2).

— Andrew Beasley (@BassTunedToRed) November 11, 2018
As the above stat shows, Liverpool's full-backs (Andy Robertson in particular) have been very crucial to the way that the Reds play. Both full-backs created two chances, including one big chance a piece which resulted in both of them collecting assists. Robbo has now created four big chances in the PL this season, joint-most with Salah for Liverpool. Of Liverpool's three big chances, two were created by Robbo and Trent, who notched 0.41 and 0.33 expected assists respectively.
The pairing were Liverpool's two best players on the day, putting in eight crosses a piece, the majority of which were dangerous even if they didn't find a man. Only Bobby Firmino created more chances and more xA, and defensively both were reasonably solid too, even if Robertson was a touch fortunate with the Fulham offside goal.
Reds Kill The Second-Half
Liverpool absolutely neutered Fulham, and largely the game, after going 2-0 up early in the second half. Of Fulham's 0.57 xG, only 0.04 of that came in the second half. The visitors had six of their eight shots in the first half, all of their three shots inside the box in the first half, and their only big chance came at 0-0.
Liverpool themselves were certainly more conservative and composed at 2-0. Of their 2.00 xG, only 0.42 of that came after Shaqiri's goal, with just three of their eleven shots inside the box coming at 2-0, two of those in the last two minutes of the game as both teams naturally pushed slightly harder late on.
Overall, with 73% of the ball throughout the game, the vast majority of the chances and three of the game's four big chances, Liverpool were overall reasonably dominant, but that dominance only really showed after the home side moved in front.
Mo Salah Loves Anfield
Salah clocked his sixth goal of the season in the league today. Of those goals, five of them have come at Anfield, and five of them have come with the score at 0-0. Only Man City have prevented the Egyptian scoring at Anfield in the PL this season. And in fact, Salah's Anfield record in general remains phenomenal, securing 34 goals and 13 assists in his 36 Anfield games. The Egyptian loves a goal at Anfield, and he was once again the focal point of Liverpool's attack, as the numbers below demonstrate.
Mo Salah
39 touches
11 touches in box (most)
7 passes into box (most)
4-5 take one (most)
Most carries into box
4 of 4 shots on target
GOAL
0.89xg (most)
0.87 XGChain (most)

— SimonBrundish (@SimonBrundish) November 11, 2018
He's not the only LFC player to love Anfield to be fair. That's the Reds' seventh win in nine games in all competitions at home this season, winning five of their six league games – scoring fourteen and conceding just one goal in the process.
Beat the Dross, Win The League 
Despite winning just seven of their first twenty games against teams in the bottom three under Jürgen Klopp, Liverpool made it eight of twenty-one. It was the eighth game Liverpool have played so far against teams outside the top six this season and the eighth that they've won – scoring nineteen and conceding twice. The Reds have had a higher xG on every occasion too – and by more than at least 1xG on six occasions, which never hurts.