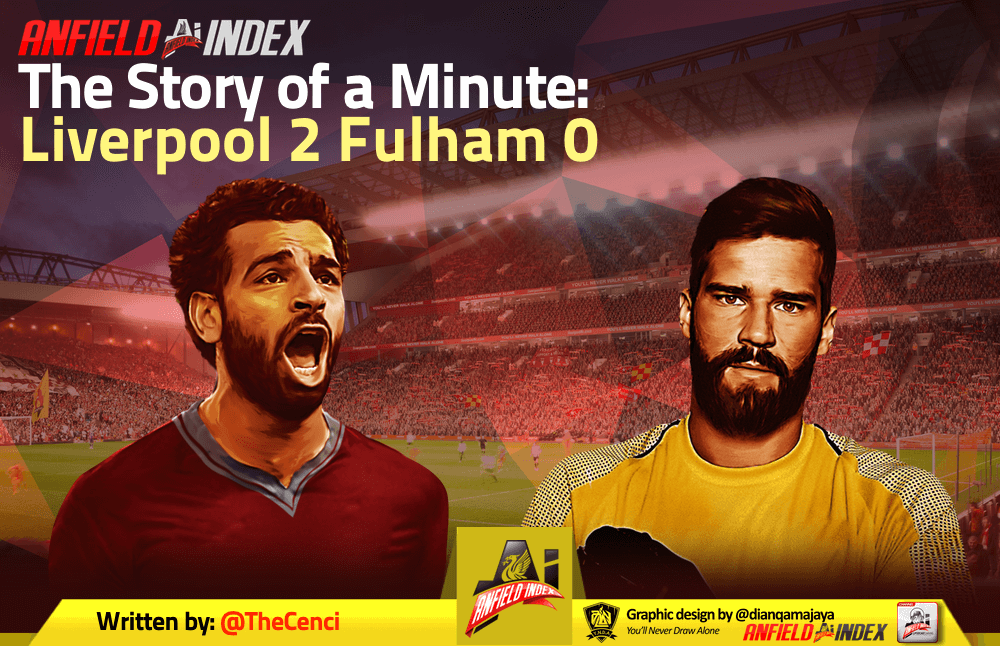 The Story of a Minute: Liverpool 2 Fulham 0
Columnists and pundits rely on controversy.
To them it is the lifeblood of half-time intervals and empty pages, awaiting words both spoken and printed. A handball, an offside, a disallowed goal. All meat and drink if the game is fairly run of the mill and you've nothing to talk about.
This extends to this page. I'm about to criticise or at least highlight this phenomenon while doing the same thing. I'm using the existence of 'incidents' to fill space. I'm aware of the irony.
At Anfield yesterday, the story of the first half was fairly prosaic. Fulham defended deeply, and Liverpool tried to move them around with limited success. What can you say about that with fifteen minutes to kill? Not much. But then a linesman's flag was raised at what looked like a perfectly good Fulham goal. Aha! At last.
For a nanosecond, it seemed that a narrative was building. Plucky Fulham with their awful, careworn defence had bloodied the noses of the Merseyside giants at the other end of the table. Fulham might have a half-time lead. Maybe they could hold on and score a famous victory. Maybe Slavisa Jokanovic would keep his job and move up the Cottagers safely up the table. City and Chelsea wouldn't be complaining either. Drama at Anfield.
Well, that didn't happen. Fourteen seconds later it was the West Londoners who were a goal down as Liverpool sparked into life. Mo Salah won a footrace to give the Reds the lead. Ruthless. Absolutely ruthless.
Ian Darke, like any commentator, clutched this nugget to his heart and milked it for all he was worth. Fulham were hard done by. How cruel? Such ill-luck. Liverpool had the rub of the green. The 'boys in the studio' did the same. Finally, there was something to talk about. The public love an incident.
Earlier this week, Raheem Sterling, formerly of this parish, jammed his foot into the Etihad turf during a Champions League encounter with Shakhtar Donetsk and was astonished to be awarded with a penalty. He shot his manager a confused look and raised his eyebrow. Sometimes the referee goes a bit nuts, but isn't this just another example of the big boys getting all the decisions?
City were given an option here. They had been given a pen for sod all, and it was more than harsh on their opponents. They were already a goal up and in control of the game, but, well, a goal is a goal. Do you roll the ball back in the act of altruistic classiness or stick it in and win the game?
If that had happened to Liverpool and they'd passed it back to the keeper, I'd be furious.
Here comes the new narrative. Why didn't Sterling tell the referee that he'd made a mistake? I think he was too stunned, frankly.
A similar thing happened in 1997 at Highbury when Robbie Fowler jumped over goalkeeper David Seaman's hand and fell when sent clear by Mark Wright through ball. A penalty was awarded unfairly. Fowler waved his hands at the referee, stating that there was no contact. He had just stumbled. No penalty.
That incident was mentioned more than once in relation to the much-maligned City wide man.
There's a myth about this piece of fair play. Fowler gesticulated because he thought his England teammate was about to be sent off unfairly for a professional foul, but his kindness ended there. He wanted to score the penalty. Seaman saved it only for Jason McAteer to pounce on the rebound. Robbie didn't roll the ball back to the keeper when he saw the chance to put Liverpool two up. He took the opportunity. It proved to be the winning goal.
The referee later claimed (according to David Seaman) that he didn't hear Robbie's protestations. Well. He did. You can see them talking together.
The bottom line is that a ref will seldom change his mind regardless of how much of a mistake he's made.
Gabriel Jesus did the right thing.
Aleksander Mitrovic's non-goal is slightly different as Liverpool did nothing other than keep their line and play the Serbian offside (or not, depending on your standpoint). Liverpool did not cheat. Nor did Raheem Sterling. TV pundits look for this sort of stuff all the time and, yes, Fulham were unfortunate. It was a close call.
But what Liverpool did next was far more interesting.
They didn't breathe a collective sigh of relief at some misguided change of fortune, nor did they take time out of the game by slowing things down. Ordinarily, you'd just try to diffuse the situation and take the heat out of their head of steam.
No, Liverpool decided to take advantage. Becker, van Dijk and Salah. 1-0 in the right direction.
Back to the studio. Halftime saw the team replay the series of events. Was he offside (yes)? Was the ball moving when Alisson took the free kick (possibly)? Was Salah offside (no)? Will Fulham feel hard done by? What does this mean for the rest of the match etc.?
Not one of them mentioned how ruthless Liverpool were. Not one mentioned that they dismissed the apparent near-miss of conceding a goal from a set piece. The tale of the first half was the misfortune, not the ability to turn the whole thing around.
Once Shaqiri made the game safe Fulham wilted like a hothouse flower. All fight gone as Liverpool played around them. The 'incident' had knocked the stuffing out of them.
Jokanovic said:
"When I check the clips now it's Robertson (who) hasn't done a good enough job to squeeze up and my player is onside and scored the goal. In one moment, a crucial moment, instead of 1-0 up we're 1-0 down."

"In this country normally you cannot show disrespect to the referee and this is a problem because it's shown disrespect to my team, myself and Fulham supporters."
Of course, this has nothing to do with disrespect. Fulham had 49 minutes to right that implied wrong. They did not. Instead, they caved in from what was a fairly even contest before the Salah goal. Understandably, it's easier to use an excuse rather than the failure to strike back.
Pundits rely on controversy, even fake controversy. Liverpool relied on focus and doing what needed to be done.
That should have been the story here.