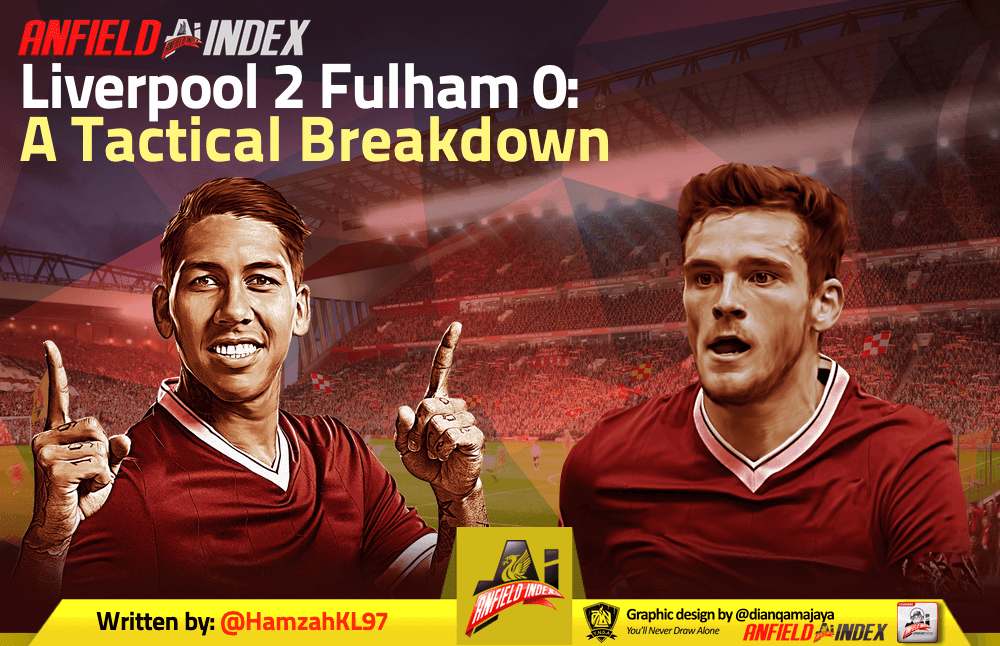 Liverpool 2-0 Fulham: A Tactical Breakdown

After a horrible performance against Red Star Belgrade, Liverpool fans needed some catharsis. With Fulham on a five-match losing streak and due to play at Anfield, a win was the expectation. To deliver the win though, Klopp set Liverpool up with the 4-2-3-1 system, with Salah as the striker, Firmino at 10, and Shaqiri out wide with Mané. But a surprising tactical variation came from the positioning of the fullbacks, as both were able to push on simultaneously. What this offered was width, but also a vulnerability in transition, as Liverpool had one fewer man in a defensive position. Usually, in the 4-3-3 setup, Liverpool have one fullback tucked alongside the centre-backs when the team is in possession, as the other fullback pushes on. Fortunately for Liverpool, Schurrle and Sessengnon were largely limited and forced to work defensively, meaning their opportunities to expose Liverpool's spaces in the channel were few and far between.
Fulham's one saving grace this season, is that despite their awful defensive work, their offensive performances have been positive, with Schurrle, Mitrovic and recently, Sessegnon acting as Fulham fan's beacon of hope in the relegation battle. However, this game marked a shift for Fulham, even despite the return of Cairney, as they setup defensively, much to the surprise of Jürgen Klopp. In a curious move intended to be an act of self preservation, Fulham had seemingly thrown away their best chance of getting something from the game, as they restricted the offensive abilities of their wingers, and left Mitrovic isolated up front against two centre backs more than comfortable defending the space behind them and winning the physical duels against him.
Firmino has had a slower start to the season than expected, with his contribution in terms of xGBuildup a decrease compared to last season. Admittedly, Firmino only has one fewer goal at this point as he did last year in the league (a goal which was a penalty), however, his prolific contribution in the Champions League does not yet appear forthcoming. Nonetheless, he created 5 chances, including one stand out opportunity for Salah, whose touch moved him past the onrushing defender, but a tad too close to the goalkeeper.
Firmino acted as a useful bridge between the midfield and forwards, with Fabinho and Wijnaldum, again deployed in a double pivot, playing predominantly sideways passes, and as such, Liverpool lacked considerable ball progression from them, but this was made up through Firmino snd Shaqiri's contributions, as they picked up the ball from deep and either dribbled with it, or attempted to pass into Salah. Indeed, Firmino as the 10 was able to move around and change with Shaqiri. It allowed Liverpool to gain a link between the midfield and forwards, without losing a man – which happens when Firmino drops in the 4-3-3.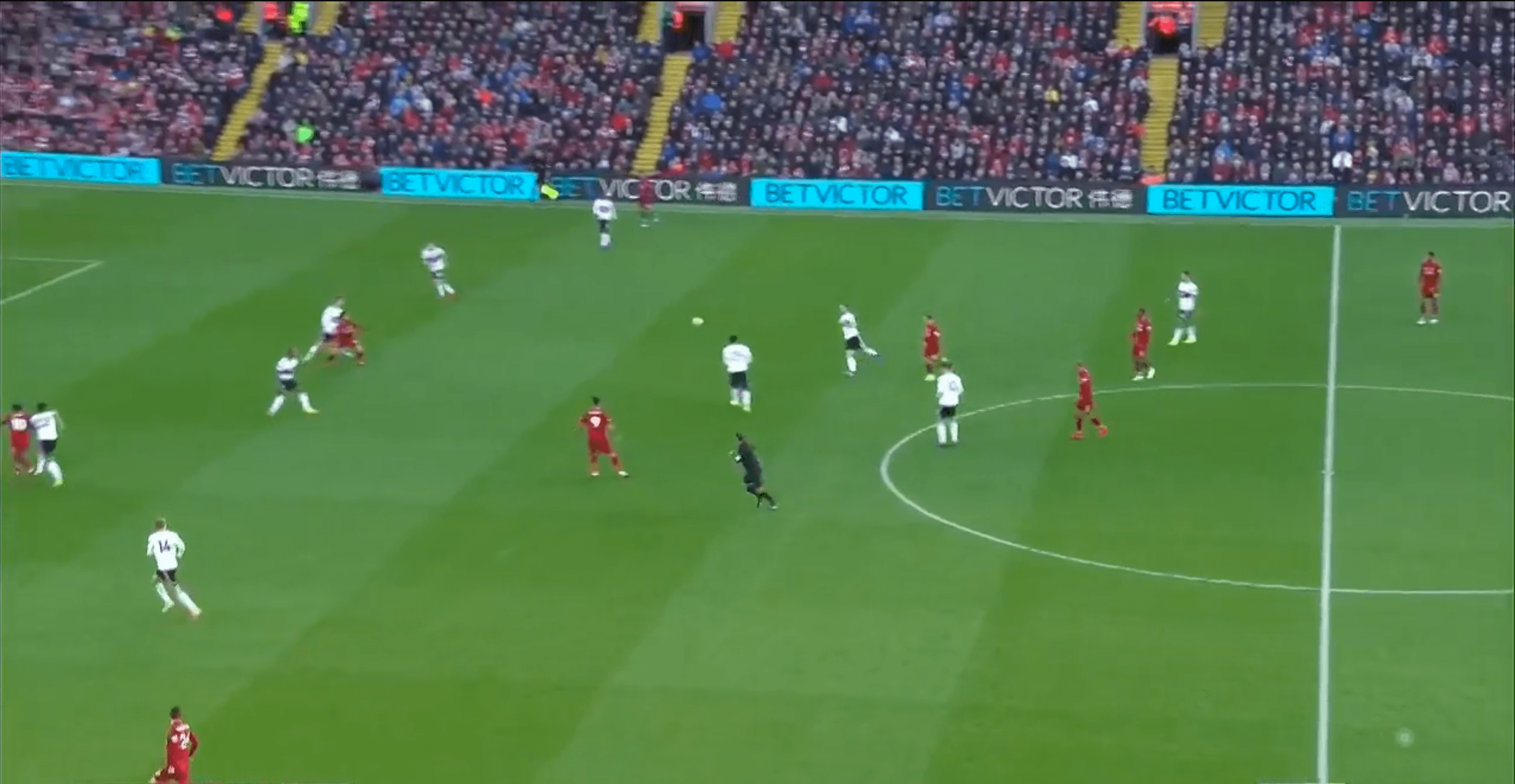 Liverpool's fullbacks also attempted to stretch the Fulham defence, not just with their positioning, but their passes too, as they looked for early switch balls. Admittedly, they were not always successful, however, the intent was there to move Fulham side to side with pace, in order to create and exploit spaces within the defensive line – showing a growing on-ball intelligence and maturity, especially compared to recent seasons, when the team would become frustrated with a low block in front of them.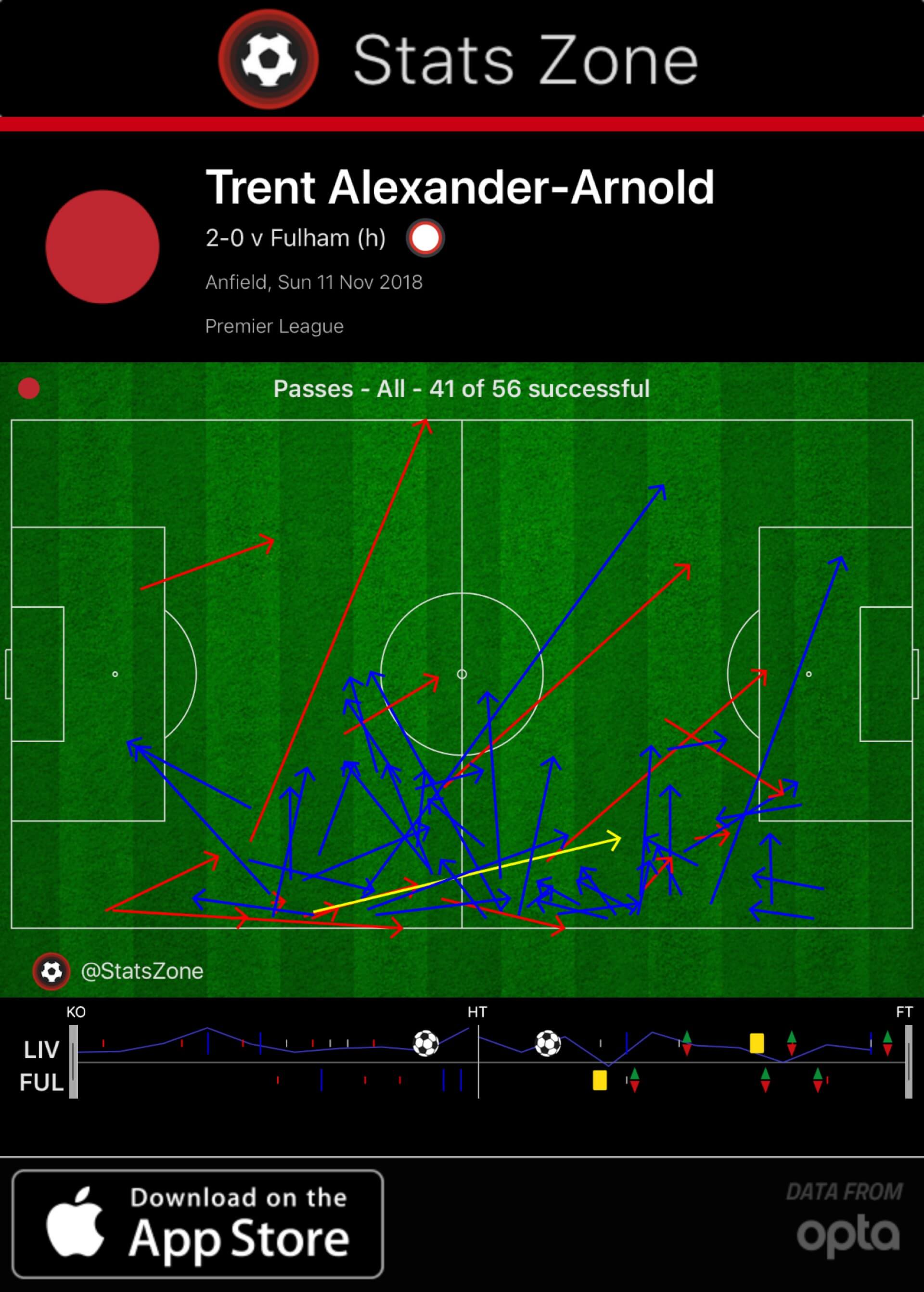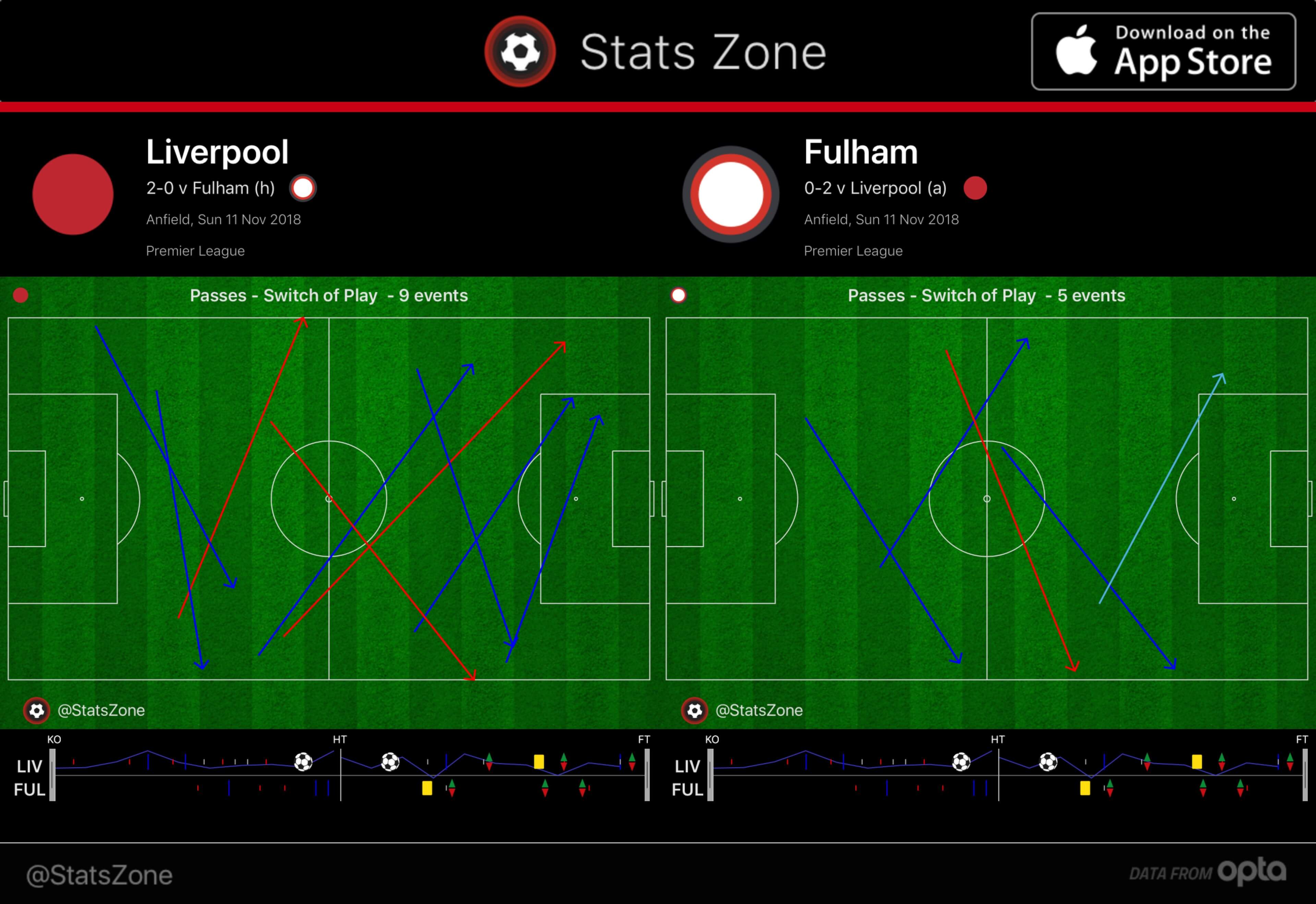 Robertson, in particular, shone, as he created three chances, only bettered by Firmino's five. Alexander-Arnold and Shaqiri both contributed with two apiece too. The creative output from both wide and central areas was extremely welcome, especially as Fulham attempted to reduce the space Liverpool had in the area just outside their penalty box. Shaqiri, in particular, looked to exploit the halfspace (below), and Mané stayed a little wider, meaning Liverpool appeared to have more balance, cohesion, and slickness to their play, even without looking near their best.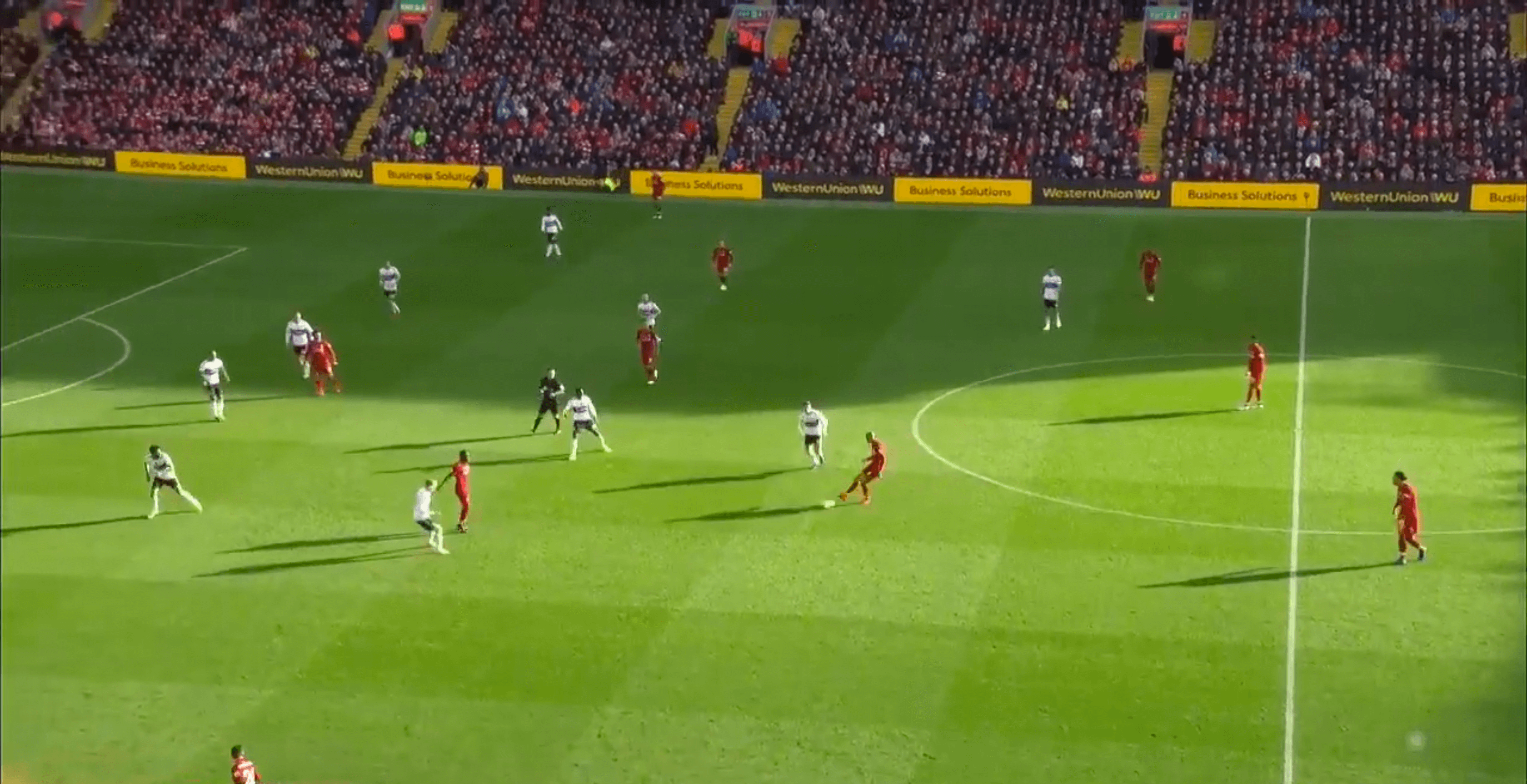 Were it not for an overcooked pass by Mané to Salah (below), and a little bit of fortune for Salah, he could well have ended the game with the match ball in hand.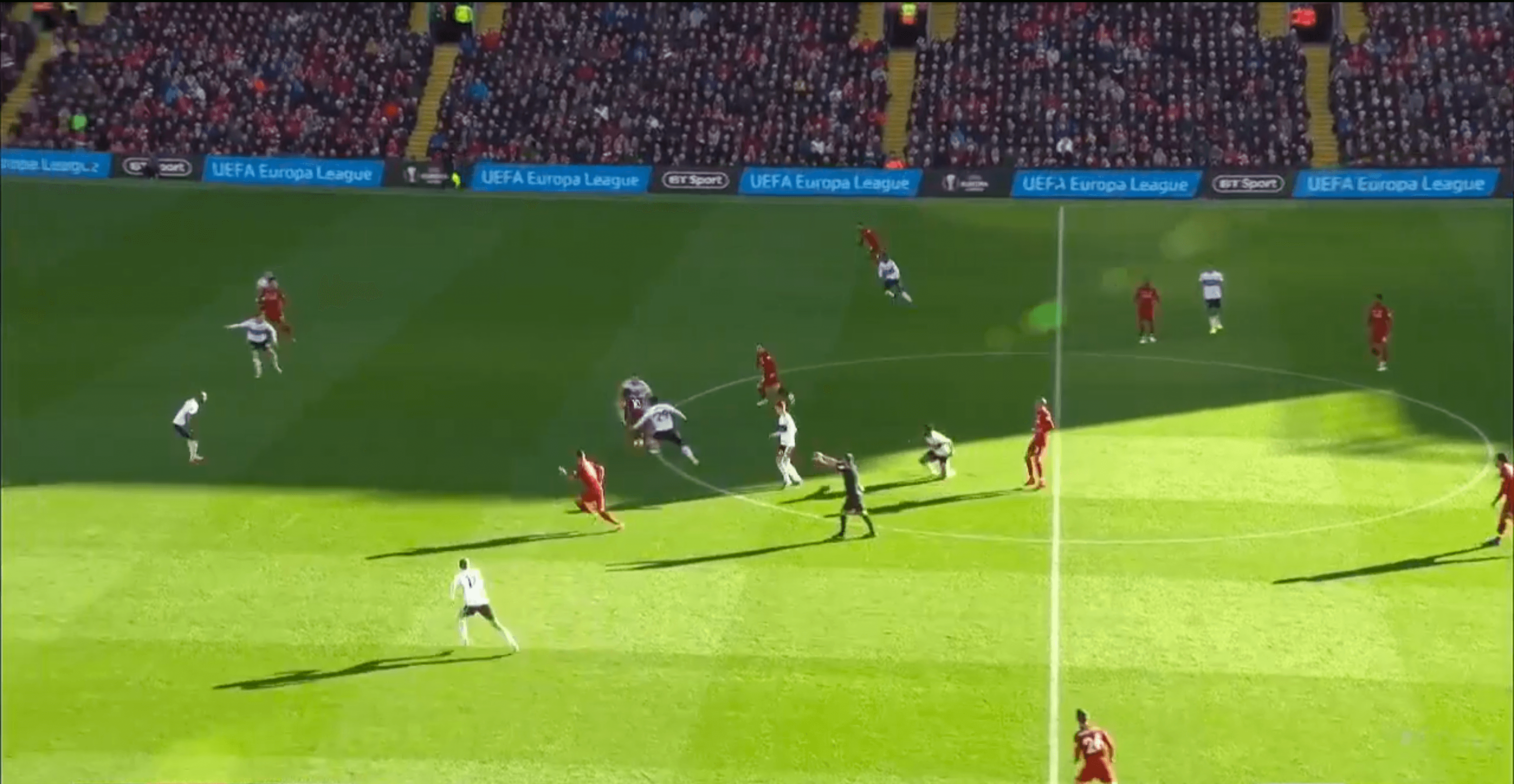 Liverpool's forwards finally looked something like what we know they're capable of, but are still a long way off their best. Salah is performing at a high level, but Mané and Firmino are not quite yet. The support from the fullbacks was certainly an aid to them, but I cannot help but feel the defensive midfielders need to pull their weight creatively too, to allow the forwards to really flourish. Firmino manipulated space in midfield for most of the match, creating spaces to which either Fabinho or Wijnaldum could pass or run into, but both opted for the safer option more often than not. Perhaps Naby Keïta's return to the starting XI may remedy that…
What was pleasing to see though was a development in how Liverpool coped with Fulham as they persisted with trying to defend tight after conceding. This season, we've often seen Liverpool struggle unless they can break onto teams, and their on-ball possession work can be underwhelming at times too. In most games where Liverpool take the lead, the opposition team will attempt to score, and in the process, push up and leave spaces in behind for Liverpool to exploit. The issue is though, when we look at games such as Brighton (H), Liverpool are fortunate Brighton make a mistake which is punished, and then can force them to step up, and Liverpool can exploit the spaces in behind, even though the on-ball creative work is lacklustre, and the scoreline thereby masks a poor on-ball creative performance. Against Fulham though, Liverpool did not need them to step up in order to score their second, as they used a set piece effectively, something which is seemingly becoming a more prominent tactic for Liverpool of late, albeit one that is not yet providing the rewards it probably should because of poor finishing.
This result was very much a needed one, but the performance – whilst admittedly at the side bottom of the Premier League – showed signs of an offensive renewal and growing cohesion between the forwards. It has been misplaced passes and poor decisions by those forwards in key moments which have cost Liverpool recently – as was the case against Arsenal – but perhaps we are due a takeoff in performances and goals – a reversion to something near the level we saw last season. If we are, the league will be set alight very soon indeed.