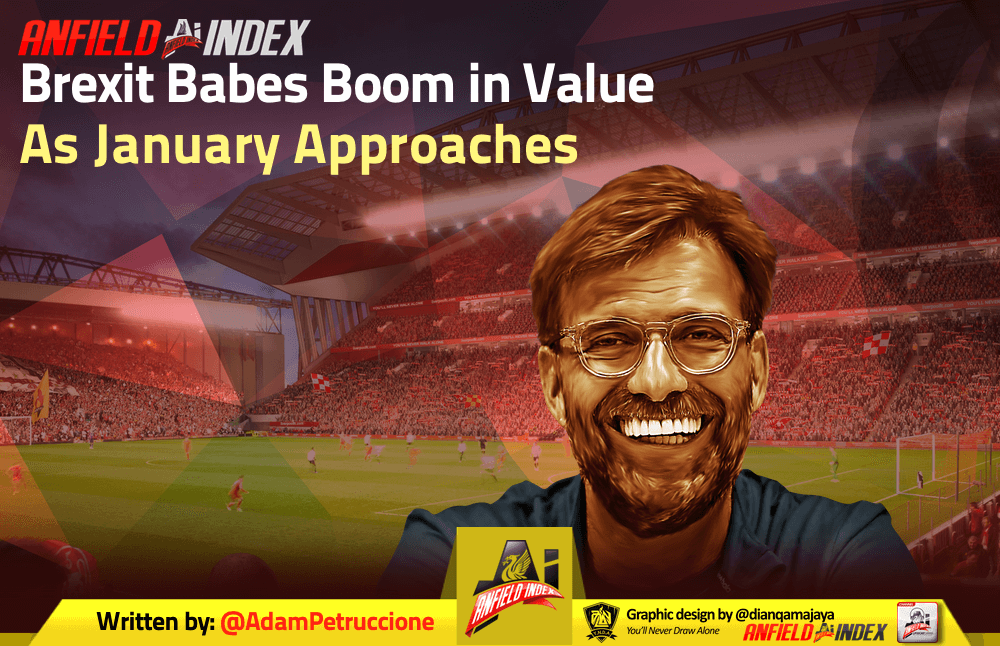 Brexit Babes Boom in Value as January Approaches
Brexit!  And you thought you would be able to avoid politics in the warm, comfortable cocoon that is Premier League football.  Any small nudge to the freedom of movement principle could have a nuclear bomb sized impact on England's top division.  Liverpool start a maximum of 5 UK born players for any given match these days.  Of all of the players who have seen the pitch this season, 12 players are foreign-born while 7 originate from the British Isles.  For our rivals, City's ratio is 5 to 15.  For United, it's 7 to 15.
God knows what will ultimately come out of the Brexit negotiations, but chances are that at least in the short run, there will be a change in the number of foreign-born players, coaches, managers, nutritionists, etc. who are allowed to be employed by each club.
I'll save the wide-angle analysis about the potential impact until a later date.  However, with the transfer window a mere six weeks away, what we can anticipate at a minimum is that the importance of bringing in top British players is going to go to be sorted to the top of Michael Edwards' spreadsheet. At the same time the transfer value of UK born players is going to go through the roof.  In the next few windows, expect the transfer records to be taken by British players.
Raheem Sterling just signed an extension for up to 300,000 GBP per week.  Before you begin to contemplate what that translates to in terms of transfer value, save yourself the calculations, you can't afford it and neither can your club. Scooping up as many future Raheem Sterlings as possible is going to become paramount.  So who are the young British footballers who will become household names as the January window opens and the top six clubs wrangle to capture their signatures?
Jadon Sancho
– A Borussia Dortmund speedster who can play on both wings?  The papers would link him to Liverpool regardless of any interest.  There will be a massive race to win the Sancho sweepstakes from all of England's top clubs.  Expect it to take a nine-digit, eye-watering number to bring the 18-year-old winger back to England.  Is the 5 goal, 7 assist, Sancho gettable for any club not named Manchester City?  Stuart Brennan reported in October that City has a right-of-first-refusal option on the player should he ever leave Dortmund.  One would have thought The Citizens would have brought the youngster back rather than spending a huge sum on Mahrez if they did have such an option, but money is rarely a factor with anything that happens at City.
Ryan Sessegnon
– Rumoured to be a Liverpool supporter, the Fulham flyer could slot nicely in a rotation on the Reds' left side.  Sessegnon could provide relief for Andy Robertson as well as Sadio Mané.  As was discussed at length in the summer, any left-sided addition essentially would boost the rotation options across the front as any Sessegnon would allow Sadio Mané to play on the right. He has started with a modest goal and an assist in the Premier League, but his 16 and 8 seasons in the Championship last season put him on the map for all of the top-six clubs.  Sessegnon would also cost the GDP of a medium sized island, but he is also the most likely to end up at Liverpool.  As a Klopp target in previous windows, the fact that he's a Reds supporter and Fulham's precarious position at the bottom of the table, the elements are there for a potential move should Liverpool decide to push the boat out for Sessegnon.

Aaron Wan-Bissaka
– The darling of all of our FPL benches, Wan-Bissaka is a right-back that is a bit more fluid than Joe Gomez and a bit more physical than Trent Alexander-Arnold.  With both young Liverpool stars having futures in other positions, a right-back addition may be more likely than you would think at first glance.  The 20-year-old has already made 11 appearances for Crystal Palace and while his defensive attributes would fit in well at Anfield, he still has a long way to go as far as his skills in possession.  Liverpool's fullbacks can reach 100 touches in any given match, so Wan-Bissaka may ultimately not be a fit.
David Brooks
– Bournemouth only signed the 21-year-old in the summer, but the Sheffield United winger is already making an impact for The Cherries with 3 goals in only 11 starts.  Signed for 10 million in July, Bournemouth could easily quadruple their money in just six months if squad restrictions on foreign players become a reality.  Brooks represented England at U20 level but has since switched his allegiances to Wales, earning three caps for the senior squad since then.  A right-sided midfielder, Brooks would slot into the Oxlade-Chamberlain role.
Ademola Lookman
– Is Liverpool allowed to sign players from Everton?  Under normal circumstances, one would assume not, but Lookman is another wing talent who hasn't shown much loyalty to The Toffees. Lookman showed great promise for RB Leipzig last season while on loan and fought to remain in Germany rather than returning to Everton.  Ultimately, Lookman was convinced to stay on Merseyside and our gracious neighbours have rewarded him with zero starts and six appearances off the bench. Lookman is too talented for that situation to continue, so expect a move somewhere soon.  Why not across Stanley Park?