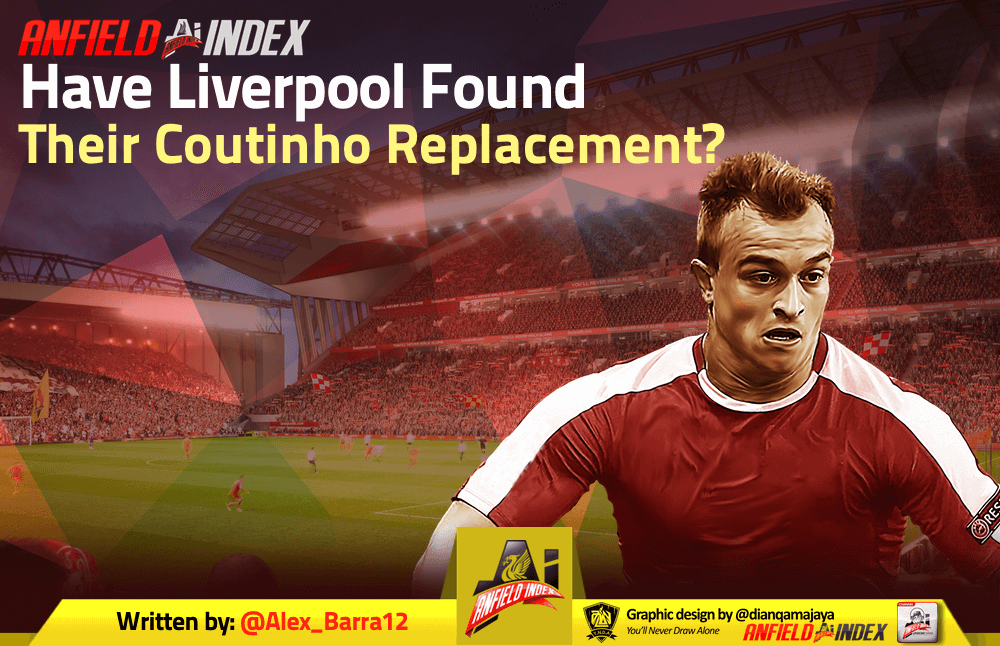 Have Liverpool Found Their Coutinho Replacement?

Disclaimer: no, Xherdan Shaqiri is not Phil Coutinho.
However, it is rather satisfying seeing a new "Fab Four" strut their stuff.
Much was made of Jürgen Klopp's sanctioning of the sale of Phil Coutinho to Barcelona – he was integral to the precursory group stage that led to the Champions League final – and was affably known as the "little magician" among the Anfield faithful.
When Liverpool failed to complete a deal for Nabil Fekir in the summer, the feeling of foreboding existed. Liverpool refused to replace Coutinho with a quickfire bit of instant gratification; instead opting to wait for their right target as they did with Virgil van Dijk. Indeed, when the summer window closed, Liverpool were – and still are – short a creative link between the midfield and front three.
But the arrival of Xherdan Shaqiri has quickly eradicated fears that Klopp's current creative malaise will last forever. Instead, the return to a "Fab Four" seems to be the way forward.
Liverpool have scored a goal every 23 minutes when Xherdan Shaqiri has accompanied Mo Salah, Roberto Firmino and Sadio Mané on the pitch at the same time.
He's been able to pick the ball up in front of the defence and distribute it to the front three, with Firmino deployed in a more retracted Number 10 role this season and Salah operating in behind the defence centrally. When teams have been able to mark Firmino out of the game and stop his creativity (though he still manages the same number of key passes per game; around the 1.5 marks) it has had a noticeable effect on the quantity of chances Liverpool are able to create.
Klopp sought to address his side's lack of control in games, especially against sides that sprung counter attacks that scythed through the middle of the park and avoid needlessly spraying the ball from one part of the opposition's half to the other. The flat midfield of Henderson, Milner and Wijnaldum that served him so well in the latter stages of the Champions League last season suddenly didn't cut the mustard; with disappointing performances against Napoli, Huddersfield and away to Red Star Belgrade highlighting the lack of penetration in midfield.
Indeed, in the dominant games so far this season, Xherdan Shaqiri has played an integral role.
Against Southampton, there was a clear disparity between the half that involved Xherdan Shaqiri – where Klopp played the 4-2-3-1 – and the second, where he opted for better structure. One contained three goals for Liverpool (including a brilliant free kick from the Swiss dynamo turned in by Salah), the other contained none.
His attributes include shooting from range, playing quick one-two's with his attacking comrades and ensuring the ball is always in some sort of incisive motion. It might not always come off, but Liverpool are more dangerous with Shaqiri in the team than without.
It's all very reminiscent of a Brazilian magician.
Coutinho's long-range shooting was much-maligned, but it was occasionally effective. Shaqiri's currently averaging a similar amount of shots per game at Liverpool (3.2) as Coutinho is at Barcelona this season (3.3) – and is averaging more key passes to boot.
Yes, there is clearly a discrepancy in value; just as Coutinho's transfer fee didn't represent his inherent value, so too did Shaqiri's transfer fee undervalue the effect he'd have on this Liverpool side.
With two goals and two assists to his name already, there's plenty of evidence that the Swiss star is already settling in rather nicely, but he'll have to do what Coutinho didn't to properly fit into this Liverpool side, and make the 4-2-3-1 work: defend diligently. A criticism of the Brazilian was always his lack of impetus off the ball, even if he could work wonders on it. It was the reason fans rarely saw him retreat to a more reserved role in the midfield trio, instead of playing on the left far more often.
If Shaqiri can nail down the defensive side of things, Klopp will be left with no option to include him in his first XI more often than he has this season. If that happens, Liverpool will have a Fab Four to celebrate again. It might not be quite as expensive, but it certainly does the trick for now.