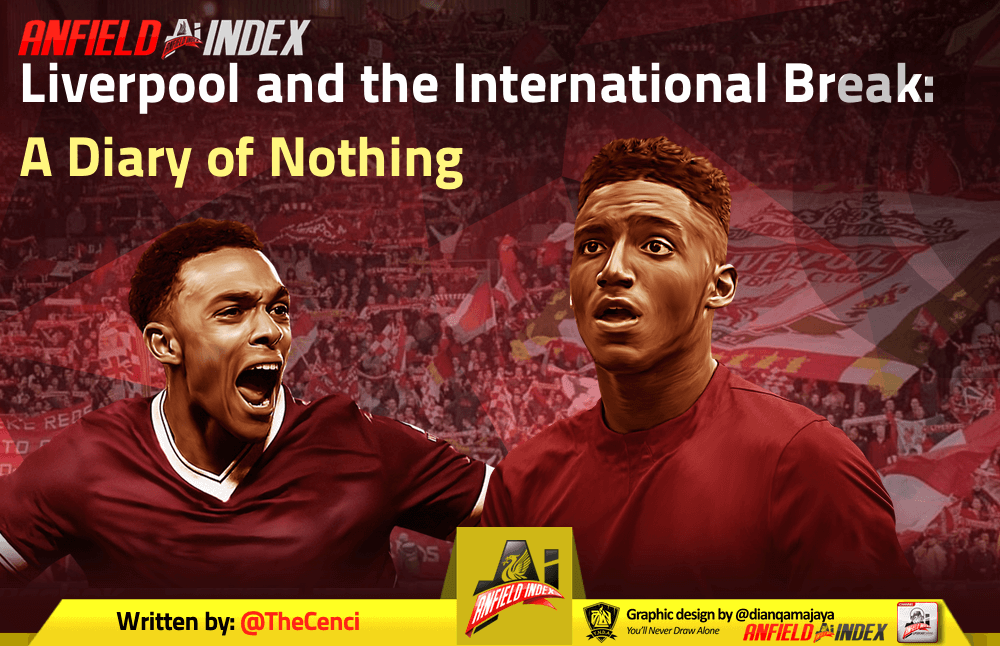 Liverpool and the International Break: A Diary Of Nothing
Two weeks without a Liverpool game.
Two whole weeks.
It's Day 8 and I'm really struggling.
International breaks can be a necessary evil—you have to qualify for the World Cup or European Championship after all and those games have to be played at some point—but do we really have to have so many? What are we meant to do with our weekends when the other lads are off wearing someone else's kit? I can barely countenance the idea of having to wait around for Monday night football if we're scheduled to be the last game of the weekend, so two whole weeks off is a killer.
This weekend gave me an insight into the life of a non-football fan, the poor swine. Getting up on a Saturday morning with no or little jeopardy to get through. No pain, no anguish, no joy to expect. Think about it. We can have our day ruined by a poor result or performance which can leave the following day with a sickening pound of bile at the pit of our stomachs while others go about oblivious to our masochistic mood.
On Saturday, I witnessed people in the street in Liverpool openly talking to each other. Imagine! Conversing with fellow human beings! Not one of them stared at their phones, wondering how City and Chelsea were getting on or issues surrounding Jordan Henderson's groin (so to speak). They even seemed non-plussed by the lack of the footy.
I wonder how they survive. Not for them the awkward situation of having to surreptitiously glance at the fixture list when a loved one asks what you're doing on the first Saturday of next month or building work nights out around the Christmas schedule (New Year's Eve is ruined again, I see). They can make solid plans without wondering if the TV people are going to change the date of a game without so much as a by-your-leave. They can use their weekends to relax and spend time with those who matter instead of adding unrest to an already fraught life.
This can go the other way too.
Liverpool fans are not, in the main, huge fans of the national side. Oh, there are exceptions and the World Cup and the existence of some Reds in the team can make a difference, but Liverpool always come first. Personally, I can't get on with a crowd that chooses to sing that awful dirge of a national anthem and there are a myriad of political reasons why I frown at the idea of Southgate's Young Guns ™, but let's move away from that. All in all, England are someone else's business. An unnecessary diversion from the real business.
On Sunday, I spent a couple of hours in a pub, frowning furiously at the lack of veggie options on the Sunday lunch menu, when I realised that the pub was rapidly filling up with patrons keen to see the England-Croatia match. My girlfriend wanted to know what the hell the Nations League was about. I had no idea and shrugged my shoulders in my best Alan Partridge impression. Meanwhile, around us, lads leapt to the ceiling as Jesse Lingard tapped in an equaliser. I didn't move a muscle. Then Harry Kane ('the best player in the world' – Chris Sutton) scored the winner. The place went radge. Arms reached to the sky. Someone started a Harry, Harry Kane song.  I raised an eyebrow and went back to my mash spuds.
Each to their own, of course, but what really struck me is just how much it mattered to them. These were faces of anguish while the meaningless game was played out in front of them. Their torment had nothing to do with the fact that the peppered mushroom pie was off the menu—a point that left me incandescent with rage, I can tell you—but of watching players from other clubs and hoping they did well. That's lost on me. I can't get excited about Manchesters United, City and Tottenham playing well, though I did note that Joe Gomez was involved and Dejan Lovren received a booking. I cheered at that as I'd forgotten he was playing.
England's win means that they've qualified for something and avoided relegation. I still don't understand how one result can lead to the other. This was 'revenge for the World Cup defeat' too according to the permanently exuberant Martin Tyler and the best result in years.
It wasn't. The best England result is simple:
No Liverpool injuries.
Always will be.
I just don't see how you can go from league football to loving the national side with the same fervour. How is that possible? Surely your blood pressure needs a rest. Sure I loathe non-Liverpool weekends, but my cardiovascular system is grateful.
I've been called a hypocrite more than once for this as I'll gladly watch every second of the World Cup including Panama v Tunisia, but, then again, I will always stop and watch a gang of lads playing in a park if I happen to be passing by. You've got to get your fix somehow.
No, every waking thought this week will be about Watford. Can I get a ticket? What side would I put out given that PSG away is days away? Is there a Friday game this week or a lunchtime Saturday game?  Something, ANYTHING, to have proper football back in the flesh, on the box, but more importantly in my veins again. England don't count. They're for other people. Diet football. Sorry, but that's how I feel.
If you're not of this mind then fair enough. No one is right or wrong on this and I have mates who travel to international tournaments who have never missed a second of a Liverpool game for decades. It just leaves me cold.
I only ask one thing.
If you're planning to have a kickabout with a few mates at any point in this week, can you let me know so I can come and watch?
Pleeeeeease.