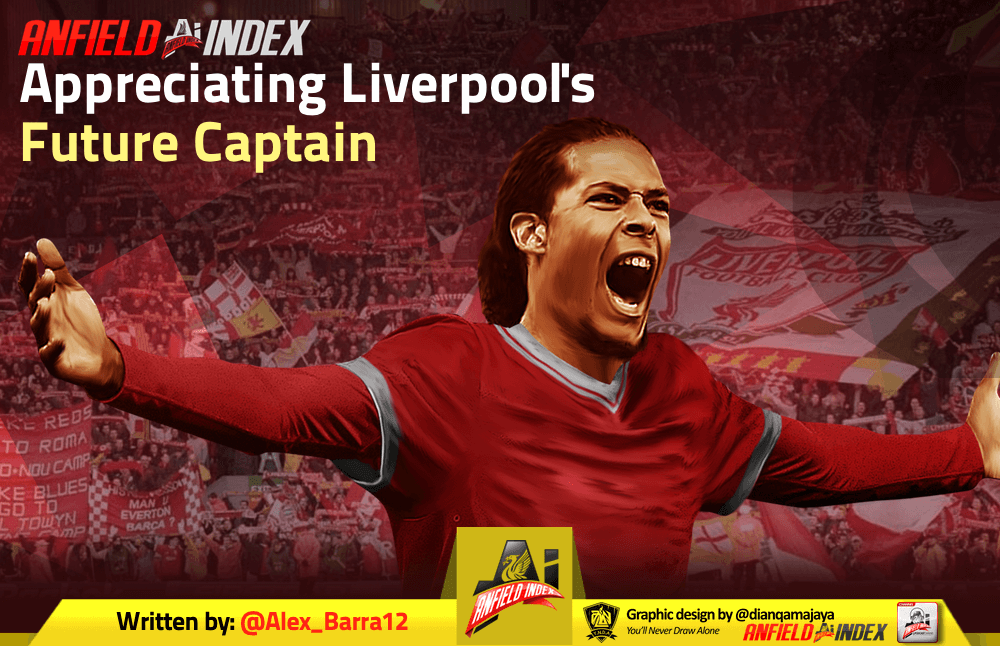 Appreciating Liverpool's Future Captain
Remember when people said that £75 million was an exorbitant fee?
Liverpool have gone from a notoriously shaky defence, one which is able to instil fear into even the most resilient of Liverpool fans when they conceded a corner, to one which instils fear into event the sharpest of strikers.
And a lot of Liverpool's surge to European force is down to the arrival of the most expensive defender in world football.

It wasn't typically Liverpool's way to fork out an incredible fee; the likes of which are usually paid by the Manchester City's or Chelsea's of this world. But the Dutchman was special; so special that when Southampton dug their heels into the ground and refused to let him leave in what was seen as Jürgen Klopp's most pivotal summer window.
Fast forward six months later, and suddenly Virgil was playing in Red. The future Captain of the club had arrived.
There's the height, of course, and the speed. But really, Liverpool hasn't seen such a commandant of players since Sami Hyypia. That leadership is what makes van Dijk such a force in the heart of the Reds' side, it's the most direct influence on a side that was one chaotically disorganised and subject to some colossal individual errors.
It's fair to say that Klopp's turn towards a more solid defence has coincided with the arrival of his 193cm tall colossus. His side currently possess the equal best defence in the Premier League, have only conceded five times in twelve games and currently possess the best centre half duo in the Premier League not coached by Pep Guardiola.
Indeed, in Joe Gomez, you can properly see how important the Dutchman is to this Liverpool squad. When one acts as the example, he lifts others up with him.
Gomez's vertical passing and through opposition midfields has come on leaps and bounds this year – and with a midfield lacking in creativity at times, he's taken on van Dijk's propensity to energise the attack. A special "Besties" video done by LFCTV shows how strong the pair's relationship is off the pitch as well as on it, and with such a commanding presence beside him, the young Englishmen is never bereft of guidance.
There is a stark difference between the chaos of Martin Skrtel and Dejan Lovren – two defenders who required a firm hand to stop them from committing brain-fades – and the composure of van Dijk – whose role in the side is that of the defacto leader – and Joe Gomez.
Indeed, the issue with Klopp's Liverpool was always individual errors and panic attacks – evident in the demolition Spurs gave Liverpool at Wembley in 2017. Since then, Liverpool have kept 21 clean sheets in the Premier League.
Much of that is down to the Dutchman – who is as strong a leader for his national team as he is for his club side – and this week showed his class when he comforted referee Ovidiu Hategan – who'd recently lost his mother – following the Netherlands' 2-2 draw with Germany.
The man is a role model, the most important facet to any leader.
He's also showcased that already this season. When Jordan Henderson and James Milner were both sidelined, van Dijk won a vote amongst the squad to named as stand-in captain, with Gini Wijnaldum as his deputy. Klopp said he would thrive as Captain. He wasn't wrong.
Just as Rio Ferdinand's £30 million arrival at Old Trafford was once perceived as nearing decadent, van Dijk's price tag has been significantly dwarfed by his influence, by what he's accomplished in a Red shirt.
Those centre forwards would once cause Liverpool significant trouble: Christian Benteke, Glenn Murray; even Rudy Gestede once bullied Martin Skrtel. Just as corners would once cause Liverpool serious distress, just as counter-attacks would wreak havoc with the Reds' back line, so too did panic seep through the spine when under significant pressure.
£75 million later, Liverpool no longer panic. £75 million later, Liverpool have inspiration via a dominant centre half. £75 million later, nobody talks about how fragile Klopp's side is.
£75 million later, Liverpool have their future Captain.