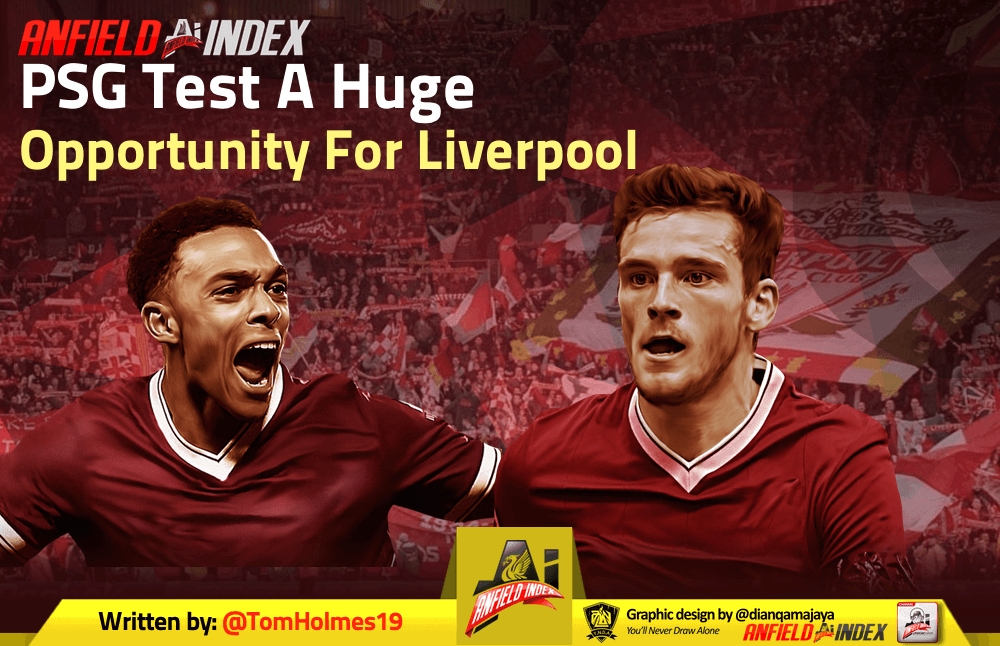 PSG Test A Huge Opportunity For Liverpool
Liverpool's away European form under Jürgen Klopp has been incredibly bang or bust. For every 5-0 win in Portugal there's a 2-0 defeat in Belgrade. Whilst some of the best performances of Klopp's tenure have been away from home in Europe, some of the worst have also come there.
So far this season, the Reds have been atrocious away from Anfield in Europe, with their 1-0 defeat to Napoli a shambolic attacking display, which was quickly out-stunk by a disgraceful performance as the Reds were turned over by Red Star in Serbia. And that away form has left them in a precarious position in Group C, with six points from four games, meaning that they need to deliver in at least one of their final two group games.
And on Wednesday, Liverpool will face PSG, in Paris. This is a critical game in the group. A victory would probably knock the French side out and all but guarantee Liverpool a last sixteen spot. A defeat on the other hand, would see Liverpool needing to win by two goals at home to Napoli.

And whilst there's a temptation to relax slightly in the knowledge that Liverpool will always turn up for a big European night at Anfield – they certainly have previously in terms of two goal home wins in critical final group games – that absolutely shouldn't be the attitude. Liverpool have to treat the PSG trip as a winner takes all scenario.
However, whilst Liverpool will travel to Paris as certain underdogs, there's absolutely a sense that this year and this team are different. Liverpool have already outclassed PSG once this season, albeit at Anfield, and there's no reason that Klopp can't draw another world class performance out of his team. PSG are a team filled with talent, but their talent doesn't have the same unity that Klopp has impressed on his squad.
For me, this is an absolutely huge opportunity for Liverpool to stamp their flag in the ground. To go to a big European team like Juve, PSG, Bayern or Barca and win would be a heck of a feat and the opportunity is one that should be relished.
Make no mistake, going to Paris will not be an easy game. If Liverpool play half as badly as they did against Napoli or Red Star, they will get absolutely turned over. But if they play like we know that they can, and frequently have over the last two years, then they could absolutely give PSG a run for their money.
The key area will of course be the full-backs, with Trent and Robertson critical attacking pressure points, as well as having to deal with two of the most dangerous attacking players on the planet in Neymar and Mbappe. But they showed in the Anfield fixture that their work-rate and stamina were vastly superior to their opposition, which gives them a huge edge. Moreover, with Neymar and Mbappe picking up potential injuries in their international fixtures this week, that could free up even more Trent and Robbo to attack – or it could mean that they'll face more defensive wide-players, depending on who Tuchel has available to him and how he decides to use them.
Another important aspect for Klopp is utilising the midfield, and Fabinho is a man who has a mixed history against PSG, whilst it remains to be seen if Klopp will trust the likes of Xherdan Shaqiri in such a big game, when he reverted to a midfield of Henderson, Milner, Gini for the reverse fixture – which largely worked on the night.
But tactical questions aside, this match is an absolutely massive chance for the Reds to lay down a marker to the rest of Europe – and to Man City – that they're not going anywhere. Beating PSG at home was a great result for Liverpool, and set them on a path with a good chance of getting out of a very tricky group. But winning in Paris to storm through the Group of Death with a game to spare, and potentially relegating PSG to the Europa League in the process, would be an incredible statement that this Liverpool team are here to play.
There remains an overwhelming sense that City are favourites for the Premier League, and justifiably so given their seemingly unstoppable form. But whilst Liverpool obviously won't be in a better position to win the league if they beat PSG – there's a fair argument to be made that they'll actually be in a worse one if they do – what it would do is remind Man City and a lot of the journalists that cover the PL that Liverpool are a force to be reckoned with in their own right, and won't be going away.
Moreover, whilst there's already a sense that Liverpool are a team to avoid in the Champions League, sending one of Europe's big-boys packing would further underline that Klopp's men are to be feared, and that a Last 16 draw against the Reds is nothing short of a disaster for whoever should do it. And bringing the fear factor back to Anfield could make a big difference in big games – the effect that the home advantage had on Man City in particular in last season's competition was absolutely massive.
The fact is, whilst a trip to face PSG in Paris is on paper an incredibly difficult game, it's the sort of game that Liverpool shouldn't flinch at if they want to demonstrate that they're capable of winning major honours, be that the league or be that the Champions League. And whilst a draw certainly wouldn't be a bad result, it would still mean that Liverpool would most likely need to beat Napoli to secure their progression.
That's not to say that Liverpool can't or shouldn't need to beat Napoli at home, as I've said before, this Liverpool side has history there and is exceptional at home and will have the impetus. But whilst in the past Liverpool have had to rely on stunning performances from a certain Scouse captain to secure late dramatic results, that isn't something that they can do this time. And more importantly, it doesn't need to be. Liverpool don't need to beat Napoli, and more importantly, they don't need to put themselves in a position where they need to beat Napoli.
If they want to be one of the best teams in Europe, it's time to act like it. Go to France, get a result. Upset the established order. Knock-out PSG. Be a big team. And take the pressure off that final game, so we can focus on finally beating Man United. Christ knows it's been too long since we did that. Up the Reds.