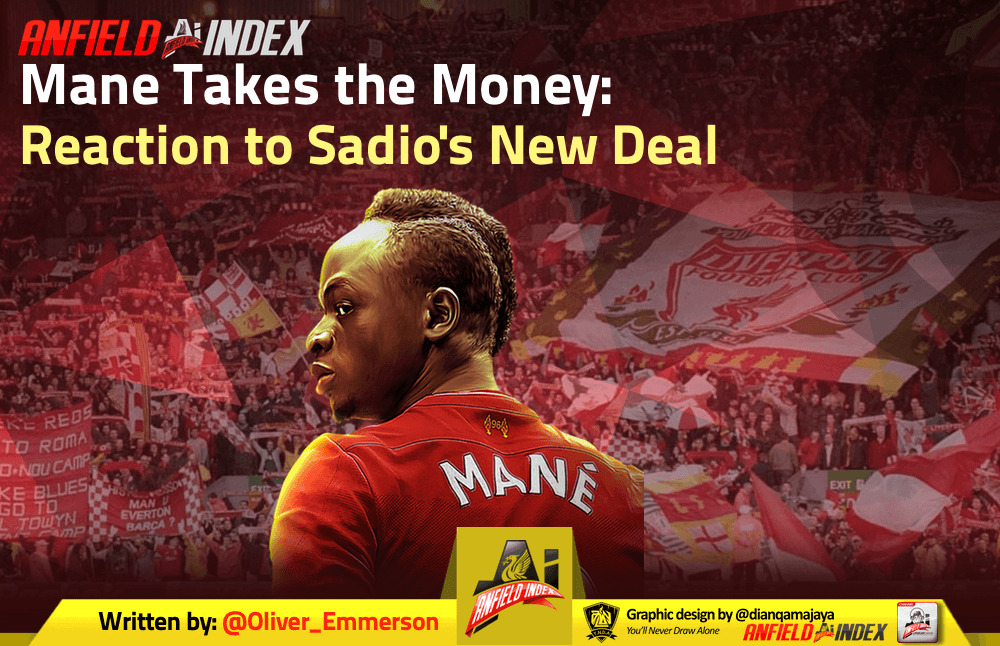 Mane takes the money: Reaction to Sadio's new deal
Just as we were all drifting off into a Thursday night daze, social media started buzzing with the news of Sadio Mane bringing an end to all the chatter about his contract situation by signing a new one.
The Reds' wing wizard has put pen to paper on a brand spanking new deal that takes him up to 2023, joining fellow attacking starlets Mohamed Salah and Roberto Firmino in renewing this year.
A pay rise for Mane, a player, locked down for Liverpool and more faith for the fans that the Reds are finally able to keep their top players. Salah, Firmino and Mane join the likes of Alisson, Virgil van Dijk, Fabinho and Naby Keita in being locked down until 2022 at least.
The news came out of the blue a little after murmurs that talks, which had been going on since last summer, weren't progressing as well as many expected.
However, it didn't sound like a tough decision for the Senegalese international, who told Liverpool's official site; "I am very happy, very happy to extend my time at Liverpool.
"It is a great day for me, and now I am looking forward to everything – to helping the team, to helping the club achieve our dreams and, especially, to win trophies."
It's easy to forget just how impressive Mane has been for Liverpool since signing in 2016, amidst the excitement over Salah's form and a load of new signings.
Regarded by many as Liverpool's Player of the Season in 2016-17, Mane started by tearing Arsenal apart at the Emirates and ended as a fan favourite with his goals dragging Liverpool back into the Champions League – one stoppage-time winner at Goodison Park standing out in the memory.
He took a back seat a little last season as Salah exploded onto the season, yet still managed to score in every Champions League knockout round. A hat-trick in Porto, the sealer against City at home, one crucial goal in Rome and then the equaliser in the final. It's not unfair to suggest that he didn't get enough recognition.
It may be in part that such a lack of recognition fuelled the exit rumours, with various foreign outlets suggesting that Mane's contract impasse was due to a desire to move onto Bayern Munich or Real Madrid at the end of the 2018/19 season.
However, he's here to stay, and we'll likely see him continuing to patrol the wing for years to come. Whether or not left wing is his long-term position remains up for debate, with many keen to see a shift back to the right-sided role he excelled in during his debut season, with Salah up top, Firmino in the 10 and a new signing off the left. Memphis Depay or Hirving Lozano, anyone?
Regardless of who comes in to join the attacking force in the upcoming months and years, we now know they'll be alongside Mane. A huge boost for Liverpool and a welcome one after some disappointing performances of late.
Watford away on Saturday presents a perfect opportunity to celebrate in style.