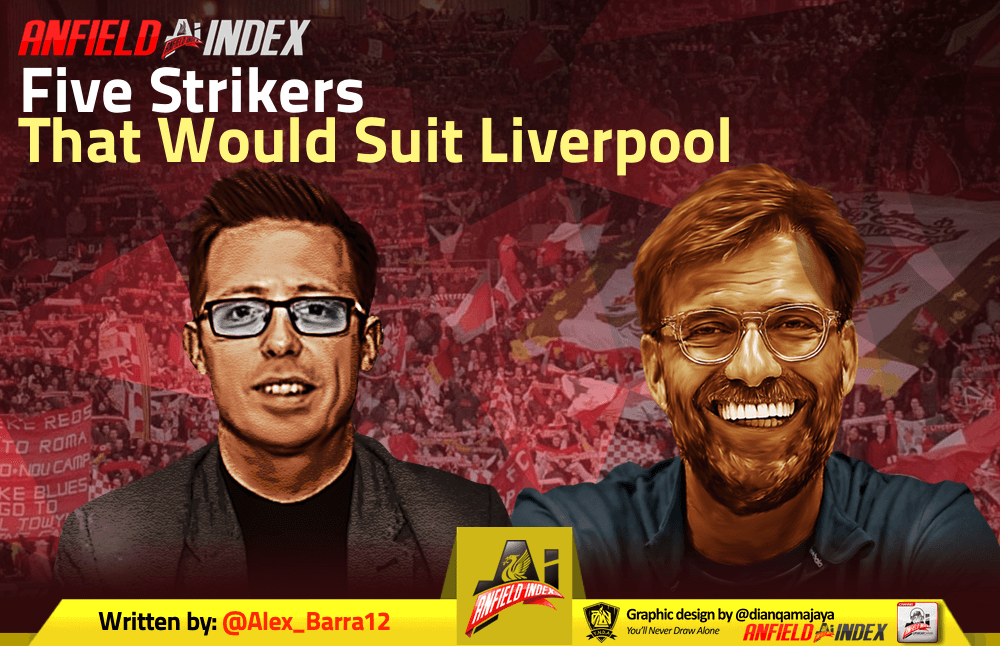 Five Strikers That Would Suit Liverpool
It seems clear that Jürgen Klopp has a plan.
In the last six to twelve months, Liverpool have toyed with a 4-2-3-1 system – the kind that the German used at Dortmund regularly. With the midfield stagnating in the 4-3-3 and Liverpool's dazzling forwards looking starved of creativity, it makes sense to withdraw Roberto Firmino to his favoured role as the #10 and look to play with a more traditional, clinical striker.
This striker would have to be able to engage in Klopp's pressing system, be quick of thought to engage with the speed around him and, most importantly, be excellent at finishing chances.

Here's five who might fit that bill.
Timo Werner
Perceived by many as the ideal candidate should Liverpool splurge the cash on a front man – the 22-year-old German made his debut at age 18 in the Bundesliga for Stuttgart and has since become a first-team regular for both Ralf Rangnick's Leipzig and the German national team.
He's lightning fast, likes to get in behind and is excellent at playing in his equally lightning counterparts – the likes of Bruma and Emil Forsberg are at their best when they're able to play off of Timo, who's able to make up for the pressing work that they sometimes lack too. He also tends to drift off into wide spaces to pick up the ball; he first broke through as a winger and transitioned into a centre-forward, meaning he enjoys collecting the ball where the centre-halves can't get to him and driving towards them at pace: it would fit in seamlessly with Mohamed Salah's tendency to pick up the ball more centrally.
The downside? Most excellent strikers outperform their xG – essentially showing they're clinical finishers by scoring a few chances they probably should've missed. Werner is a talented finisher of the ball – his highlights will show you that – but he's also rather wasteful at times too. It was a trait many believed he'd outgrow, but he hasn't yet.
The exception to that was his first season at Leipzig – the best of his fledgeling career – which saw him score 21 times in 31 games and outperform his xG (of 14.5) by six and a half goals. The good news? He's still only 21 and suffers from teammates who can't finish either. In this Liverpool side, that ought to be remedied.
Luka Jovic
The man whose name has been generating serious acclaim lately, Luka Jovic's profile seems rather tantalising.
A mobile, burly number nine in the fashion of Robert Lewandowski, he's currently scoring at a rate of a goal per appearance (although five of them were in a single match; against Fortuna Dusseldorf). Where the issue with Timo Werner is a lack of clinical finishing, Jovic has a marksman's eye: he's currently out-performing his xG by four goals and managed to about break even during his run at the end of last season.
His critics will bemoan his lack of minutes and say there isn't a proper sample size: but he first broke into the Eintracht Frankfurt team at the back-end of last season and has been a rather consistent feature since. He's also going at a rate of 0.78 xG per 90 minutes of football, which is immense for a number nine: that's on par with Harry Kane over the last two seasons.
The drawbacks? Well, he's bound to have a downturn in form sometime soon, and how he deals with that will be telling, as will be how much money Frankfurt will demand for a player they'll only just have technically purchased: Jovic was on a two-year loan from Benfica with a buy clause that Frankfurt will activate. It could well be a pricey acquisition.
Still, he's one hell of a finisher.
Andrea Belotti
Speaking of pristine finishers, Andrea Belotti was once the talk of European football.
"If I had to insert a figure in his contract right now I would go for €150 million"
Torino chairman Urbano Cairo told Sky Sport after his star striker had scored an eight-minute hat-trick against former club Palermo in 2017.
In hindsight, he probably should've settled with the rumoured £50 million that multiple clubs were willing to pay.
Since that phenomenal season in 2016/17 – when the Italian scored 26 and assisted 7 in 35 Serie A appearances – he has suffered a severe drop-off in influence. It's not entirely his own fault, in truth; he's been hampered by injuries and a Torino side under Walter Mazzari that don't particularly enjoy attacking much.
Indeed, under a more offensive manager, and in a better team, it stands to reason that Belotti would thrive, and become the incredible fox in the box he once was. He's got one hell of a leap: this season alone he's won an average of 4.3 aerial battles per 90 minutes (Bobby Firmino, in comparison, has won 0.4) and he's a striker that likes to get involved in the link-up. In fact, he's got a better xG build-up (getting involved in attacks that lead to chances) than someone like Mauro Icardi – who was omitted from his list on account of it being impossible to prize him out of Milan.
Outside of his remarkable season, however, Belotti has not been the most clinical. Like Werner, he's only outperformed his expected goals once – in 2016/17. However, with better players around him, and better service, he could well evolve into that phenom of a striker he once promised to be.
It'll be for a whole lot less than €150 million, too.
Inaki Williams
Perhaps the biggest risk on this list; Inaki has been touted as quite the impressive talent for a few years now but is yet to find a way out of Bilbao.
He's a tremendously fast front-man that began life as a dynamic winger, in the ilk of Mohamed Salah, though his switch to a centre-forward role has been more clearly defined. The hitch? He's yet to score more than ten league goals in a single season. The 24-year-old has a plethora of talent, but needs a clinical edge – he's only outperformed his expected goals in one out of four seasons (though it was by quite the margin of 4.5 goals) and needs to seize more chances. He certainly has no issue getting shots off, and his move central has been far more productive for his ability to get on the ball more often.
This season, however, his xG per 90 minutes has shot up to 0.47 – that's far more in line with more traditional strikers – and if Klopp could get a hold of that pace, power and technical trickery, he'd have quite a player on his hands.
Marko Arnautovic
Right, the wildcard.
Marko Arnautovic did once have a Champions League star etched onto the back of his boot when he arrived at Werder Bremen, following a glorious 0 appearances in Inter's Champions League winning campaign. That is true, and perhaps on that alone it's worth discounting him from this list, given Jürgen Klopp's need for good mentalities.
But if there's a striker who'd flourish in this system, Arnautovic absolutely fits the bill.
When motivated, he's a maniacal presser, and though he's often isolated at West Ham, he's able to get into pristine goalscoring positions and be extremely effective in front of goal. Somehow, it took the managerial talents of David Moyes to recognise that the Austrian needed to be rescued from a restricted influence on the flank and immediately reaped the benefits. After being unleashed (for lack of a better term) under Moyes, he managed 11 goals in the 2017/18 campaign and is currently scoring a goal every other game under Manuel Pellegrini.
He may well be 29 years old already, but his running through the channels, finishing ability (he's outperforming his xG over the last two seasons) and general mad-bastard-ness would be so much fun.
Expected goals stats courtesy of Understat.com