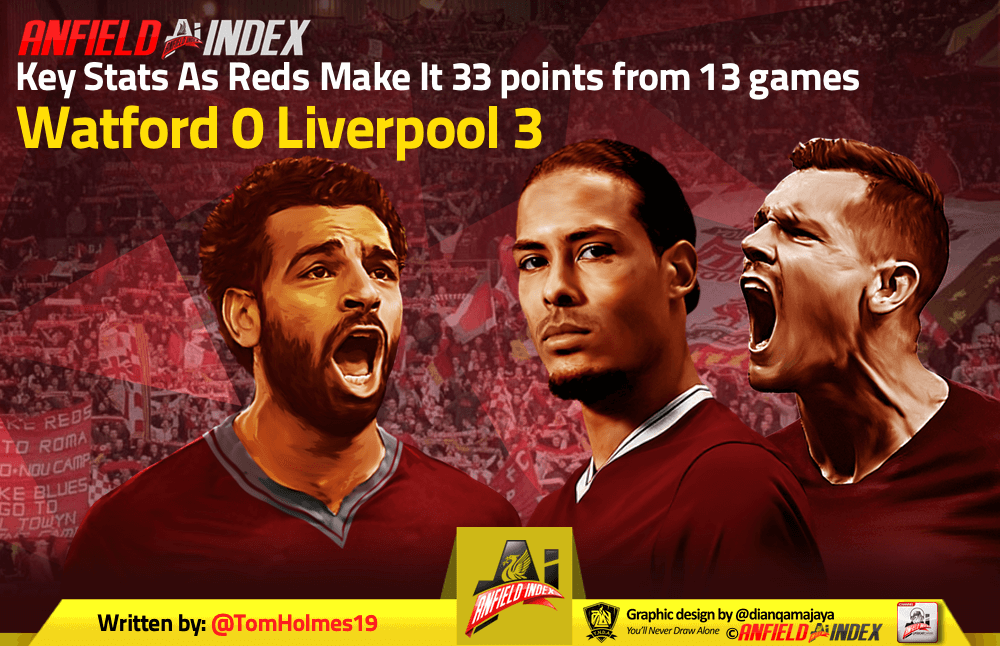 Key Stats As Reds Make It 33 points from 13 games
Liverpool turned in another solid away performance as they won 3-0 away at Watford. But what were the key stats from a tricky win at Vicarage Road, in which the Reds toiled for long spells but came good in the end?
Clinical Reds Rely on Salah Again
This was another far from vintage attacking performance from Liverpool. They created 1.74 xG, but 1.08 of that xG was created in the third goal incident, in which Mané and Firmino had Liverpool's only two big chances of the game as the Reds killed the game at the death.
Before that, Liverpool had generated just 0.66 xG from eight shots and zero big chances. But of course, they found themselves 2-0 up, courtesy of a rocket of a free-kick from Trent Alexander-Arnold and, of course, Mo Salah. He's now scored the opening goal in over half of the Reds' ten Premier League wins, notching his seventh goal of the season to go with three assists. He's now at 112.5 minutes per goal contribution and has amassed 11.95 expected goals and assists, which is 48.3% – almost HALF – of Liverpool's xG total of 24.73.

Look, one of the problems with stats articles is that when trends start to develop, you can end up sounding repetitive, but Mo Salah is an absolute game-changer of a player and he now has 10 goal contributions in 13 games this season and only three players in the PL have more than that (Hazard 11, Aguero 12, Sterling 13). Influencer.
Aerial Prowess Huge As Reds Shut Down Deeney
Watford created very little over the course of the game, with Pereyra's effort at 0-0 the only decent chance they generated with the game a contest (0.31 xG of their 0.65 total, another game with the opposition creating less than one expected goal). And a large part of that was how well VVD and Lovren shepherded Deeney.
The big striker won just two of his twenty aerial duels, and just two of eighteen in an offensive situation – and both of those came with the game already done at 2-0. That was down to the centre-backs, who were both excellent on the day, despite Lovren's slip for Pereyra's chance. Lovren won eight of his nine aerial duels, and Van Dijk eight from eight – all defensive. So we can see that whichever centre-back Deeney tried to get any joy against, he couldn't because both players stepped up in a big way. Obviously, Watford's attack was more nuanced than simply lumping it up to Deeney, but Liverpool ensured that trying to hit their target man absolutely wasn't an option.
Away Form Back With A Bang
Whilst there hasn't really been a concern about Liverpool's away form in the league, as it was four wins and two draws before today, it was nice to see the Reds deliver an emphatic performance away from home, as their previous five away league games were either draws or wins by a single goal.
As this table from Beasley indicates, Liverpool won five league games away from home by three goals or more last year, all between November and January, a trend that hopefully we'll see revived over the next two months. Despite not necessarily being their best performance, it's Liverpool's most emphatic away win in 2018.
Today was Liverpool's first win by three-or-more goals on the road in the league since January.
Klopp's had 10 in total, here they are… pic.twitter.com/i5R9q4YFx8

— Andrew Beasley (@BassTunedToRed) November 24, 2018
Red Card Fever Strikes Hendo
Henderson's red card was the first for an LFC player in the PL since Sadio Mané kicked Man City goalkeeper Ederson in the face last year. It's Henderson's first red card since April 2014, a red card that was among the reasons Liverpool lost the league title that year. This was the 4th red card of Klopp's Premier League tenure, in his 4th season, so hopefully, that's us done for the year. Hopefully.