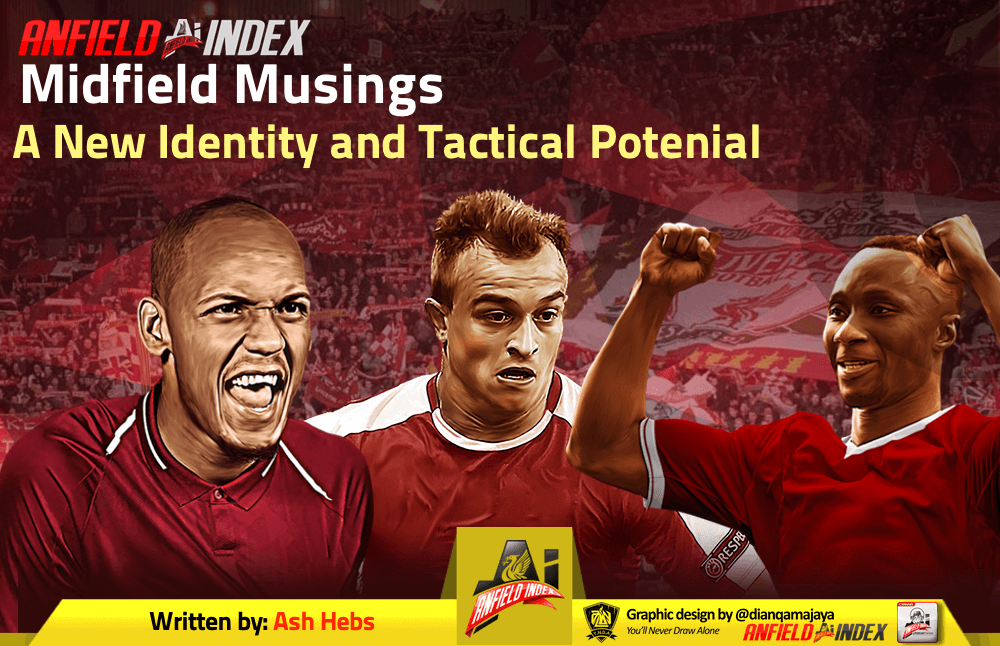 Midfield musings, a new identity and tactical potential for Liverpool

With Liverpool cruising to a 3-0 win over Watford on Saturday evening, Jurgen Klopp maintained the 2 point deficit to Man City. Another clean sheet and a highly satisfying win, albeit with a dogged rather than spectacular performance.
There's a certain symmetry to our away results against Watford since Klopp took over from Brendan Rodgers. From the pitiful 3-0 reverse in his first season, to a thrilling 3-3 draw last season which pointed to our underlying defensive deficiencies. To then emerge as 3-0 victors this weekend, points to the new found resilience and defensive stability that Klopp's methods have instilled in this group of players.
We remain unbeaten in the league this season as another important week of football awaits. It feels good even though the natural fan within us all perhaps wants more.
Looking at the underlying xG season on season is a simple, high level gauge. We are averaging 1.90 xG per game this season compared with 2.04 last season. However, on the same basis, xGA is 0.80 per game in comparison to last season's xGA of 0.94. Effectively, we have tempered our attacking play for greater solidity at the back. This points to a team that is more controlled and potentially able to challenge for the title.
Despite their greater depth and squad quality, Man City are only 2 points ahead of us having had an easier start to the campaign. Ominously though, their xG per game has increased to 2.88 from 2.41 in last season's record breaking league win. City's xGA per game remains flat at an impressive 0.64 season on season.
If anything should concern City, it is that Liverpool have not really got out of 3rd gear so far in the league. City's easier start also potentially flatters their xG a little. However, some concerns do remain over the performance level of Klopp's team. The biggest concern so far seems to be the lack of creativity in midfield.
An angle on Klopp's side is that where we have fallen short of winning trophies is against teams close to our level. A lack of variety to our play and inability to retain possession has been costly (or almost costly) against those teams who have found a way to restrict our attacking play.
Examples of this are the Champions League final against Madrid, even long spells against Roma away (albeit with a decent advantage to hold onto). Our struggles have continued against the likes of Arsenal, Chelsea, City and Napoli this season, where our midfield has been bettered. Klopp's new vintage has become a little predictable. In the league at least, we need to pick up points in the big games to get closer to City. It doesn't seem they will drop too many points again this season.
Having lost Coutinho, Can, Oxlade Chamberlain from the squad (for different reasons), naturally there was high expectation of delivery from our new midfield arrivals. Having spent almost £100m on Naby Keita and Fabinho, the fanbase is keen for our new boys to start shining. However, every player coming fresh into the EPL needs a period of acclimatisation. No matter how good they are.
Naby Keita, for example, has already shown glimpses of his quality. However, partly due to injury and fitness, Keita simply has not had sufficient game time to demonstrate his true potential. Based on early performances, he will deliver sooner rather than later. Once he gets back into the team and gets fully up to speed with the pace and intensity of the EPL.
As for Fabinho, any suggestions that Klopp has written him off are premature, if not absurd. Yes he has taken longer to settle. But this guy will be a beast of a player when he gets going.
We have already seen evidence of his well-rounded skill set. A technical, dribbling, athletic number 6, Fabinho has it all. The Brazilian can bomb up and down the pitch; he's prepared to take risks on the ball that opens up so many more options.
This alone is a breath of fresh air compared with the more conservative approach of the likes of Henderson, Milner and Wijnaldum (that's not to say the aforementioned trio do not offer any value to this squad – they clearly do, but in different ways).
Adding Keita, Fabinho and even Shaqiri as fit, regular first team options offers a different dimension to our team. The technical level of the team goes up several notches, as does the presence between the opposition's defensive lines.
Whilst the parked bus hasn't proven a problem so far in the league (in terms of results) it could be an impediment as the season progresses, if creativity from the middle of the park is lacking. Klopp is bedding the new boys in at the right time, fitness/injury issues notwithstanding.
Shaqiri in particular has to start against every parked bus in my personal view. His vision has been the difference maker in a number of games and even he's not even near the level he could be.
Whilst Klopp can only focus on Liverpool's performances, he cannot ignore Man City. I feel he could focus a little more on some specific attacking patterns of play. We'll never be able to match Pep Guardiola's meticulous, well rehearsed positional play. However giving his forward players a little less freedom and working on some more deliberate passing patterns in training will help his team mix things up a little. Again, our newbies will give us more tactical options here.
So what can we conclude thus far? Well, the league form has been as good as could have been expected. Klopp has tweaked the identity of the team, whilst Man City have largely carried on where they left off. It's been an easier transition for City, season on season, in terms of playing style. Width and quick passing has again been a key feature.
The lack of midfield flair cost us against Napoli and Red Star, so our Champions League campaign hangs in the balance. Much will ride on what extent our midfield can control the coming games against PSG and Napoli.
With all that being said, there is a lot of football remaining to be played this season. The key takeway is that it still feels as though the best is yet to come. And that's exciting.