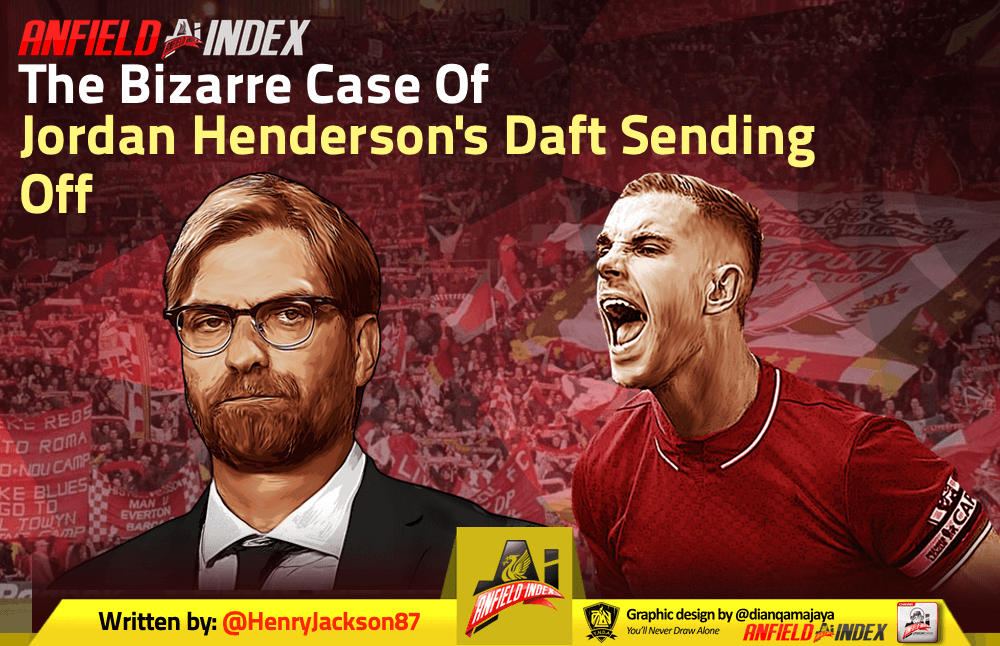 The Bizarre Case of Jordan Henderson's Daft Sending Off
If you could name one player at one point in the history of Liverpool whose sending off would produce the most hysterical reaction, Jordan Henderson in 2018 would be right at the top of the list.

The Reds skipper was shown his marching orders for a stupid second yellow card at Watford on Saturday, leading to the usual deafening criticism in his direction.
Few individuals live quite such a soap opera-style existence through their own fans as Henderson, with his every move over-scrutinised.

So how should this latest chapter in his curious career really be viewed?
The truth, as is so often the case, is that there is a middle ground that many are completely missing, with his detractors desperate to tell the world how much he let his teammates down and his supporters defending him too much.
The most obvious thing to highlight straight away is that Henderson's sending off was daft, and not becoming of a Liverpool captain. It was wholly understandable why anyone felt angered by his recklessness.
He lost his head at an important time in the match, berating referee Jon Moss seconds earlier before clumsily blocking off Etienne Capoue on the halfway line. It was Jonjo Shelvey-esque behaviour and it wasn't good enough.
The fact that he was about to be replaced by Fabinho made it all the more sloppy and it was a petulant moment that was completely avoidable.
Henderson deserved criticism for being sent-off, as any Liverpool player should, but has quite such a ridiculous reaction been warranted? Of course not.
But it's Henderson, isn't it?
It wasn't a costly sending off in hindsight. It didn't happen in the opening 10 minutes. It didn't occur when the scores were level. It wasn't a crazy two-footed lunge. It wasn't 100 per cent needless, considering Watford were breaking away.
Many Liverpool players have been sent-off in the past, including many of the greatest in the club's history, and many will do it again. It happens.
There is every chance that Fabinho or Naby Keita will be dismissed for a similar offence at some point and the same flack should come their way, without it being over-the-top.
You can't help but feel that they would be hailed for showing a snide edge to their game in the same situation, though, and lauded for stopping a counter-attack and taking one for the team, with losing a man not too fatal to Liverpool's chances 82 minutes in.
Changing the focus quickly, had it been Alberto Moreno that left a foot dangling on Saturday instead of Andy Robertson, he would have been crucified, even if a penalty still hadn't been awarded.
Had Dejan Lovren given that late spot-kick away to Man City, rather than Virgil van Dijk, the abuse coming his way would still be well and truly alive.
Sure, the likes of Henderson, Moreno and Lovren are not as perfect as others, meaning you may be able to forgive them less, but the level of bias is still beyond a joke.
Perhaps the key reason behind so much of the anger aimed at Henderson is because his performance on the day was unquestionably poor.
He was Liverpool's worst player at Vicarage Road, failing to handle the pace of the game, endlessly choosing the safe option on the ball and ultimately proving rash in the tackle.
But it was still just a bad day at the office, as almost every Liverpool player has inexperienced at one point or another this season.
He doesn't play like that every week, or Jurgen Klopp would literally have sold him a long time ago, taken away the captaincy and not praised him as much as he does.
Klopp is ruthless and would have no issue with ditching his skipper if he didn't think he was good enough.
The red card being treated as some sort of disaster is embarrassing, biased and a childish attempt to score points, when in fact no points were dropped by Liverpool and it was far from the worst dismissal you will see.
It was dim, without question, but it was no worse than the many red cards picked up by the likes of Steven Gerrard, Javier Mascherano, Sami Hyypia and Jamie Carragher down the years, to name but a select few from the many who have let their colleagues down.
It is simply being used as an extra stick to beat Henderson with when in truth, his limp display should be what we are focussing on.
Klopp nailed it in his assessment of the red card, saying "sometimes you don't do the right things in the right moments", which sums it up to perfection.
It's not a common occurrence and his form has been largely good over the last 12 months, when fit, and that aggressive side of Henderson's game is part of what makes him effective.
Interestingly, where was this response when the 28-year-old was a more popular figure in April 2014, when he was given a straight red in the 3-2 win over Man City?
Back then, he was applauded from the field at Anfield after a bad tackle on Samir Nasri in stoppage time – one that deprived Liverpool of a key man for the rest of the season.
Without his energy and quality, Brendan Rodgers' side fell painfully short in their search of the holy grail and his sending off that day proved 100 times more costly than Saturday's.
It all boils down to an obsession with wanting your opinion to be proved right.
To many, Henderson is a figure of Liverpool's past and someone who should not be starting regularly in 2018, let alone captaining them, so this was their opportunity to stick the boot in.
It is absolutely fine not to rate him and not to want him in the Reds team, but this concerted effort to put down a dedicated professional, an international footballer and an excellent role model is playground antics.
It will never change – football supporters are far too stubborn for that – but as per usual a mistake from Henderson has been turned into some kind of monumental disaster.
Get over it.