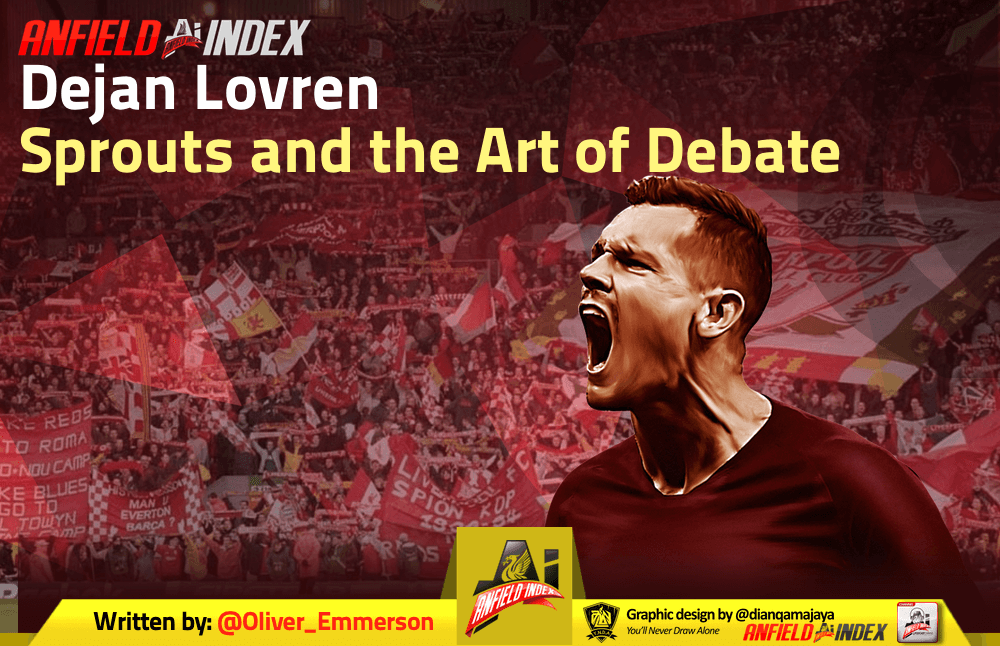 Dejan Lovren, sprouts and the art of debate
"All opinions are not equal. Some are a very great deal more robust, sophisticated and well supported in logic and argument than others." – Douglas Adams.
"Never be so cliché as to start a piece of writing with a quote." – My father.
Sorry, Dad.
The definition of a 'good' football player varies based on what level you want them playing at. Dejan Lovren would be a phenomenal player for a team in the National League, Conference or whatever we're calling it in 2018.
For me, a 'good' player for Liverpool is one that is comfortable starting week-in-week-out in a top-four side, potentially a title-winning one.
If Liverpool had 11 players of Dejan Lovren's quality starting every week, they'd be nowhere near Manchester City.
If the Reds had four defenders as good at defending as Mo Salah is at attacking, four midfielders as good as Alisson is at goalkeeping and so on, they'd have mustered more points than the incredible 33 Klopp's men currently sit on.
This isn't a piece intended to rip Dejan Lovren's ability to shreds. There are YouTube compilations for that. In addition, it's often hard not to like a bloke that clearly loves Liverpool, has been through plenty of hardship in his life and on top of all that is Mohamed Salah's coffee buddy!
Yet, it's okay not to rate him.
Potentially discounting Jordan Henderson, the 29-year-old is a source of more supporter debate than any other Liverpool squad member. However, so many of the arguments used to praise Lovren lack foundation.
Rate, don't hate – but make a valid point!
Let's start with the worst of them all. I want to get it out of the way before I'm forced to bang my head against a wall and lose any mental capacity to finish this piece.
'He played in a Champions League and World Cup final, he must be good!' says Joe Bloggs, 25, sitting at home adoring his posters of Stefan Savic, Dante, a 32-year-old Fernando Torres, Marcos Rojo, Martin Demichelis and Ryan Bertrand.
If you connect the dots skills aren't up to scratch, they're a handful of players to have started Champions League or World Cup finals in recent years. As much as being on a winning pub quiz team doesn't necessarily make you one of the best quizzers in the pub, competing in the world's finest football matches doesn't qualify you as one of the world's finest footballers.
It's not as if Lovren was ousting top talents to secure his place in these fixtures. Ragnar Klavan was Liverpool's centre-back sub in the Kiev. Vedran Corluka sat ready to take Lovren's place in Russia.
I won't lie to you reader, I'm not a fan of sprouts. Who is, really? But if you offered me sprouts or a steaming pile of faeces for my tea, I'd take the sprouts every day. It doesn't mean I have to praise them.
All of the above doesn't make Lovren a bad centre-back, but it certainly doesn't justify an argument for him being a good one.
What is a good argument for Dejan?
It's better to say that he was a crucial part in getting to these finals, which some do. Starting with Croatia, they failed to keep a clean sheet in the knockout rounds and conceded four in the final. Lovren was okay throughout, but it wasn't unbelievable defending that helped the Croats see off the mighty *checks notes*, Denmark, Russia and England.
Arguing that Lovren was important for Liverpool in their Champions League run is a stronger argument, as he had his finest game for the club during the 3-0 win over Manchester City at Anfield. I gave him a 9/10 in my player ratings!
He almost kicked on from that at home to Roma in the semi's but dropped a clanger to let Dzeko score before being poor in the second-leg as Liverpool turned a 5-0 lead into a 7-6 aggregate win. I'll give him the one good block at 0-0 away at Porto before the attack won the game for us, and he was alright in the final amidst some chaos behind and ahead of him – a cracking header to set up Mane's equaliser. He didn't mark Cristiano Ronaldo out of the game though, as much as people like to believe it.
Regardless of what you think of Lovren though, Jurgen Klopp rates him! There's another one that tempts extraction of one's eyeballs. Fair enough, Klopp thinks more of Dejan Lovren than me. Probably than most of us. However, he likely thinks more of Simon Mignolet, Alberto Moreno and Jordan Henderson than many of you readers do.
This idea of Klopp being 'ruthless' with poor performances is bizarre. He's routinely heralded for showing patience with players, looking to nurture them. Mignolet and Karius were given chance after chance before Alisson was bought. Put back in the team unexpectedly, Alberto Moreno was arguably out-performing all left-backs in the league before injury saw Andy Robertson step up and take his place last year. Jordan Henderson and James Milner get regular minutes despite a £100 million summer spending to rejuvenate the midfield.
Although the manager not selling a player doesn't offer a nailed on sign that he's god's gift to defending, it's obvious that Klopp, despite signing three senior centre-back's during his time at Liverpool, rates Lovren to some extent. Not enough for him to displace Gomez though, and why would he?
Liverpool have improved immeasurably at the back since Gomez began partnering Virgil van Dijk. And you can tell they have because people don't use arguments like 'Gomez is part of a team that's second in the Premier League'.
You can use arguments such as Gomez's arrival in the team ahead of Lovren coinciding with Liverpool's best defensive start in league history, with five goals conceded in 13 games, and a defensive xG that matches.
It's possible to argue Lovren's case this season, with three clean sheets and routine wins in four league starts. A rational argument, something that can't be disputed and could be suggested points towards Lovren being part of a collective of talented individual Liverpool defenders.
Despite that, in terms of expected goals, he's played in defence during Liverpool's poorest defensive performances against the relegation strugglers.
The Reds conceded 0.64 xG to Cardiff, 0.66 to Huddersfield and 0.65 to Watford with Lovren starting, according to Understat. The only Premier League teams that have created better goal scoring opportunities against Liverpool with Gomez at centre-back are Chelsea, Arsenal, Leicester and Tottenham.
It's not been at all bad defensively with Lovren in the team, but it has got slightly less good. He was solid (again) against Manchester City, in fairness. That's another valid point in his case, as is the fact he's been returning from injury and hasn't had a chance to string a run of games together like Gomez has.
Such arguments don't convince me that he should be Liverpool's starting centre-back, or that he's a particularly good player, but they do hold some weight when debating the Croatian's quality. That's not the case for some of those aforementioned points.
It's okay to think Dejan Lovren is up to scratch, to want him to start. The same goes for Jordan Henderson, James Milner, Alberto Moreno or literally any footballer that isn't knocking in seven own goals per game.
However, let's be grown ups and use points of debate that couldn't be deconstructed by my eight-year-old cousin on the playground before he scores his daily hat-trick, which he assures me is routine.
Come and tell me about Liverpool's improved defensive performances in the team with Lovren, his gradual reduction in individual errors over the past few years, his impressive aerial statistics. If you can defend a point better than Martin Skrtel can defend a one-on-one against Anthony Martial, it makes the whole experience of social media so much more rewarding.
Then, just then, Liverpool Twitter may start debating as friends, not foes.