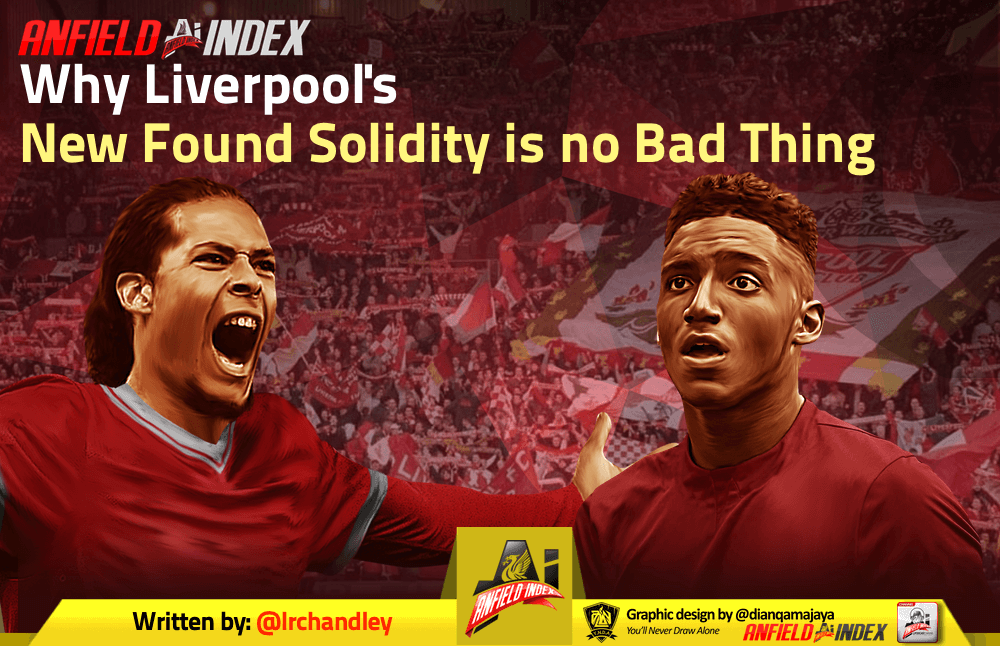 Why Liverpool's new-found solidity is no bad thing
The 2017/18 season was loads of fun. In the process of securing a second successive top 4 finish and getting to the final of the Champions League, Liverpool scored a whopping 138 goals in all competitions, helping us become known – rightfully – as one of the most lethal attacks in world football. Our front 3 of Mo Salah, Roberto Firmino and Sadio Mane became not only the darlings of the KOP, but the holders of the keys to something Liverpool fans had dreamt of for years – the Premier League title. If we were to break into the elite club of Premier League winners, it was their pace, skill and prowess that would get us there. Or so we thought.
For the whole of Jurgen Klopp's tenure, Liverpool have been delighting fans across the globe. Our swashbuckling attack, mixed with the very real chance of us dropping clangers to teams way below us, made for entertaining watching (for neutrals and fans alike) and great topic of conversation amongst pundits on Sky, BBC, and beyond. But even then, as we were winning in style, the feeling was that our side was too flimsy at the back, and whilst our defense improved no-end post-Spurs away last season, things within the team didn't seem so solid. And that brings us to this year, this side, and this questions:
What is wrong with a more solid, slightly less flamboyant Liverpool side?

It seems like there's been a conscious effort to play with more solidity and certainty this season, at least for the last few months. It wouldn't be totally out of the question that as January becomes February, we start to play with the shackles off as the side gets used to adjusted defensive roles. But whilst that may well happen, I'm starting to come around to the idea that this Liverpool side may be a little less gung-ho across the long-term. And that's no bad thing.
I've had a thought for a few weeks that if this was another side in a previous year of the league playing this way, pundits would be quick to say that this was how you win a league. Calm, solid, quick on the break whilst still winning and still scoring goals. This type of performance and style is what Jose Mourinho brought to Chelsea is the early 00's, and a style of play that Manchester City echoed before Pep Guardiola took over and essentially revolutionised both their side and expectations of what a champion looks like. In any other year bar last, not only would we be top of the league, but we would also be heralded as the one of the most complete sides in the world. But we are burnt by our entertaining past.
There's no saying that solidity and expressive football are mutually exclusive traits – all you need to do is look at Guardiola's side in Manchester – but they didn't get to that stage overnight. The only difference is they look like they have already hit top gear this season. It's nice for us to be able to suggest – rightfully, after last season – that there is further attacking intent to come from our side. And anything more productive than what we have right now will only prove to emphasise our title-credentials. With a solid midfield and two new signings that are yet to truly click in Naby Keita and Fabinho, we're looking in smart – and solid – shape. So sure, maybe we won't reach the peaks of last season but that doesn't mean we've gotten worse. Arguably, it means the opposite. Because now we have a side that can beat the dross and see off our rivals. And for any chance of winning the league, we needed to scare people with our defense, not just our attack. This year, we may just do that. Up the Reds.