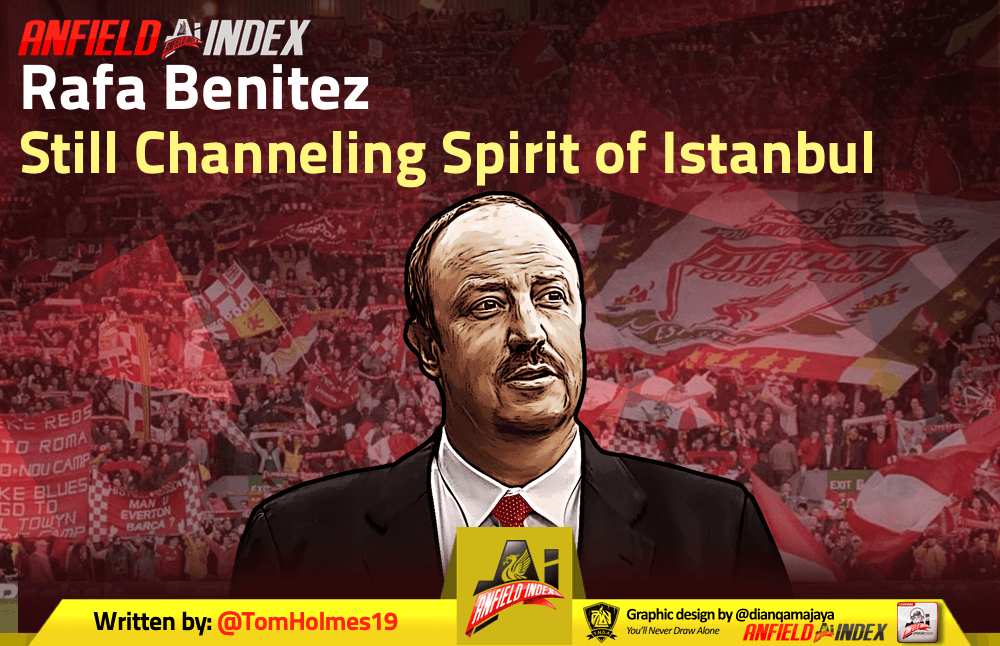 Rafa Benitez Still Channeling Spirit of Istanbul
Three game weeks ago, Newcastle were on just 3 points from 10 games, 19th place in the Premier League, yet to win a league game, and only avoiding being rock bottom because of the absolutely dire form of fellow strugglers Huddersfield, who they were only above on goal difference.
And yet, even with their own fans furious and finally starting to shift their wrath away from Mike Ashley and towards their manager, a lot of external football supporters were more relaxed about their plight. When you were considering contenders for the bottom three, there was always one big reason to back Newcastle to stay in the Premier League – Rafa Benitez.
Here we are, three games later, and three wins for Newcastle later, and they've elevated themselves to 13th, giving themselves a four-point cushion to the bottom three and allowing their fans a brief respite from the threat of relegation. Impressive back to back wins against top ten opposition in Watford and Bournemouth was followed up on Monday night with a huge result as they saw off fellow strugglers Burnley.

It has to be said, a lot of Newcastle's struggles have been down to the fixture list, as five of their seven losses this season have come against the so-called "top six", with Liverpool the only side Rafa's boys have yet to face. And with defeats to those sides consistently a close run thing, with Newcastle giving a good account of themselves in those matches, it was seemingly a matter of time until their form picked up.
But the fact is that this Newcastle side have absolutely no right to stay in the Premier League in many respects. Their squad is still largely Championship level, and Mike Ashley's behind the scenes antics meant that they were one of only a handful of clubs to make a profit in the summer, with no real investment in their squad. Ki on a free was a smart move, and making Dubravka's signing permanent was also shrewd, but with Rondon and Muto their only attacking incomings, it's clear that the team is sorely lacking attacking talent.
And yet, Rafa has found ways to make this squad work. Set-pieces have been vital, as has been aerial strength – with six of their meagre eleven league goals coming from headers. And of course, Rafa's defensive solidity has remained a big feature – only three teams have scored fewer goals than Newcastle but only six teams have conceded less – with Everton and Wolves only conceding one less.
Which brings me eventually to the point of this article – I love Rafa Benitez. I love watching him succeed against all odds when he has absolutely no right to. He's a fantastic example of how strong coaching and intelligent management can lift a team to be more than the sum of its parts.
And lifting teams to be more than the sum of its parts has always been one of Rafa's biggest strengths. We've seen at Chelsea and at Napoli where he was able to take decent sides and win silverware that they maybe didn't have any right to win, and it has only been at clubs where egos have been too big for him to handle that he has really struggled – an Inter side fresh off a Champions League win and of course, his infamous spell at Real Madrid (probably the most toxic club on the planet).
But of course, the best example of Rafa being able to get a lot from not as much remains probably the only reason I'm writing this article and if we're being honest, the reason that you're reading this article. Istanbul.
Rafa is my favourite Liverpool manager. I'm too young to remember the likes of Shankly, Paisley and even King Kenny. My memories of Liverpool Football Club growing up are of Houllier and then of course, Rafa. Klopp has been a brilliant boss who absolutely gets the club and has done a very good job, but what Rafa did at times with this Liverpool team was nothing short of extraordinary.
Two Champions League finals in three years, with an FA Cup win sandwiched in-between, is the sort of trophy haul that Liverpool have only been able to dream about in the decade or so following Rafa's departure. Istanbul is the highlight of Rafa's career and the highlight of many Liverpool fans' time following the club, but it was only the start of a remarkable run that saw Liverpool consistently threaten in Europe and in the domestic competitions – culminating in a title run that is almost incredible in and of itself when you consider the off-field commotion that was reaching a boiling point in 2009.
Of course, Rafa suffers in the way that every modern Liverpool manager suffered, in that he was unable to bring home the one trophy that all LFC fans craved, but he did deliver plenty of extraordinary moments in his time at the club, and was a genuinely charming and lovely man who endeared himself to Liverpool supporters in a way that Klopp has since, and has become a part of Liverpool's family as well as its history.
It was telling, after Newcastle's win against Burnley that Rafa talked about the fans in his time in England, thanking the Newcastle fans of course but also singling out the Liverpool fans, a feeling that remains reciprocated amongst Reds. He's a man who is incredibly popular with the Anfield faithful and for good cause.
Rafa was able to bring the best out of Steven Gerrard, guiding his rise from one of the most talented central-midfielders in England to an all-time Liverpool great. Whilst the pair never had a close relationship, there's no denying that Gerrard was the absolute lynchpin of Rafa's side, and he was able to keep Liverpool's captain at the club during his prime years, which Rafa was fortunate enough to be able to utilise.
Rafa provided one of the best weeks Liverpool fans have enjoyed in years, as they beat Real Madrid 4-0 and Man United 4-1 in the same week, with Gerrard and Torres antagonists in chief, as the two struck up a fantastic relationship under the Spaniard.
But of course, Istanbul. I still get chills thinking about it. I still get emotional thinking about it. I've kept the DVD of it under my bed for as long as I can remember, still pulling it out for the occasional watch when current football gets a bit too much (luckily not for a while). Whilst the actual result itself is obviously not all down to Rafa, it's clear that he made some significant tactical tweaks at half-time that contributed heavily, even if luck played its part. Nevertheless, it will remain a moment immortalised at the heart of Liverpool Football Club, and Rafa Benitez will always be a part of that immortalisation.
Rafa will more than likely never have another Istanbul moment – hell Liverpool haven't had another Istanbul moment since and there may never be a moment quite like that for this club again although we'll surely win more trophies. But Rafa is still delivering moments of undoubted magic to supporters, just not Liverpool supporters anymore.
Because make no mistake, this Newcastle side would be sunk without a trace without him. Rafa is a humble man and a great manager, and if he can keep this Newcastle side in the Premier League yet again, it will be a sure-fire sign that he hasn't lost his magic, and that the wonderful Iberian is still capable of delivering truly remarkable footballing stories. It might not be Istanbul, but it's yet another little miracle from the man who still has his fans dreaming.