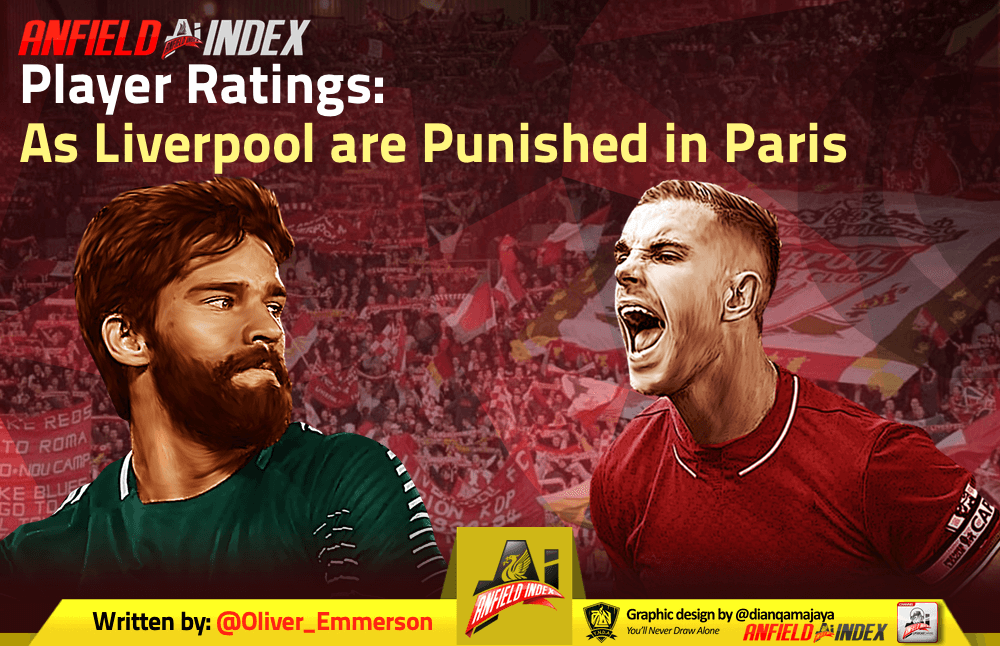 Player ratings as Liverpool are punished in Paris
Pretty much the whole lot of them can fuck off tonight, including the manager. You'll see that from the ratings.
Liverpool lose in Paris and now we need to beat Napoli, more than likely by two goals, at Anfield on Matchday 6. It's do-able, but do you fancy keeping the likes of Mertens and Insigne quiet on the counter?
I don't, is all.

Anyway…
Alisson clearly Liverpool's MOTM
Alisson (8):
Really good. Can do nothing about either goal, unlucky with the second as he actually makes a save from Cavani first. Off the top of my head I can remember another good save from a Neymar free-kick, claws some low crosses away. Flicked one over Neymar's head. Superb. Unfortunately, there were 10 players ahead of him…
Joe Gomez (5):
Really shouldn't play right-back. Doesn't react quickly for goal one, left for dead for the second, poor crossing. He's not a right-back. Play Nathaniel Clyne if you have to, leave Gomez where he's exceptional at. Not 'good' – exceptional.
Dejan Lovren (5):
One of the most Lovren performances ever. Makes a couple of good tackles early on and there are a few moments where he does something well and your brain makes you think he's having a good game. Then you look back, see that he's as guilty as Gomez for the first goal and is equally culpable for the second. Doesn't get tight enough or give himself enough room by backing off, is caught in the middle and punished for it.
Virgil van Dijk (6):
Pretty fine for the most part, helped keep Mbappe quiet yet again. Poor lad must hate the sight of our big Dutchman. Sloppy yellow at the end frustrated me, might have even knocked him down a rating.
Andy Robertson (5):
Was alright defensively, I'll let him off a couple of hairy moments against Mbappe. Again going forward, he was poor. And by again, I'm not saying he's bad attacking every week – most of the time it's quite the opposite. However, if you don't think he's had a few absolute stinkers on the offensive this season then you're kidding yourself. More often than not they've been away in Europe.
Midfield misery
Jordan Henderson (4):
Sorry mate, that was tragic. A million times worse than anything we've seen from Fabinho this season. Gets absolutely ran round in midfield, the first goal saw the three of them bypassed by PSG with as much ease as a magician has pulling a rabbit from a hat. On the ball, again terrible. Completely lacking in courage, ideas and quality.
James Milner (4):
Looked as if he was running through cement. No idea how he didn't pick up a booking for a string of sloppy fouls. Couldn't get anywhere near the PSG lads apart from when he was fouling them, whilst doing little of note on the ball himself bar an admittedly good penalty. Commentator described it as an 'all action performance' when he was finally substituted, all action shit perhaps. One particularly shit pass to Salah's backside when Liverpool had a 4-on-3 counter.
Georginio Wijnaldum (4):
Pretty much the same as the above two apart from he's the one who actually gets booked. You need to give him a clearly defined role or he can't function effectively.
Sadio, how's your back?
Mohamed Salah (5):
Tries so hard, doesn't stop running but makes the wrong decisions all night. A few nothing shots, not helped by having Gomez behind him instead of Trent.
Roberto Firmino (5):
Crap. When Firmino smells, he stinks the place out.
Sadio Mane (7):
Very similar to the Champions League final in the sense that he drags the front six on his back. Does really well to win the ball, drive forward and win the penalty. A couple of other good moments. Unlucky that nothing else around him was working.
Substitutes:
Naby Keita(6):
Looked more likely to make things happen than most of the others but couldn't quite, almost achieved the task of getting Veratti sent off with a nice bit of skill – no idea how the Italian stayed on all night.
Daniel Sturridge (5):
Unsure why we put him on for Firmino. Not that he's bad, or Firmino was doing well, but the problems were deeper. Barely touched the ball in the PSG half.
Xherdan Shaqiri (N/A):
'Go and attack Xherdan' seems a strategy fairly lacking in detail from Klopp when subbing the Swiss on. It's happened before and not worked, see Arsenal. The same tonight.
Optional extras
The ref (10):
Bless him, his family probably get him yellow cards for Christmas he loves them so much. Doesn't like Reds though, none of that. Don't actually think he was particularly biased towards either team but his commitment to banter must be applauded.
Jurgen Klopp (0):
Absolutely shite. All week fans have screamed to keep Trent in, don't play the flat midfield three. And look, he's done it again. Well in, Jurg.
Fabinho (9):
Just 'cos.