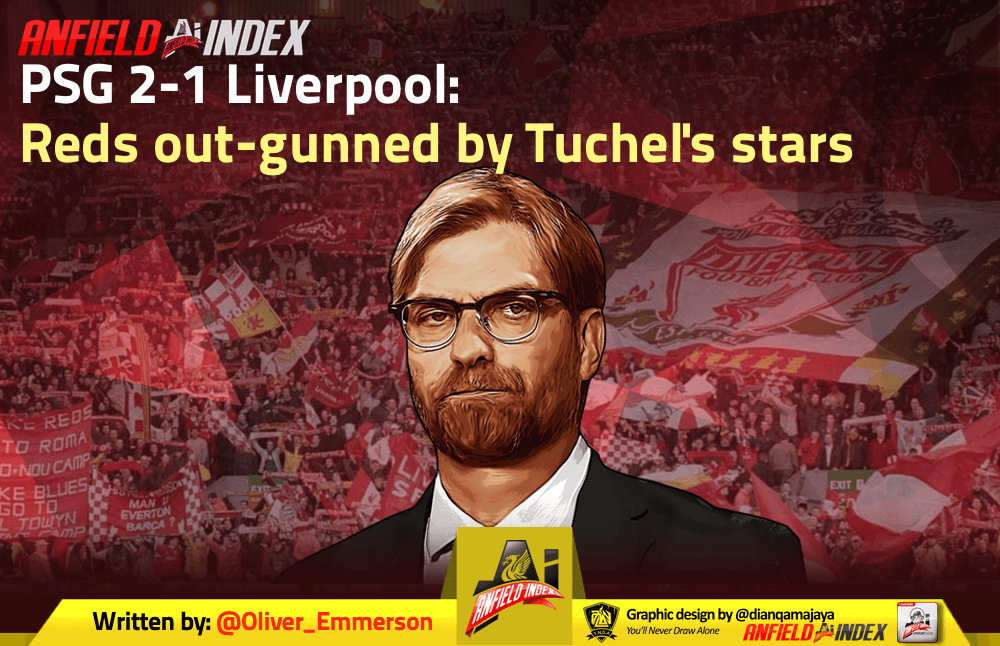 Paris 2-1 Liverpool: Reds out-gunned by Tuchel's stars

Despite the 2-1 scoreline, Liverpool weren't remotely close to staging a dramatic fightback in Paris as they left themselves with huge work to do in the Champions League.
With goals from Juan Bernat and Neymar condemning the Reds to Matchday 5 defeat, Jurgen Klopp's men now must beat Napoli 1-0 or by two clear goals to advance into the last 16. That is of course, unless Red Star shock PSG in Serbia.
James Milner's penalty just short of half-time gave the away side hope but it was a rare highlight in a disappointing evening, Liverpool not managing a shot of note in the second-half.
Flat three, flat performance
Fans had cried out all week for Klopp to shake-up the midfield that had seen Liverpool lose in Serbia, but he resisted the temptation and stuck with Jordan Henderson, Georginio Wijnaldum and James Milner. Dejan Lovren came back in at centre-back, Joe Gomez's move to right-back expected to offer more defensive resilience.
It didn't.
From the early stages PSG were the better side, swept along by a frenzied atmosphere. Attack after attack reigned down on Alisson and his defence, the Brazilian doing well to push Angel di Maria's swerving effort away from danger.
PSG broke the deadlock after just 13 minutes, through an unlikely source in Bernat. The Reds midfield were cut apart, a trend seen throughout the evening, as the hosts mounted an attack down the left. Virgil van Dijk had diverted a cross away into the direction of Lovren and Gomez, neither reacting quickly enough as Bernat stole in, shooting through the legs of Gomez and past a stranded Alisson.
If that was meant to spur Liverpool into life, it didn't have the desired effect. Wijnaldum picked up a lazy yellow whilst Milner put himself firmly onto the disciplinary tightrope with a number of sloppy fouls, PSG not afraid to get amongst it themselves as Marco Veratti – back for this clash after missing the Anfield game – saw himself lucky to stay on the pitch after snapping into Gomez.
Alisson remained busy as he palmed Neymar's cross away from the path of Cavani, those two causing him further problems minutes later as PSG doubled their lead.
Smart work from Kylian Mbappe and Neymar left Gomez and Lovren firmly in their rear-view mirror down the left, Mbappe playing in Cavani who saw his effort expertly saved by Alisson only for Neymar to pop up with the rebound.
Milner's penalty the only high point
Similarly to the Champions League final, Sadio Mane looked more likely than anyone to drag Liverpool back into the match and won a penalty just before half-time.
Winning the ball back midway into the PSG half, Mane drove past his man before being chopped down by a rash di Maria. Milner sent Buffon the wrong way, leaving Liverpool with a one goal deficit to pull back.
In truth, it looked like they were pulling back a five goal deficit.
The Reds offered next to nothing going forward in the second half, an endless list of poor on-ball decisions joined by some clever gamesmanship from PSG to slow the game down and see a fluster of yellow cards come out.
Naby Keita came on and livened things up a little, alas there was nothing he could seemingly do to rescue the situation.
Alisson continued to shine, pushing a Marquinhos header aside after Liverpool had fallen asleep from a corner, before beating Neymar's free-kick wide in the dying minutes.
Liverpool's best attempt at rallying themselves into equalising came when Salah won a free-kick in the 89th minute, only for a sloppy van Dijk foul letting PSG off the hook when substitute Xherdan Shaqiri's delivery came in.
2-1 it ended, although PSG deserved more. A huge win for the French champions who can wrap up qualification with a win in Serbia, whilst Liverpool have masses of work to do in two weeks time.
Anfield awaits, but so does the Europa League.