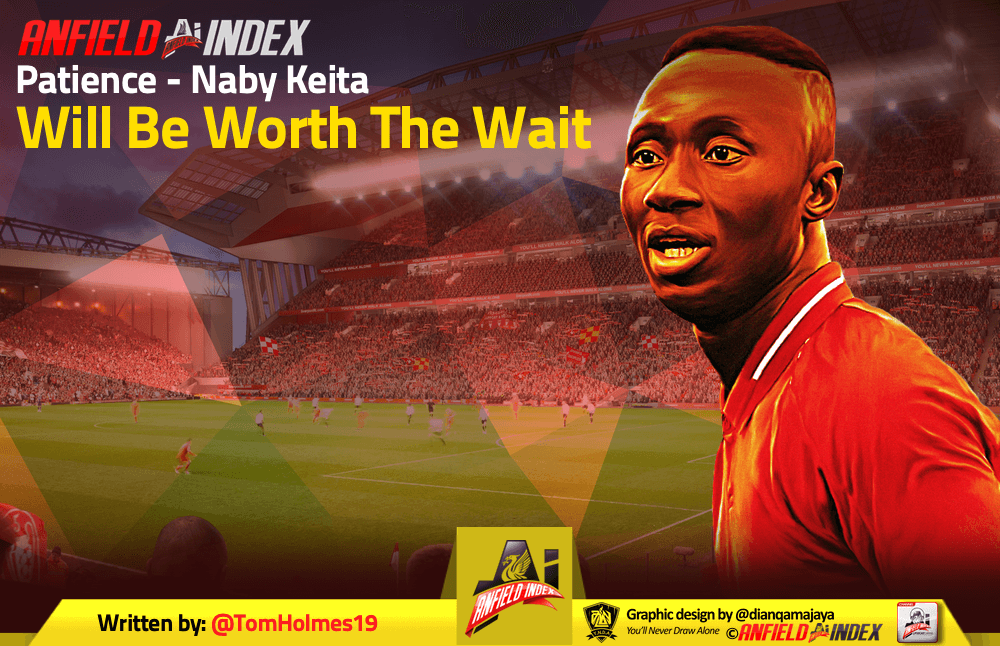 Patience - Naby Keita Will Be Worth The Wait
Twice in two pre-match interviews, Jürgen Klopp spoke about Naby Keita and reinforced the idea that he sees Keita as a long-term project, and a player who has a fantastic future at Liverpool. The positive side of that is, of course, Klopp remains invested in Keita as a player – which is to be expected given how long he spent chasing the player and how much money was spent on him.
The negative side of that is of course that LFC fans, who have had over three months of the season gone, have been desperate to see Keita hit top gear, and hearing Klopp talk about him as a player for the future, and not a player to make an immediate impact on an ailing midfield, is incredibly frustrating.
Keita made a relatively good start to his Liverpool career. Whilst he didn't take off in his first handful of games, he did start four of Liverpool's first five league games and largely impressed, before picking up a couple of niggly injuries that saw him sidelined between the last two international breaks, missing an entire month of action between Liverpool's 0-0 draw with Man City and their 2-0 win over Fulham.
He came back from the last international break and still isn't 100% fit and despite his strong start, there remain questions over how long it will take him to break frequently back into the starting eleven, having been left on the bench for crunch games against PSG, Chelsea and City earlier in the season – albeit the latter recovering from a niggle against Napoli.
But there are plenty of signs that Keita will absolutely be worth the wait, and that when he gets his shot at the starting eleven it will prove almost impossible to dislodge him. Moreover, whilst we cannot get inside Klopp's head entirely, we have to believe that Keita will be trusted alongside Fabinho sooner rather than later once he is fully fit.
The first graphic I want to use is from Sam McGuire, who recently produced these pass graphics and released them on his Twitter account.
Passing sonars for a few Liverpool midfielders. Reaffirms what a number of people believe. pic.twitter.com/kp3kHUqVK0

— Sam McGuire (@SamMcGuire90) November 26, 2018
As you can see from these graphs, Keita loves a forward pass and is an incredibly direct player. As has been mentioned on AI before (I'll link Hamzah's phenomenal Keita article at the end of this one because it really is a brilliant piece) Keita is one of the most progressive passers in Europe, and with the likes of Hendo, Gini and Fabinho neither direct nor overly progressive passing players in the midfield, he could make an absolutely huge difference.
More evidence of Keita's midfield creativity is underlined by his xG numbers. At 0.10 xA per 90 this season, Keita is more creative than Hendo (0.01 xA/90), Gini (0.02 xA/90) and Fabinho (0.03 xA/90) put together. And there's scope for that to improve as his xA/90 was 0.19 in both of his last two seasons at RB Leipzig. Only Milner (0.29 xA/90) is more creative in the midfield this season.
Moreover, he has the highest xG Build/90 in the entire squad at 0.56, compared to Fab (0.39), Gini and Hendo (both 0.38). Milner is again the most impressive of the rest of the pack, at 0.53.
One other factor that the xG numbers point out is the xG itself. Naby's xG/90 this season has been 0.18, again the highest of the midfield, compared to Milner (0.14), Gini (0.11), with Hendo and Fabinho's, both rounding down to 0.00 with them both having registered one shot all season.
All of this means that Naby has the second highest xG Chain/90 in the squad, only the elite Mo Salah's 0.87 higher than Keita's 0.81. For a bit more context, Eden Hazard has 0.82. So in his short spell in the Liverpool team, despite playing nowhere near his best, Keita was a seriously impressive individual.
One more piece of information that is pertinent is his dribbling ability. Keita's renowned for his dribbling, with his ability to beat a man making him one of the most progressive players in the Premier League. He's not necessarily the highlight of the graph below, but his xG created per dribble is still relatively impressive for a central midfielder who hasn't yet hit the ground running in the PL.
EPL best dribbling creator

start >= 5, # of dribbles/game >= 1 pic.twitter.com/HTr7xMvfD5

— Cheuk Hei Ho (@Tacticsplatform) November 16, 2018
So we've established (not that it needed establishing) that Keita will be one of the most progressive, exciting central midfielders in the Premier League when he steps into the team – and certainly a significant step up on what Liverpool have at their disposal. Moreover, it's clear from the numbers that Keita will fit a huge hole that is currently in the Reds' midfield.
So what next? Patience.
Keita is a phenomenal player. He's one of the best young players in Europe and is already showing signs that he'll slot perfectly into this Liverpool midfield. But Klopp has been understandably cagey with him after a few niggling injuries and personally I think that it's intelligent for Klopp to manage him carefully, with the biggest spells of the season still to come and Keita an absolutely pivotal player if Liverpool want to win any silverware this year.
When Klopp talks about Keita as a player who is a project, we have to believe him. Some people hate the comparison to the likes of Andy Robertson (now the best left-back in the league) and Alex Oxlade-Chamberlain (who was a key part of turning over the best Premier League side ever), but the comparisons are apt.
Moreover, it has to be remembered that Keita's fitness has been an issue. Fitness is a huge part of playing in Klopp's system, especially if you're a big pressing player – as evidence suggests Keita will be – and whilst Keita started the season well after a full pre-season, his niggling injuries have undoubtedly set him back. It's easy to say that Klopp hasn't played him enough or doesn't trust him, but we don't know exactly how fit Naby is behind the scenes.
The question has been raised, how long are Liverpool fans expected to wait for Keita? How long before a player signed for £65m in the summer simply has to be in the team? And for me, the answer to that is simple – as long as Klopp judges. Klopp is well aware of how talented Keita is. He's well aware of how good Keita is. He's the manager who was willing to wait a year to Keita, he's the manager who sanctioned the funds to sign him. Klopp is not a stupid man, and he's always been willing to throw elite players into the team as soon as he thinks that they're ready.
We all want to see our best players playing and our best players succeeding, but I'm happy to see Keita sit on the bench for the entire season (he won't) if Klopp judges that to be the right call (he won't) and if that decision leads to Liverpool winning trophies (it won't).
But on the other hand, as I've said. Naby is an elite player and Klopp is a smart manager. Those two things might not be equating to the player being thrown in the deep end since his injury but it does mean that patience with regards to Naby will almost be paid off sooner rather than later.
Simply put, for me, it's a case of patience is a virtue. Naby Keita will be worth the wait, and Klopp will unleash him when he is good and ready. Whether it's fitness, style of play or a combination of both keeping him out the team at this moment in time, one thing is for sure, it absolutely isn't quality.