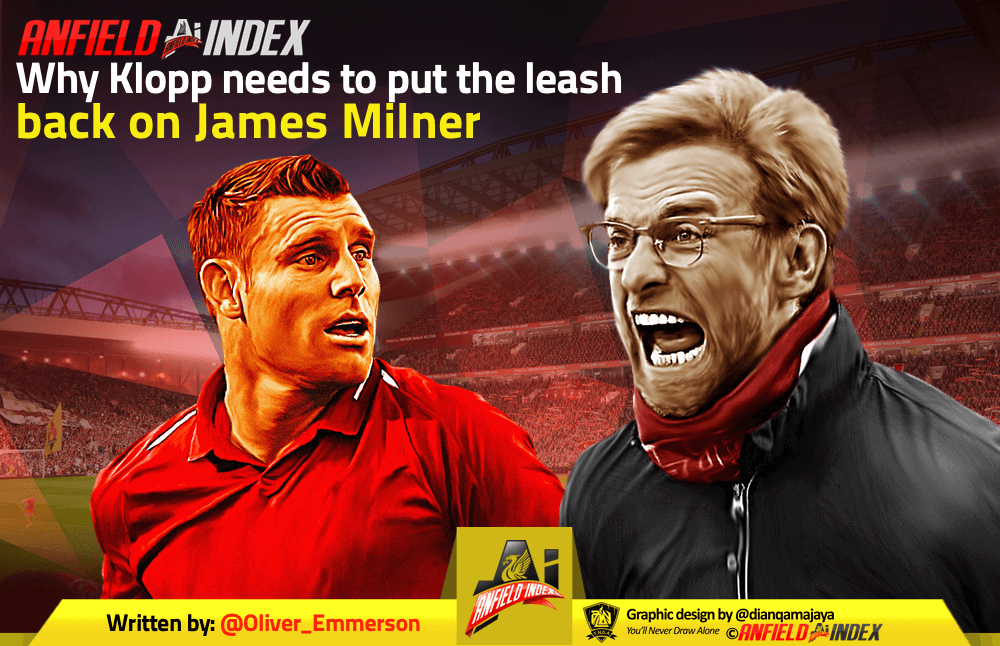 Why Klopp needs to put the leash back on James Milner
James Milner's long and impressive career has had many strings attached to its bow, the latest coming as part of an ever-growing Liverpool team.
Whilst many have fairly questioned the decision to bring him in on such large wages in 2015, he's done more than enough to prove his worth to the squad – albeit not perhaps at the level you'd expect of someone on £150,000 per week.
Milner has played left-back, centre-midfield, wide midfield and right-back during his time in Liverpool, alongside a huge cluster of players in a variety of formations. Bar the odd penalty miss and red card, he's scarcely let the Reds down.

Yesterday's (starting) man?
However, is it time to admit that decreasing his playing time is the only way to keep getting the best out of Liverpool's utility man? Is he even a utility man anymore?
Yes, but to a point. Milner offers 6/10 most weeks and can cover many positions with a degree of composure and expertise. Fantastic, keep him doing that as a backup player. Whereas he used to start on the right one week and in the centre a week after, let's have him come off the bench at left-back one week, then off the bench in the middle the week later.
The arguments to offer him a starting berth every week are fading.
Milner was a surprisingly dynamic force in Liverpool's midfield last season, a new lease of life seemingly injected into his legs as he produced some inspired performances to help Liverpool into the Champions League final.
He conjured up a rare moment of attacking beauty to strike the post and allow Salah to score in Porto, whilst assuming the role of Liverpool's midfield general at home to Manchester City, crunching into tackles and forcing the game to be played at a tempo City couldn't cope with.
It's this role of midfield general, someone, to do engage in the dark arts, that Milner seemed to embrace. His booming tackle on Neymar in Liverpool's 3-2 win over PSG was shown in highlights reels the world over, something he looked to repeat by going in early on Angel di Maria in Paris earlier this week.
As you'll know, the end result was different this time around. As was Milner's performance level.
Milner looks a shadow of his Autumn self
Following a strong second half of last season, there were few qualms with Milner starting the season alongside Georginio Wijnaldum and Naby Keita in Liverpool's midfield. It worked well, with some of the Reds' most complete attacking performances this season coming in those few early games, the 4-0 home win over West Ham especially.
Unfortunately, in hindsight, it was probably a little too much for Milner. Although his international retirement now offers the occasional rest, time waits for no man and it's beginning to show.
Milner hasn't played particularly well since Tottenham away, over two months ago. Since then, he's been a consistent part of a Liverpool midfield that's disappointed, starting in the Champions League defeats to Napoli, Red Star and PSG. His penalty talents haven't disappeared, as shown earlier in the week, but other elements of his game have.
Milner was never the quickest, however watching him attempt to try and fly into challenges against PSG earlier this week was akin to a condemned man attempting to run away through concrete.
With this in mind, is it time for a rethink?
How do Liverpool use Milner most effectively?
He's still a good player with more experience on his side than almost all of his colleagues, Liverpool would do well to box him up most weeks and then look to unleash him at his most effective.
Based on the evidence of the last 12 months, his most effective seems to be at home against high-quality opponents that want to come and slow the game down. Milner is good at taking top players out of their comfort zone and unsettling them, whilst able to drop in between lines and contribute to attacking patterns. He can't do it every week, but when he's on it he looks 17 again – minus Zac Efron's windswept hair.
As we've seen, utilising alongside Jordan Henderson doesn't work. Neither are particularly quick anymore nor have the speed of thought defensively to make up for it.
Milner-Henderson-Wijnaldum clearly doesn't work to the standards expected, whilst Wijnaldum-Milner-Keita does seem to work.
It's not a slight on Milner or Henderson to say that they shouldn't line up together, it's just common sense, as it is to rest the former more.
Last season Milner played two games a week six times before Christmas, keeping him fairly fresh to lead a European charge in the second half of the season. He's already played twice a week five times this season, with the busy Christmas schedule still to come.
At the current rate of games played and level of performance, it's hard to see another charge of any kind led by Milner coming in the Spring. A change in thought is needed.