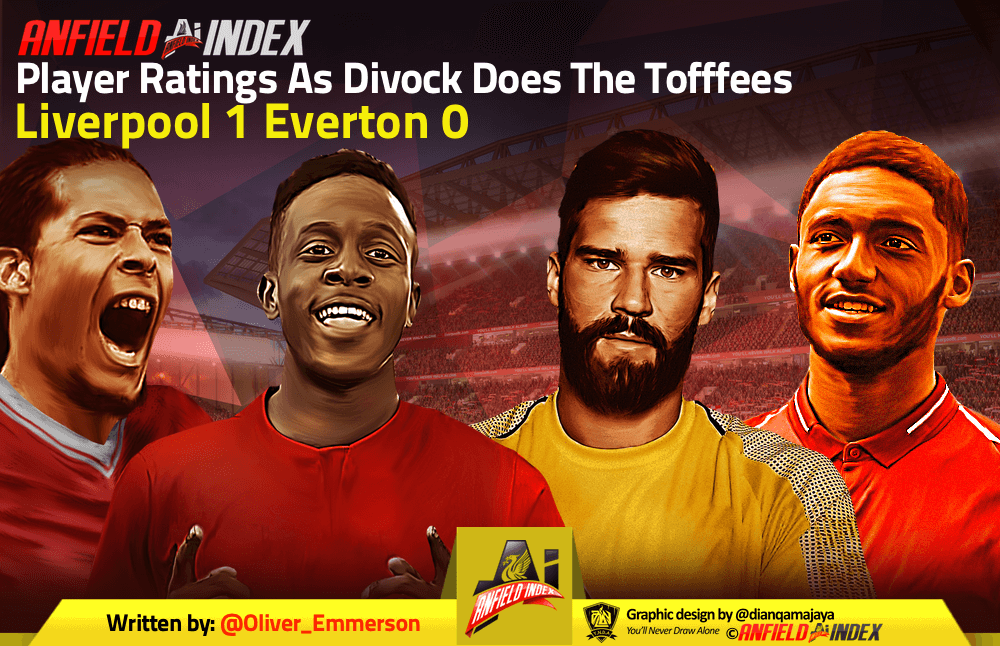 Liverpool Player Ratings as Divock does the Toffees
SATURDAY NIGHT AND I LIKE THE WAY YOU MOVE, DIVOCK ORIGIIIIII!!!!!
HE CUTS INSIDE AND HE SLOTS IT PAST THE BLUES, DIVOCK ORIGI!!!!!
NA NA NA NA NA NA NA NA NA NA NA, DIVOCK ORIGIIIIII!!!

Liverpool 1-0 Everton (Origi 96').
How have we outdone the Mane goal?
Here are your ratings.
Alisson (9): Absolutely superb again, unbelievably stop to keep it level at 0-0 and then even up to the end of the game he's urging us on to push forward, plays the ball to Trent from the free-kick to get us up the pitch. Commands his area superbly, huge saves, huge moments. He's had a week that's shown why Liverpool paid the money, today he got the result.
Trent Alexander-Arnold (6): Not bad, I think? Got ran around a little when Richarlison pulled out wide to double up on him but handled himself fairly well. Some top balls in from open play but poor set-pieces, just beat the first man!
Joe Gomez (8): Words can't describe the technique needed for that goal-line clearance. He spins his foot like a bottle at a house party to make that clearance. A warrior throughout, let's nothing fluster him. Annoyed when he offered Richarlison out in stoppage time though, we're trying to get a winner there lad? Alisson boss there too runs over to reminds them we're here for three points, not three scraps.
Virgil van Dijk (8): Assist of the century, maybe? Definitely? Knew exactly what he was doing, the magnificent bastard. Great at the back as Everton put the pressure on, forced Richarlison back as the match went on.
Andy Robertson (6): Pretty meh? Like, alright? Did he actually play? No big mistakes as per.
Fabinho (7): Our best midfielder, great performance after coming in under some serious pressure to deliver. Good tackles, progressive passing, aerially dominant. Allowed us to push the Toffees further as the game went on.
Gini Wijnaldum (6): See Robbo. Got a bit caught up in it today, to be honest, my analysis is a little more detailed. He didn't do anything that made me want to pull my eyeballs out, so 6 works.
Xherdan Shaqiri (6): Just use your left mate. We all know you want to, don't kid yourself. Could have been so much easier if you just tuck it away. Looks good away from that, some nice balls over the top to Salah.
Roberto Firmino (5): Just give him a couple of games out. Bring him back for United at home, that'll be good. Shaqiri false 9, anyone? Origi to start…
Sadio Mane (6): Again our best attacker, driving runs, one particularly good all over the top to Salah. Will feel he should've scored because he should have.
Mohamed Salah (6): Quite a number nine performance. Good movement, stronghold up and links it together, just never really gets that one chance. Bends a good effort narrowly wide from the edge.
SUBS
Naby Keita (10): Was on a 6/10 and then he bangs the ball away to signal full time and I fall in love with him.
Daniel Sturridge (6): One beautiful moment where he beats a man to get in a position to shoot, followed up by a frustrating one where he tries to beat another and fails.
Divock Origi (10): Has scored in 3 games against Everton, has he even played 3 games for Liverpool?