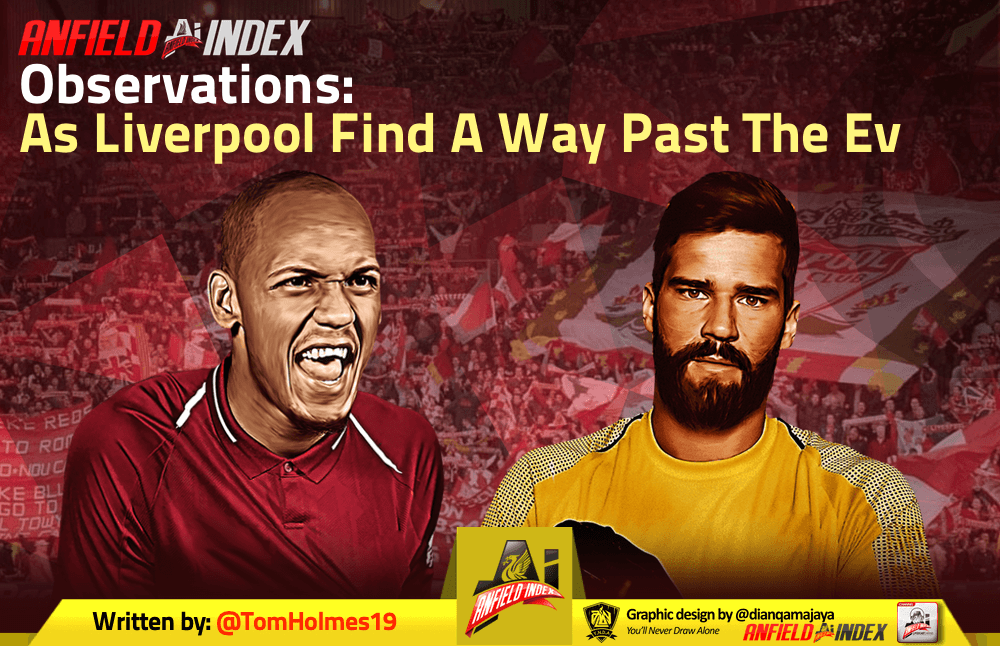 Observations as Liverpool Find A Way Past The Ev

Liverpool scored a bizarre, 96th-minute winner to see off Everton in a Merseyside Derby that brought the drama in spades. It was an absolutely incredible finish to a game that was not lacking in quality, with both teams missing chances and providing tempo and energy, and it was somewhat fitting that it was Divock Origi who came off the bench to score the winner.
Here are the observations.
Liverpool Get What They Paid For
Personally, I've felt Alisson's start to the season has been mixed, rather than the unreserved success some feel he has been. But there's absolutely no doubt that performances like this one are why he was bought, and more games like this one and he'll be seriously repaying that money.
Liverpool's keeper was called into action on multiple occasions, making a stunning save to deny Andre Gomes, a wonderful piece of goalkeeping to stop Walcott charging through and was comfortable throughout. This was Alisson's most accomplished performance in a Liverpool shirt, and easily his most important one. You never want to see your goalkeeper being called into action regularly, but that's arguably two games in a week where Alisson has been Liverpool's best player.
And speaking of Liverpool's best players…
Fabinho Helps, But Reds' Midfield Issues Remain 
Fabinho was one of Liverpool's better players yet again, making another impressive outing in midfield alongside Gini Wijnaldum. But it's clear that Liverpool's midfield issues, and how they're attacking, go way beyond individual performances. The Reds were more open in this game, but struggled to create clear chances for large periods of the game, and were never able to dominate.
Part of the issue is Firmino, who is struggling in his new position. He's not really helping out the midfield two, who were outnumbered and overrun at times, but equally he's not really contributing in an attacking sense, as this was another game in which Bobby failed to make an impact. Similar issues plagued Shaqiri in particular, as he failed to help out the outnumbered and overloaded Trent Alexander-Arnold and equally failed to contribute to the attack, his only major play of the game a big missed chance.
Everton Look Better – And Still Lose
Don't you just love the Ev? Isn't this just peak the Ev? They go into this game in a fantastic run of form, with a new, exciting manager, playing good football and unbeaten in six games. This is surely their opportunity to beat Liverpool.
And they played well to their credit. They counter-attacked well, they defended well, they looked dangerous and they ran Liverpool close. But, in the end, as they always do, the Ev did what the Ev do. They lost. It was a hilarious, fluky goal, in the 96th minute with their own goalkeeper at fault. Never change Everton, never change.
The Mark of Champions?
It's a huge cliché to say that these are the sorts of games that Champions win. But this was an absolutely massive late winner for Liverpool. The difference between a two and four-point deficit to this all-consuming Man City juggernaut, even at this stage of the season, feels absolutely massive. With the way that the title race is shaking up, Liverpool are going to need every single point that they can get this season.
That said, you can only get so far not playing well and winning games, and with this result following up the PSG defeat, and very little time until Liverpool's next game away at Burnley, there's still a lot of work for Jürgen Klopp's side to do. Big games are coming thick and fast, and Divock Origi's cult hero status will all be for nothing if we don't kick on.