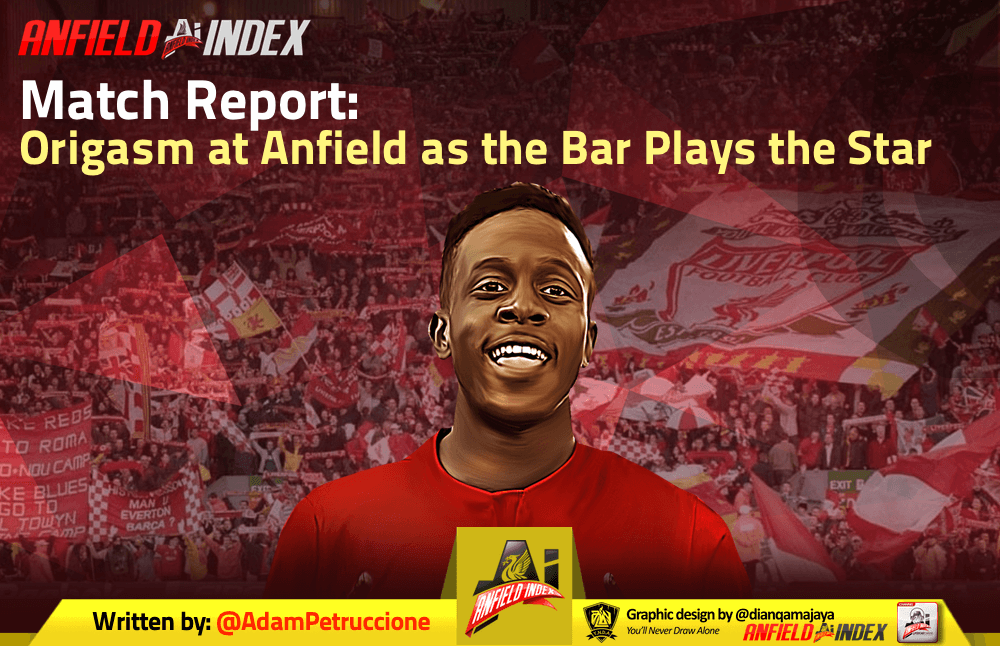 Origasm at Anfield as the bar plays the star

Finally Fabinho… but that's not what we're here to discuss.
Undefeated, still on City's tail and five clear of Chelsea. Suddenly six clear of Arsenal and Tottenham and United are lost in the wilderness but that's just a side note for now.
Mané is miserable. Mo is getting mauled and Firmino is as false as we've ever seen him but these are problems for another day.
We've allowed a league  low 5 goals in 14 matches through the brilliant triumvirate of Van Dijk, Gomez and Alisson. But that's a topic for next week because we've won the Merseyside derby in spectacular fashion.
We'll put everything else aside because a ball dropped out of the sky, just out of the reach of Jordan Pickford's abbreviated appendages, glanced off of his fingers, bounced off of the bar and fell gently onto the delightful dread's of Divock Origi. The next thing the ball touched was the back of the net. A long time ago Origi was the future of Liverpool's attack. This was his third goal against Everton. But since a derby day back in 2016/17, when Funes Mori cynically smashed Origi's leg and altered his future, the Belgian has been an afterthought. What sweet, sweet poetry that against all odds, it was Divock who would head home the winner. Maybe it was meant to be. A tiny armed creature such as Pickford, the last T-Rex to walk the earth, was destined to be destroyed by an object falling out of the sky.
Origi 90+6 but with the American Beauty monologue. pic.twitter.com/MUkklyTeSW

— Kristian (@vonstrenginho) December 3, 2018
In only his second appearance for Liverpool, Origi was a surprise substitute, generating thousands of groans through the LFC Twitterverse as he trotted on in the 83rd minute. A hit off the crossbar a few minutes later peaked our interest. Turns out the crossbar wasn't done, and neither was Origi.
Origi coming on? I'm fucking done

— ㅤㅤً (@LFCVinz) December 2, 2018
They wanted it so bad, the Evertonians. A lonely blue flare was tossed onto the pitch, poetically crossing paths with Trent's last ditch ball into the box. Imagine how that flare tosser felt. The DVD burners were getting dusted off all over the blue side of town and places further flung. The only Everton supporter this writer knows happens to be a NASA scientist. You bet your ass I rang him immediately to see if his big blue brain could explain the physics of that ball bouncing off the bar precisely onto Origi's cranium. Turns out it's a statistically improbable occurrence.
There are plenty of topics to discuss in the few days we have before Burnley. There are areas the manager has to address if we're to stay in the title race in England and keep hope alive in Europe. We shouldn't be struggling against mid-table clubs. But for today, all of that is put aside because Liverpool beat the blue-shite in the most entertaining way possible; in the 96th minute with only 4 minutes added on. Our manager stormed the pitch like a booze fueled local lad, just looking for a chance to hug his heroes.
This club has bigger fish to fry and confounding issues confronting the manager in the coming days. But for tonight, we tonked the Toffees again to make it 18 in a row and that's more than enough to raise a glass to.
Up the Reds. Merry Christmas Everton.
Absolutely incredible. What a clanger from Pickford. "LOOK AT JURGEN KLOPP"!!! #lfc #leftitlate #origi #pickford #merseysidederby #anfield #liverpoolfc #LiverpoolvsEverton pic.twitter.com/4vHYBmD96t

— Claire Kirkwood (@clairekk2) December 2, 2018