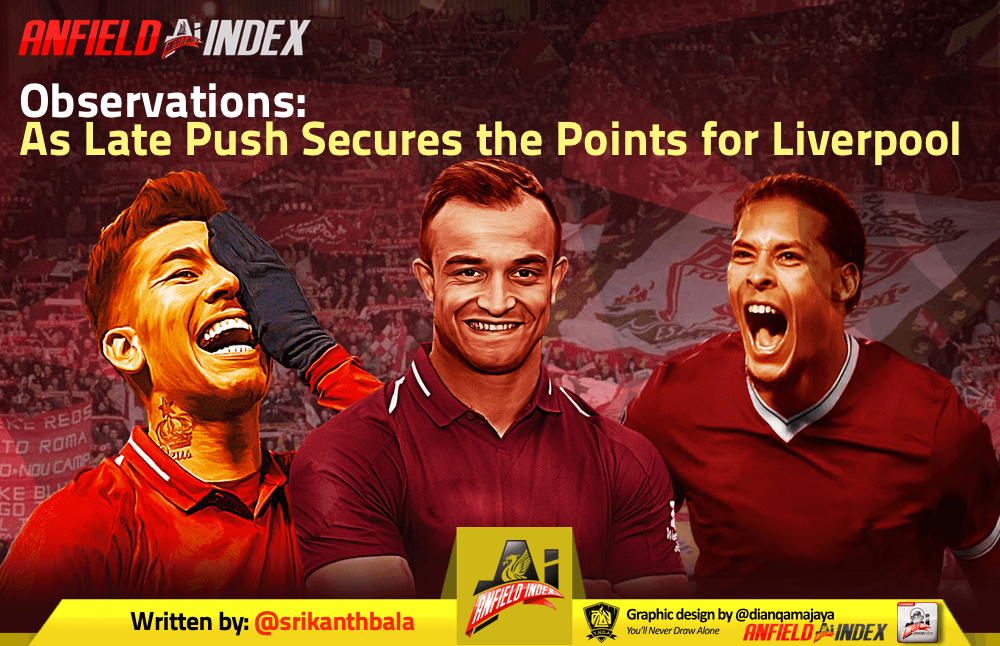 Observations as late push secures the points for Liverpool
Liverpool travelled to Burnley in search of a win to stay on the tailcoats of City, who had won a day earlier. The fixture, which Liverpool won last year thanks to a Klavan D'Or, needed a repetition. Liverpool delivered the goods late on to stay in pursuit.
The key observations from the game
Testing the depth
This was the fixture many predicted that Klopp would tinker his line up with. While some of the changes were forced due to injuries, there were few eye-raising changes in attack. Liverpool lined up with none of the famed front three, with Origi rewarded with a start alongside Sturridge. The team all-around had a newish (albeit disjointed) look, and it showed as Liverpool struggled with fluency and caused no threat to Burnley though Liverpool dominated possession.
The changes were understandable looking at the fixtures ahead and the importance of the Champions League game next week.
Keita – The Bright light in a dull attack
Keita got one of his rare starts, and he definitely made it count with an excellent performance. His feints and dribbles got him out of tight situations many a time. He was buzzing all over the midfield and his link-up play with Sturridge looked promising. He was unlucky to not score on more than one occasion, denied by fine saves. Hopefully, this is the performance which settles him down and rewards him with more game time.
Defence – Consistency in repetition
One of the topics which has often been mentioned is how Liverpool do not seem fluent in attack. This has been compensated by the defensive solidity, ably led by Virgil Van Dijk. Liverpool were organised, especially in their big threat moments on set-pieces. The defence consistently held a high line and worked in harmony to often trap the attackers in offside positions. This has happened so many times this season that it has become habitual, hence it is so easy to not recognise how much the defence has improved in a year. Credit should go to Klopp.
Klopp brings on the cavalry to seal the points
Liverpool conceded a rare goal to trail, but parity was soon restored thanks to a great finish from Hames Milner. Klopp then brought on the big guns in Salah and Firmino and Liverpool were instantly rewarded as Firmino scored with his first touch to take Liverpool into a lead.
What you don't want as an opposition is to chase the game against Liverpool, and Salah combined with Sturridge and Shaqiri made Burnley pay with a late goal. This was always the plan, but it is always good to see the execution work as much of the game is always viewed in hindsight. This allows the players to remain fresh for the next fixtures, especially if Mane is available in near future.