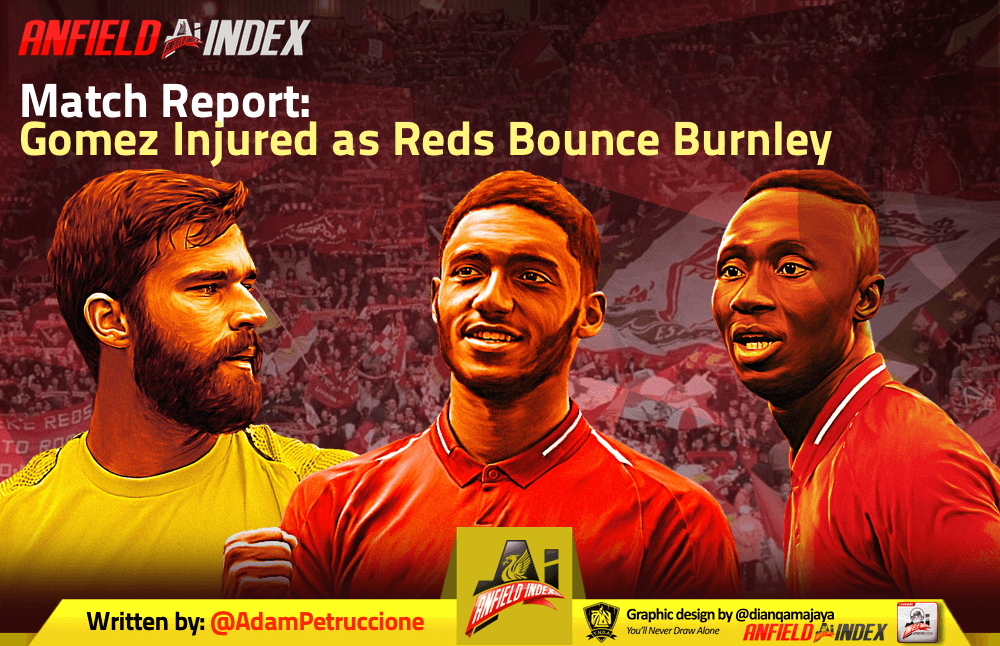 Gomez Injured as Reds Bounce Burnley

I know this is the Burnley match report, but do we really have to stop talking about the derby? Pickford… Origi… man, that was great.
Klopp was forced into two changes for mid-week and made a five more just for the hell of it.
Moreno and Origi started due to injury worries for Robertson and Mané respectively. Henderson and Milner started because Brexit means Brexit. And finally, Keita, Shaqiri and Sturridge started because… this is Burnley away and Klopp is merciful to those of us watching at home.
Camacho made the bench which had all of us excited; sat next to Fabinho which had all of us pulling our remaining hairs out. Jurgen Klopp was "saving" the Brazilian according to many, for some unknown future match which had better be Napoli, but probably won't be Napoli.
Come on Big Jürg's Mighty (reserve) Fucking Reds

— SimonBrundish (@SimonBrundish) December 5, 2018
SAY IT AIN'T SO JOE
Alberto Moreno is that friend who tries to pick up a woman by telling her that he's a yellow belt and ends up falling on the floor when he attempts a roundhouse kick. Joe Gomez is the friend that peels that guy up off the floor and smooths things over by buying a round of drinks. If you're going out for drinks with an Albie Moreno you'd better have a Joe Gomez in the group with you.
Jurgen Klopp put them must have drinking friends like this so he put them both in the eleven with Moreno at left back and Gomez on the right… unfortunately it was a disaster. Joe Gomez was taken out while chasing down a lobbed Jordan Henderson pass and stretchered off in a moment that encapsulated everything enraging about Klopp's 2018 strategy for a certain subset of Liverpool supporters.
Moreno was unremarkable, which is odd for him. He was ineffective going forward and ultimately replaced by a Turbo-Ribena fueled James Milner who took the pitch by storm in the second half playing at left back. Liverpool may have multiple fullbacks for sale in three weeks time.
MERRY CHRISTMAS EVERTON
Divock Origi! …Divock Origi! The rarely used forward really could have just retired after his efforts in the 6th of 4 minutes added on against Everton. But the greedy Belgian wanted to take another bite of the apple.
Origi got the start, partly because of injury to multiple left-sided options and partly as a reward for his derby heroics. He wouldn't get on the end of anything on Wednesday night. In fact he wouldn't have a shot and only had 22 touches in 65 minutes. But hey. that "Merry Christmas Everton" chant wouldn't have rung out in the 70th minute if it weren't for Big Div and he had a sweet assist for Milner's goal.
THE MATIP CONUNDRUM
Joel Matip started, so the only question was, who was Klopp going to bring on with 1 minute left?
Well, shockingly the Liverpool manager used his third and final substitute by the time he usually is starting to ponder using his first. In the 65th minute, Bobby Firmino came on, and the out of form forward seemed likely to make about as much difference as the Matip substitutions usually do.
However, moments later, Trent Alexander-Arnold whipped in another free-kick from about the same distance as the 96th minute ball against Everton. Again it found the boot of Virgil van Dijk and again it resulted in a game winning goal. The only complaint we're left with is that Bobby looked at the ball rather than back towards the crowd as he stroked it home from a yard out.
— Garcia (@Garcia_Z10) December 5, 2018
THE ALISSON CONSPIRACY
Alisson Becker took the ball off of Trent against Everton, clearly in a bid to pad his xG-Chain stats, somehow knowing that Origi would score the winner. The conspiracy gained a bit more momentum at Turf Moor with an Alisson outlet ball to Sturridge, to Mo Salah, to Shaqiri for the match clincher.
Alisson didn't get his clean sheet against Burnley, but he made his impact with 86% passing on 36 passes, roughly triple what Divock Origi managed. He will wish he could have done better on Cork's goal, but he found a way to put his stamp on the proceedings regardless.
With the other results in the mid-week, Liverpool are now 8 clear of Chelsea and Arsenal and 16, yes one-six, clear of Manchester United in the first week of December.