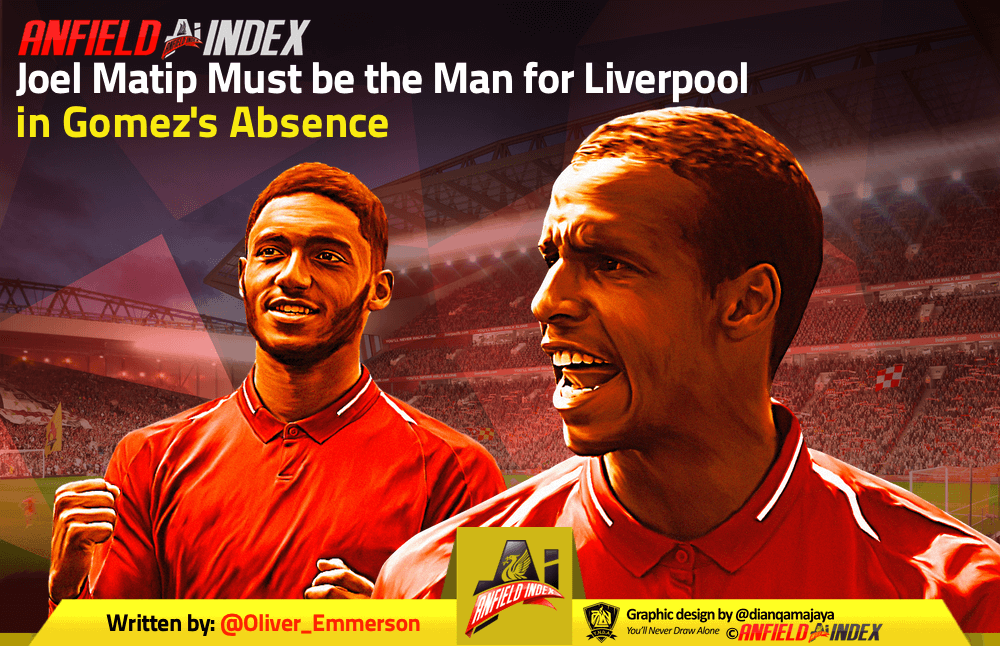 Joel Matip Must be the Man for Liverpool FC in Gomez's Absence

With Joe Gomez's fractured leg putting him out of action for six weeks, Jurgen Klopp has got a choice to make.
It's not as if there was an attacking injury, with a flurry of names and formations available to the German. Liverpool's lack of centre-back's even rules out the chance of him switching to three at the back.
There's only one question that Klopp and his staff must answer: Dejan Lovren or Joel Matip?
Here's why I think it must be the latter.
The perfect Gomez replacement?
Well, not quite. However, Matip is easily a better stylistic replacement for young Gomez than Lovren. A centre-back comfortable with the ball at his feet, able to step out from the back, Matip offers far more than Lovren does in terms of offensive play.
With Gomez's punching passes and Van Dijk's long diagonals, Liverpool are a threat from the back more than ever before. Whilst Matip isn't quite as good as Gomez in aiding build-up play, his dribbling does offer a new avenue for helping the Reds get up the pitch. Those long legs aren't half bad at striding through open space when he's given opportunity, drawing men out and opening up a passing avenue to get the likes of Xherdan Shaqiri and Naby Keita on the turn.
Liverpool's high-line is less under threat with Matip, quicker than Lovren, in the team. This allows for a minimal shift in defensive style, less likely to lead to a drop in defensive performance that has yielded just six league goals conceded so far this season.
Lovren is better in the air, one of his strengths. However, Van Dijk's aerial prowess can easily compensate for losing Gomez there, whilst Matip's 11/14 aerial duel wins against Burnley on Wednesday night shows that he's no slouch. Going forward too, the Cameroonian has already bagged himself a goal this season in the 3-0 win over Southampton.
Klopp's got history for picking Matip
Upon signing in 2016, Matip was heralded by some as the man to fix Liverpool's defensive issues. Unfortunately, despite a strong start, this didn't happen.
The Reds did flirt with a title challenge during the first half of that season and although form and defensive displays dropped off, Matip was comfortably the best performing centre-back during his first six months at the club.
It was a failure to increase performance levels of those around him, in the way Van Dijk has, that disappointed most.
Now, with Van Dijk a clear leader of the defence supported by Alisson Becker, there's no pressure for Matip to take charge of those around him as well as his own performance. He can focus on being what he is, a solid individual defender.
It's nonsense that Klopp preferred a Lovren-Van Dijk partnership upon signing the Dutch dynamo from Southampton. In the 14 games post-VVD signing, leading up to Matip's injury against Crystal Palace on March 31, Matip started 10/14, 7/14 alongside Van Dijk.
The 'favoured pairing' of Lovren and Van Dijk started in just 4/14 games before they were the only non-Klavan options, whilst Lovren and Matip played a further three games together themselves.
Klopp wanted to go Matip-VVD then and it's best he does now.