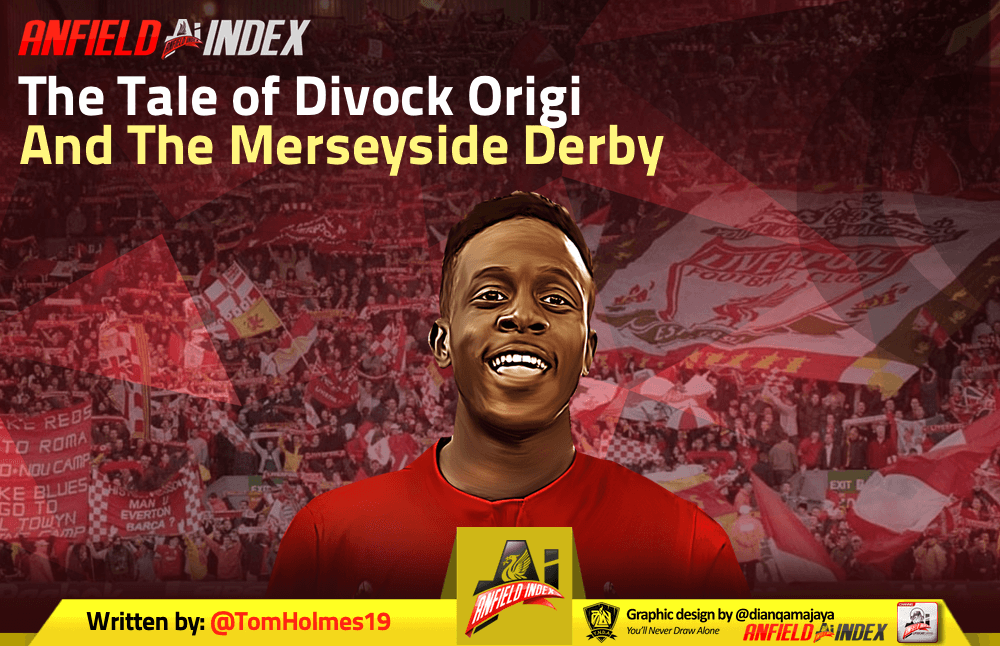 The Tale of Divock Origi and The Merseyside Derby
The Divock Origi substitution was getting close to the Joël Matip substitution when it comes to things that are almost a parody. Just as bringing Matip on in the 90th minute of any requisite game to shore up a 2-0 win doesn't really make that much sense, neither does throwing on Divock Origi when you're desperate for a goal or two late in games. It reeks of desperation. I even joked that Belgium were reaching into LFC's desperation tactics book when they threw him on needing two goals in two minutes against Switzerland in the Nations League.
And then along came derby day. You know what came next of course, the sheer pandemonium of Origi knocking it in from a yard after Jordan Pickford's howler. Klopp running on the pitch, Everton's despair, the flare, and everything else.
The Divock Origi substitution worked. And Origi sealed his place in LFC folklore.

It's crazy to think that Divock's last Premier League goal came for Liverpool in May 2017. Whilst you might think that it came in the 3-1 win against Everton at Anfield in the end of that season, he actually scored twice more to finish off a solid season in 16/17 – scoring 7 goals and notching 3 assists in just 1450 minutes. Mo Salah this season has 7 goals and 4 assists in 1225 minutes in comparison.
In many respects, it's strange that it's taken Origi so long to battle his way back into the first team picture. After scoring double digits off limited minutes in back-to-back seasons, he forced a loan move to bump his minutes, which backfired spectacularly after Wolfsburg turned out to be about as good at football as Stoke City.
Nevertheless, with Sturridge seemingly out in the cold, Solanke failing to impress and Brewster seriously injured, Origi might have been in with a great shout of getting minutes had he stayed in 17/18 and then this season, had things turned out differently. Indeed, Origi's record of a goal every 165 minutes for Liverpool in the Premier League is better than current number nine Bobby Firmino (225 mins per PL goal) and Sadio Mané (195 mins per PL goal).
None of this is to say that Origi is a better player than either (he's not and it's not even close) nor to say that he should have been starting for us (again, he shouldn't, he's not good enough), merely to illustrate that he's a player who has been a useful tool for the club when utilised properly. Indeed, there was an element of laughable shock that it was Origi who scored against Everton, and as I said, I believed that the notion of throwing on Origi when we needed a goal was laughable.
But the evidence suggests that actually, throwing Origi into the fray, especially when Daniel Sturridge is either already on the pitch or having been subbed, makes a lot of sense, given that he is a player who for Liverpool has scored a lot of substitute goals.
This will not, nor will it ever be the narrative around Origi now though. Origi will always be, for better or worse, the man defined by two Merseyside derbies. The fact that Origi was never able to consistently break into Liverpool's first team has largely been pinned on a moment in a Merseyside derby that he had already scored in – the Funes Mori horror-tackle that left him with an injured ankle. That injury prevented him featuring in Liverpool's Europa League final – a game that it's very conceivable he would have started in ahead of Firmino and Sturridge as he did in both legs against Dortmund (scoring in both legs too don't forget). And it largely quelled any chance he had of breaking into the first team after the signing of Sadio Mané.
So for Origi, a man who has largely and sadly been forgotten around Anfield over the last season and a half, with so much happening for Klopp's side and so much of it positive, it's fitting that the game he reminded everyone who he was was the Merseyside Derby, a game that has given him so much pain over the past, and yet so much joy – with three of his thirteen PL goals coming in that fixture at Anfield.
Where next for Origi is an interesting question. He's certainly good enough to go to Wolves, who are rumoured to be in for him, and make a huge impact, especially since they are crying out for a decent striker. Whilst starting consistently for Liverpool is certainly beyond him now, he might still feature here and there, particularly if the worst happens and Liverpool drop into the Europa League after their crunch fixture with Napoli.
But really, it's not the past or the future that matter for Divock Origi at the moment. And really, Liverpool fans don't really care where he came from, and the vast majority of them don't care where he goes. His story is one that has had many bumps in the road, and hopefully isn't over, but truthfully, it will take something truly remarkable for Divock Origi to ever eclipse his one, shining moment at Liverpool Football Club.
All hail Divock Origi. Conqueror of Everton.
Maybe Jürgen Klopp does know what he's doing with his substitutions after all.